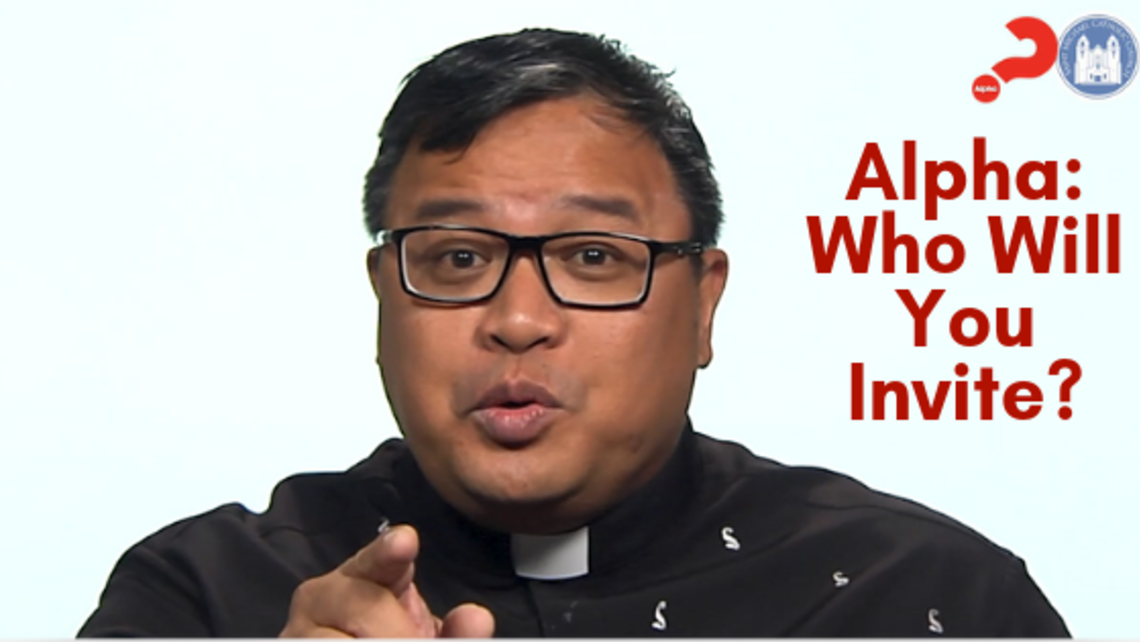 I would like you to take a moment to picture someone in your life who does not know Jesus and is not living a Christian life. 
Maybe a family member who grew up Catholic, but doesn't go to Mass anymore.  Perhaps someone at work who learned a lot ABOUT Jesus, but never allowed Jesus into her heart and life.  Or maybe you know someone who did not grow up with any kind of faith, and doesn't even know if God exists.  How would you approach these people to talk about God? What event or program would you invite them to that would feel comfortable? 
Of course, as Catholics, we know that the Holy Sacrifice of the Mass is the highest form of prayer, and the Eucharist is the source and summit of our very lives.  But for someone who doesn't know if God exists, or someone who has never approached anything Christian before, the Mass may seem very foreign and confusing.  It could be a little like pushing a non-swimmer in to the deep end of the pool! 
At St Michael's we do not have a program or a series of events for brand new beginners.  We have no system in place that is a fun, non-threatening place for people to just get their feet wet with the basic foundations of the Gospel message. We have no ministry at all for people outside of our community to make new friends and ask questions.  We have no easy gathering place to invite those people that you pictured in your mind. 
UNTIL NOW.  I am happy to announce that Alpha is coming to St Michael's this September.   
Alpha is a series of fun and welcoming dinners where guests get to know happy, loving people around a dinner table.  They get to know each other, have some laughs.  Then together they watch a video on a topic of the very basics of Christianity.  After the video, there's time for guests to have a conversation about the video.  But here is where Alpha is different:  guests can share anything that they believe, any reaction, any idea and no one will correct.  That's right.  No preaching or coercing.  No "bible thumping" or teaching.  Just a safe space for them to be heard. 
This may sound shocking to some.  However, what has happened in hundreds of thousands of Alpha groups all over the world is that once people are allowed the dignity of being heard, they are more likely to listen to what Christians have to say.  During Alpha, we TOTALLY TRUST the Holy Spirit will do the job of conversion.  Our job is just to invite and provide a fun, delicious meal.  And love them exactly where they are.   
Now after the Alpha series, after they have encountered Jesus for maybe the first time and after they have bonded with their table-mates, there will be opportunities for their "next steps" to learn more about the specifics of the Catholic faith. Alpha is just the beginning.   
The first Alpha dinner will be on Monday, September 8 at 6:30 pm in the Large Hall.  If Mondays are difficult, St Charles will be running Alpha at the same time, but on Sunday's at 5:00 pm. 
Who will you invite? 
Share this link with a friend: StMichaelLivermore.com/Alpha
Pick up an invitation postcard in the church office, or after Mass on the weekends of August 18 and 25.
Fr Carl
Pastor