February 7, 2019 - 1:52pm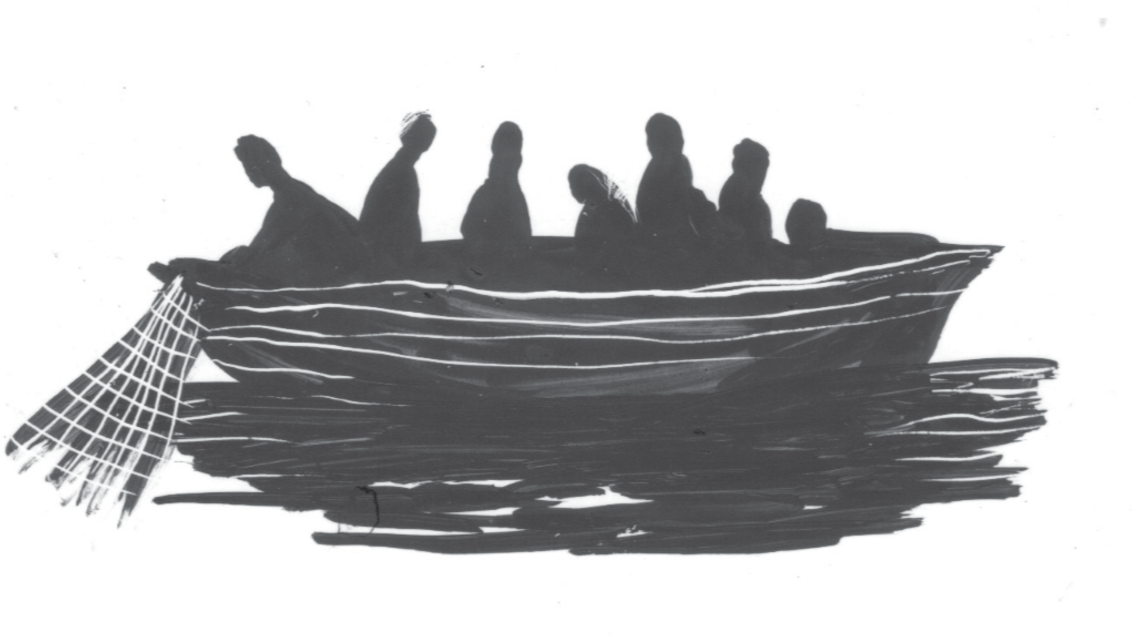 Unpacking the Readings for February 10, 2019
You can understand Simon Peter's hesitation in today's Gospel reading.
He has been up all night fishing unsuccessfully, but Jesus tells him to go out and try one more time. Think about what that would mean for Simon. He's a professional fisherman. Here on Simon Peter's "own turf" so to speak—in his area of expertise where he is most comfortable—Jesus tells him to go back out and fish again. Doubting the value in Jesus' idea, Simon says, "Master, we toiled all night and took nothing!" He reluctantly obeys Jesus' command and lowers the nets but does not expect to catch a single fish.
When the nets burst with what was probably the largest catch of fish he had ever seen, Simon realizes the awesome power at work in Jesus. He feels badly for having doubted Jesus and unworthy to be in his presence. Simon says to Jesus, "Depart from me, for I am a sinful man, O Lord" (Luke 5:8, RSV).
But Jesus still calls Peter, with all his weaknesses, to follow him and to share the Gospel with others—to become "fishers of men." And he calls us to do the same, even in the face of whatever doubts, fears, and weaknesses we may experience.
Like Peter, we are often reluctant. We feel unworthy to accept such a great responsibility. But Jesus doesn't let us use our unworthiness as an excuse any more than he allowed Peter to do so. He tells us, as he does the fishermen of Galilee, "Don't be afraid!" He will be with us in all we do to spread the Gospel.
Unpack the First Reading
According to Jewish tradition, the Seraphim were the highest of the nine levels of angels, serving in the presence of God, before his very throne. Isaiah hears the Seraphim singing, "Holy, holy, holy…" This song is echoed in the Mass where the congregation joins in singing the Sanctus. The thrice "holy" signifies the absolute holiness of God in Isaiah's vision and in our Liturgy; Christians would also suggest that this represents a hint of the trinitarian life of God as well.
When Isaiah encounters the thrice-holy God, he confesses his sinfulness, a Seraphim brings a hot ember and puts it to his lips; then the angel declares that Isaiah's sin is atoned for. This pattern for Isaiah—sin, fiery trial, atonement—is a prophetic foreshadowing of what will happen to Israel.
Unpack the Second Reading
Paul gives us wonderful insight into the pattern of Church tradition and how it functions. Paul first reminds the Corinthians that the Resurrection is Gospel or a constitutive part of the revelation given by God and that this was what they had "received" from Paul. The idea of the Gospel as received was vital in the early Church. One had to show that one's teaching wasn't one's own but that it had been received from an apostle or someone who had been taught by an apostle.
The primary importance of demonstrating the received faith wasn't to settle dogmatic disputes but to define the creedal community. The early creeds were called symbolon in Greek, suggesting a badge of membership.
The primary interest of Paul in First Corinthians is to establish unity. Paul defines the parameters of membership in the Christian communion using the creed received from Christ through the apostles. Those who believe in the received Gospel of Christ may have confidence that they "stand firm" within the Church.
Unpack the Gospel
It has been suggested that the early events in the life of the Church portrayed in Acts parallel the events in the public ministry of Jesus in the Gospel of Luke. It's easier to understand what Jesus means by calling Peter a "fisher of men" in Luke if we see him drawing in his first catch of souls at Pentecost in the book of Acts. One benefit of recognizing this parallel is its ability to show Christians from other denominations who don't share our belief in the necessity of Baptism that Jesus' words to Peter are a reference to the baptismal scene in Acts 2. Being a fisher of men for Christ must mean that Peter will draw reborn human souls out of the waters of Baptism in the same way that he formerly drew fish out of the Sea of Galilee's waters. The parallel shows that Jesus links the activities of fishing and baptizing; souls will enter the kingdom of God by being drawn out of the waters of Baptism and not simply by confessing that Jesus is one's Savior.
Lectio Divina
Today's Scripture Readings focus on Jesus' call to Peter to become a "fisher of men" and God's call to each of us.
First, watch the six-minute Opening the Word video for the Fifth Sunday in Ordinary Time on the "Community" page of FORMED.org
How does Simon Peter respond to the miraculous catch of fish? How does Jesus handle Simon's response?
Simon Peter felt unworthy to answer Jesus' call to discipleship. In what ways have you resisted God's call in the past (or present) because of feeling unworthy or unequipped?
Reflect on these questions and share your responses with someone this week: within your family, your small group or even online on the Opening the Word Discussion group on St Michael's Community page of FORMED.org
Serenity Prayer
God grant me the serenity to accept the things I cannot change; courage to change the things I can; and wisdom to know the difference. Living one day at a time; Enjoying one moment at a time; Accepting hardships as the pathway to peace; Taking, as he did, this sinful world as it is, not as I would have it; Trusting that he will make all things right if I surrender to his will; That I may be reasonably happy in this life and supremely happy with Him forever in the next. Amen.
—Reinhold  Niebuhr
Reflections reprinted here with permission from Augustine Institute.