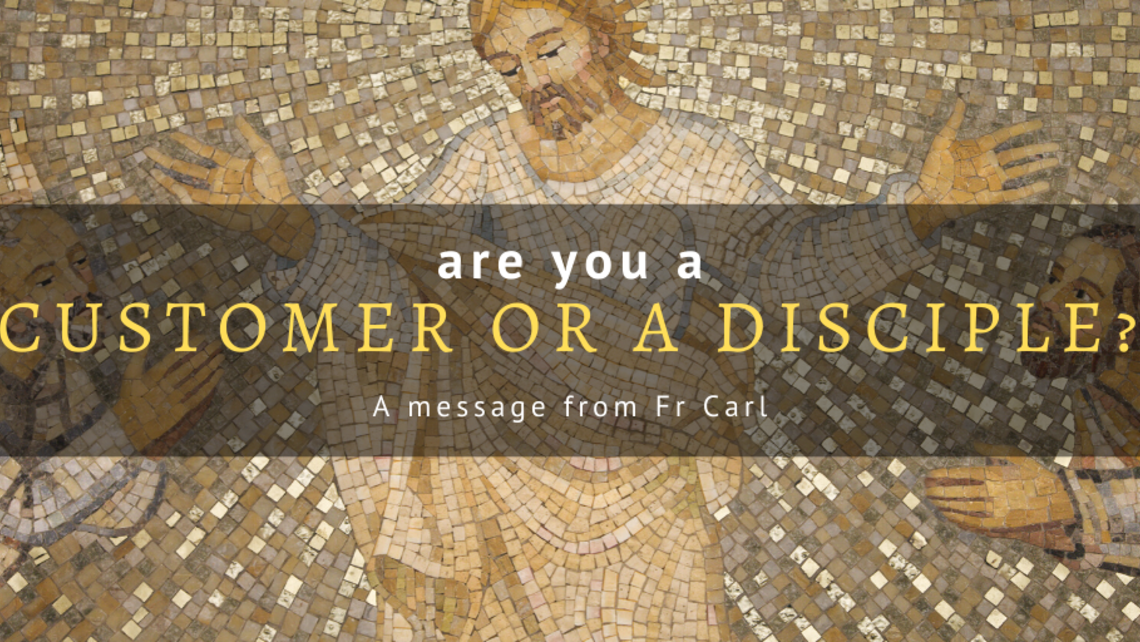 "In virtue of our baptism, we, the People of God have become missionary disciples."
 (Mt 28:19)

Baptism is not just a ritual to satisfy a family tradition, just because "that's what we do", or worse, an excuse to have a party.  Because of original sin, we come into the world with a soul which is supernaturally dead. In Baptism, God's personal and intimate indwelling comes rushing into our soul, and that which was lacking in our human nature becomes miraculously alive!  Baptism is a relationship with Jesus deep in the core of our being.  But Baptism is only the beginning. A relationship requires both parties to participate. The way that we participate, the way we respond to God's unfathomable gift of Baptism is to be active missionary disciples in our parish – not church "customers".

How is a disciple different than a customer?
Take a moment to quietly reflect upon the table below.  Are you a customer or a disciple?
| | |
| --- | --- |
| A customer demands service. | A disciple humbly serves. |
| A customer wants his own way. | A disciple wants God's way. |
| A customer decides what to believe and what not to believe to suit himself. | A disciple respects Scripture and the teachings of the Church. |
| A customer is a member of the audience | A disciple is a member of the community. |
| A customer feels entitled. | A disciple feels blessed. |
| A customer may donate, expecting exclusive benefits. | A disciple makes offerings out of gratitude for benefits already received. |
| A customer expects to "get something" out of Church. | A disciple is motivated to "give something" to the Church. |
| A customer might know ABOUT Jesus. | A disciple has an active relationship WITH Jesus. |

Pope Francis said, "The missionary disciple has first of all a center, a point of reference, which is the person of Jesus." He highlights the fact that the Apostles have nothing of their own to announce, nor are they capable on their own to show for themselves, but they speak and act as those 'sent,' as messengers of Jesus."

Further he said, "And even for us this mission is authentic only if it begins from its unchanging and consistent center which is Jesus," he said. "It is not an initiative of individual believers, groups or even large groups, but it is the Church's mission inseparably united with her Lord. No Christian proclaims the Gospel 'on his or her own,' but only as one sent by the Church who received the mandate from Christ himself."

All we do in the parish is for God's glory and we always shout from our hearts - Viva Cristo Rey!
If you have prayerfully looked at and meditated upon the list and found that you fall more in the "customer" category than the "disciple" category, I personally invite you to come to Alpha.  Alpha begins on Monday, February 10 and is a place to have a great meal, meet new friends and have a conversation about the basics of the faith.  It is a place to share your ideas, be heard and encounter Jesus within a small community of friendly people. 
Info and Registration Here

A Happy New Year to you and your family!

Fr. Carl