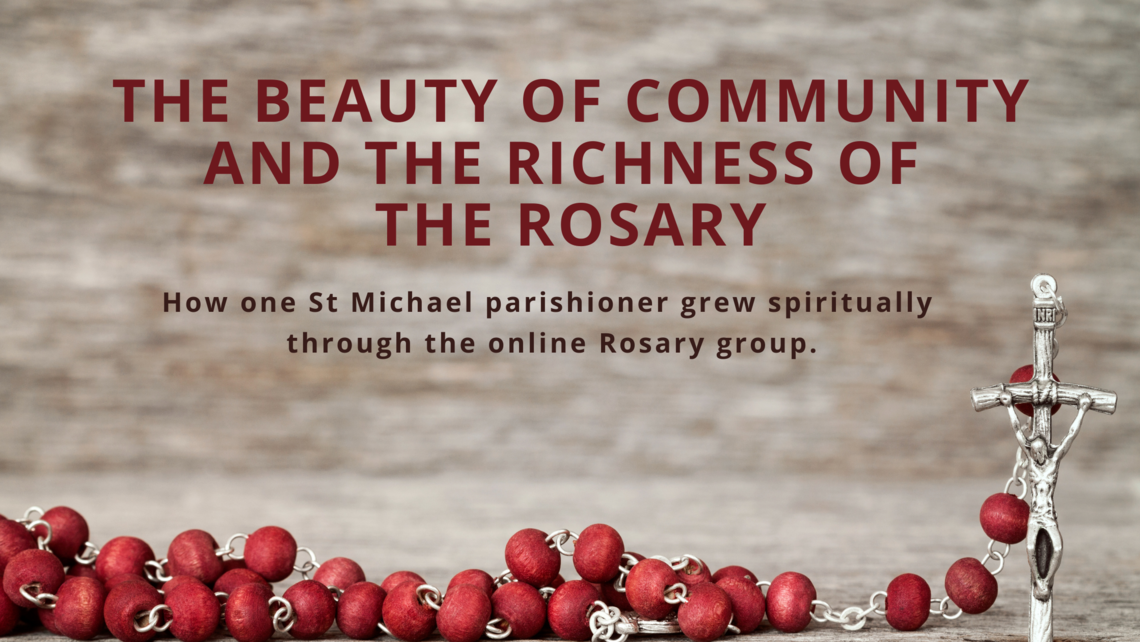 How one St Michael parishioner grew spiritually through the online Rosary group.
It's been nearly a year since the pandemic hit and changed so many aspects of our lives, and parish life has been no exception. 
For many, the inability to attend Mass and the loss of a church community has been devastating. 
But Yuke Tjoa, parishioner at St Michael Catholic Church in Livermore, found opportunity amidst the shutdowns in the form of the parish online rosary group.  Her prayer life blossomed as she grew in relationship with Our Blessed Lady and Jesus, and she made new friends to help her feel connected.
I was excited to hear Yuke's uplifting story, and had a chance to interview her using Microsoft Teams:
Hi Yuke! Thank you for joining me today to talk about your experience with the Online Rosary Group at St Michael's.  Can you share how often to you join the rosary group online?

Hi Tina!  I have been joining the rosary group every day since June 14, 2020.  I think I've only missed 2 or 3 times.  I started as part of the 33-Day Preparation for the Total Consecration of Jesus Through Mary, and I've been attending ever since.

That's amazing!  Are you new to the Rosary? 

No, not totally new to the Rosary.  I'm sure there is much more to learn of its history and power. I continue to learn a lot!  Many rosary participants that I "gather" with online are very devout and share what they know and what they have recently learned. It's been wonderful!

Were you new to an online format? How did that go?
 
Yes, I was new to an online format. It was intimidating at first (I don't consider myself to be very techie), but soon after found that it's not so bad. I actually kinda enjoy it online now. It's convenient. 
I think the biggest benefit is that, despite the shelter in place, I've made new friends from the rosary group online.  We're building a relationship outside the Rosary prayer time too. In a time when feeling part of a community is difficult, the online rosary group filled a gap.
Not being a "techie" person, would you say it's easy to be part of an online prayer group?
Yes, I'd say it is user friendly. It's on Microsoft Teams.  You don't have to sign up for anything, and you can join on your browser. Or you can download the Teams app free. 
The meeting join link is at StMichaelLivermore.com/Rosary (or you can go from the main menu, choose "Pray" then "Rosary"­).   Just scroll down and click "Join Meeting".
What has the online rosary group done for your spiritual growth?
Probably a lot more than I can conceptualize or verbalize!  The first thing that comes to mind is that I can be as reverent as I want to be and there is more control of dealing with distractions online. And again, it's convenient to log in from home, so I was able to develop a discipline.
Much of my growth also came from the camaraderie of the group. As I mentioned earlier, the regulars that attend have become personal friends and spiritual mentors. I've come to admire them and be inspired by them, and I hope I'm giving something back to them as well. Because of this new small community, I feel more accountable to my prayer life, and I have grown closer to the Blessed Mother and Jesus.
That is really great! Can you share some differences in your life that you have noticed?
I think I recognize answered prayers more! I have a better awareness of the Lord in my life. I have noticed that when I pray the Hail Mary, negative and ugly thoughts are driven away, and then I pray more in thanksgiving. I just pray a whole lot more. 
I've also learned the value of sacrifice and mortification. The daily rosary starts at 7:15 am, and I'm not really an early morning person. Initially, it was an effort to get up, but offered it up.  Now it doesn't seem like a sacrifice anymore. Now I'm up and awake to attend the 6:45 am livestream mass, then I join the 7:15 am rosary. It sometimes overlaps a bit, but I don't mind.

Another big difference is my increased motivation to know Our Blessed Mother, Our Spiritual and Perpetual Mother, and build my relationship with her and emulate her (especially her humility). 
It's so inspiring to hear how you have grown.  You mentioned how important the community aspect of the group has been through this strange time. Can you speak more to that?
Because of the relationships I have made in the rosary group, there's an excitement, an enthusiasm each time we meet.  We learn something about the Blessed Mother: a new prayer, a new devotion, a plenary indulgence, or an upcoming talk or webinar.  We also gain much from sharing the blessings we've received.
And there is joy sharing with each other, especially since we have become comfortable to ask for prayers for each other. It's a great support and resource team. At times, we also stay online a little longer to pray for special intentions or just to catch up with friends. It's a time to meet new friends too!
Wow, who wouldn't want more of that?  What would you recommend to someone new to the Rosary?
 
Just join the next online Daily Rosary at St Michael's! You can listen in and pray along. If you're shy, you can stay muted with your camera off. 
Another resource recommended to me is The Communion of Saints YouTube channel which has a wide variety of rosary recordings with beautiful background soundscapes. Try one of the "Follow Along" ones first, so you get to know the rhythm of the prayers.  
Thank you so much, Yuke, for sharing your faith story.  Are there any last thoughts for anyone who might like to join St Michael's Online Rosary Group?
Someone once said that when you are holding the Rosary, it's like you are holding the Blessed Mother's hand. If you feel she is calling you to the Rosary, just click in!  We will be there to welcome you.
All are welcome to join the Online Rosary Group any day of the week at 7:15 am.  There is also another Spanish speaking group that meets every day at 8:30 pm.  Visit StMichaelLivermore.com/Rosary for the join links.
DO YOU HAVE A #SacredStory TO SHARE?
Contact Tina Gregory, Communication and Adult Enrichment Coordinator at St Michael Catholic Church at TinaGregory@StMichaelLivermore.com or 925-667-4051