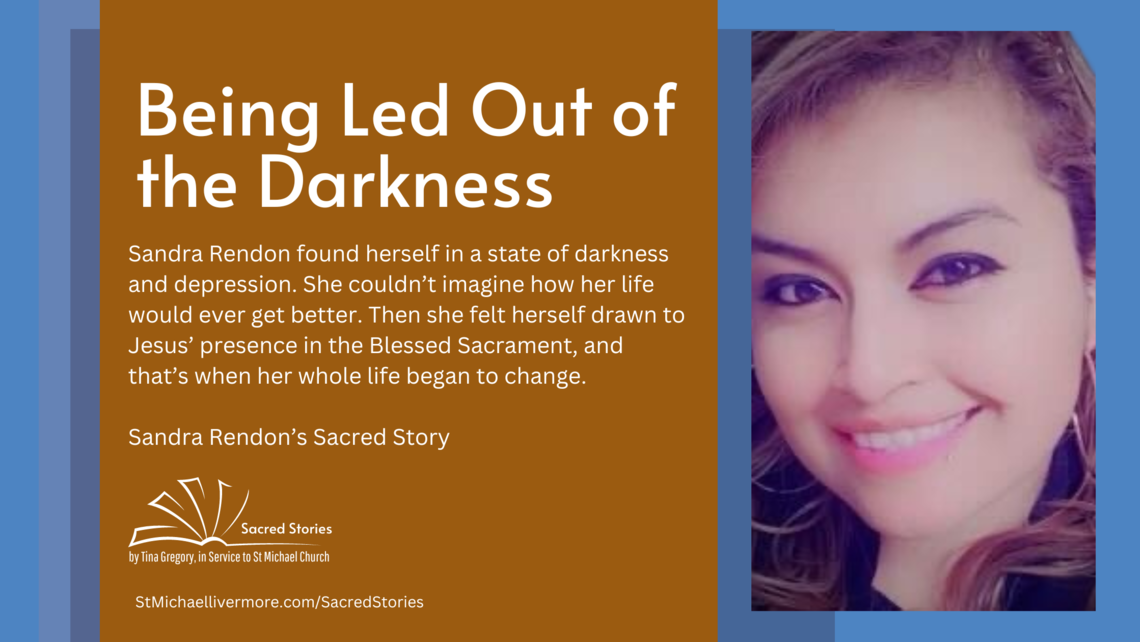 Sandra Rendon's Sacred Story
Sandra Rendon found herself in a state of darkness and depression.
She couldn't imagine how her life would ever get better. Then she felt herself drawn to Jesus' presence in the Blessed Sacrament, and that's when her whole life began to change.
What was going on for you?
I was in a really bad situation, actually. In 2017 my husband and I split up and my whole world was torn down. It was horrible, and I was in a really dark place. I was so depressed that at one point I didn't want to live anymore. I think God was my intervention, you know? I think He definitely helps us when we are at our lowest, and he helped me by calling me to the Adoration Chapel.  I can't explain it, but I was drawn to sit in front of the Blessed Sacrament, and I would cry for hours there, pouring out my problems to Jesus. Sometimes for three straight hours! He gave me hope and reminded me that I have two kids who need their mom. God reminded me that I needed His help.
How did Jesus help you?
I think he helped me to just let go.  At the beginning, I was so obsessed about not losing my marriage. I was determined to fight for it, to do whatever it takes. But after a while, Jesus showed me that wasn't the right thing for the moment at all. He taught me that this man was not meant for me. Then very soon after that, my ex-husband moved out of state! It was like a sign that I needed space, physical distance to heal.  I remember praying, "Okay, I got your message!"
Was this closeness to Jesus new for you?
Yes, a little, I think so. I was baptized Catholic, but I didn't go to Mass regularly. I took some First Communion classes, but I never finished. I was so busy doing my younger stuff, you know, either with friends or working. When I was in high school, I had two jobs and had no time for myself either. But there was always something bugging me that kept me wondering if I am doing things the right way. I always had a sense that God sees everything, and I would question myself and my decisions so many times. There were times when I would tell my mom, okay, I'll go to Mass with you this time but don't think I'm going to actually come every Sunday!  I had my beliefs, but it wasn't at the forefront of my life until 2017.
Is that when you decided to complete your sacraments?
It led toward it, yes. More recently, my brother asked me to be the godmother to his daughter, but I couldn't because I was baptized, but never received First Communion or Confirmation. The timing was perfect for me to take Sacrament classes because I already was feeling closer to Jesus. It felt like the next logical step. So, I started taking the Adult Sacrament Preparation classes, and wow! I'm learning more than I thought I ever would! I didn't know how much I didn't know. I mean, I didn't even know what sacraments were until I started the class. So much of the basics, I just had no clue.
What do you like best about the classes?
Well, aside from soaking up all this new information, in class we share "God Moments" or things that happen throughout the day when we notice God's presence. It makes me focus on how God is working on me all the time. I think the biggest God moment for me happens most when I'm in front of the Blessed Sacrament. I often get well, not exactly chills, but more as if somebody is touching my arms, but no one is there. It's like Jesus saying, I'm here. It's a presence that I never feel in another room. I feel blessed that I have that sense. Now I just have to get the academic part! I'm a slow learner, but I'm getting it.
Has anything changed since you've decided to start coming back to Mass?
Oh, I have more peace, and am much more relaxed. I don't worry as much. I have asked my kids to join me in praying the Rosary. I'm helping them understand that the more you pray, the happier you will be. My oldest is 11 and my youngest is 9. I want them to have a different experience with prayer than I did. When I was a kid, I had problems with religious classes and my mom stopped sending me. We just kind of gave up. So, with my kids, I'm trying to create the habit that every day before bed, we pray. When we wake up in the morning, we thank God for another day. I want it to be a routine for us all. I was really inspired to do that.
Who inspired you?
Fr John! In a homily, he said that parents and godparents are the ones who are supposed to guide the children on the right path. I was sitting there in church, and it just hit me that that's what happened with my mom. For whatever reason, she didn't push me the way that I was supposed to go. I realized, in that moment, that I was letting my kids down in much of the same way. Now I'm very motivated to register them for their sacrament classes this summer. I want them to have the chance to know Jesus the way I'm starting to know Him.
You have so much hope!
I just want people to know how much Jesus loves them! Like, He's there, waiting to be part of our lives, no matter how dark things seem right now. That's one of the things that helped me, having faith that things will get better. We all go through hard, dark moments. It's almost like you can't avoid it, and in the moment, it looks like there is no way out. But get the help you need and also get closer to God. He will be there for you like no other person ever will be. He will work miracles in your life. He will help you find your way out of the darkness.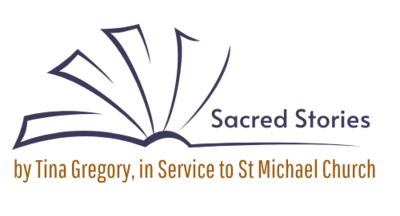 SHARE YOUR STORY!
How has God changed your life?  Have you experienced personal miracles? In what ways has your faith grown? Is there a difficulty that you have overcome with the help of the Lord? Your story is a unique and beautiful gift that can inspire, uplift, and motivate someone! Book an interview with Tina to share with the community God's Glory. 925-667-4051