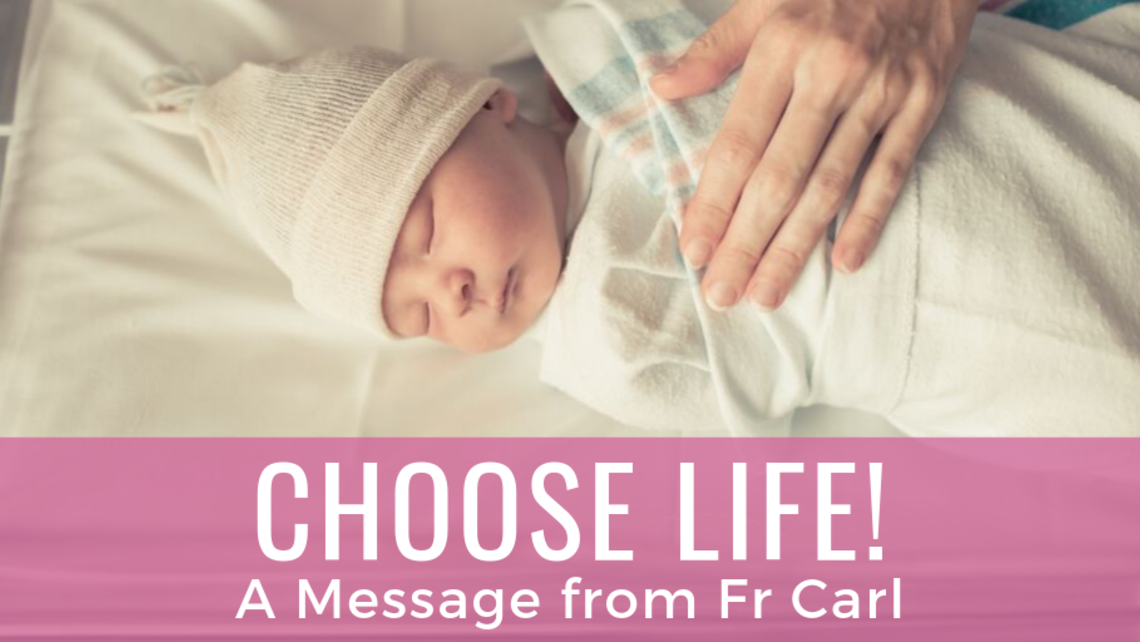 "Be completely faithful to the Lord your God, love him, and do whatever he tells you. The Lord is the only one who can give life..." 
Deut 30:20 
My Dear Parishioners, 
I would like to journey with you during this month of October to reflect upon the beauty and sacredness of life, from conception to natural death.  
Our whole culture – including our Church, other religions, nations and many organizations -- are so active and vocal in protecting the environment, animal rights and other "hot topic" causes.  As Christians, we must also model the same zeal when it comes to preserving and protecting human life guided by the light and truth of the Gospel. With our prayers and actions, we must join the effort to end abortion.
The Catechism of the Catholic Church states the following:
2258: Human life is sacred because from its beginning it involves the creative action of God and it remains forever in a special relationship with the Creator, who is its sole end. God alone is the Lord of life from its beginning until its end: no one can under any circumstance claim for himself the right directly to destroy an innocent human being.
2270: Human life must be respected and protected absolutely from the moment of conception. From the first moment of his existence, a human being must be recognized as having the rights of a person - among which is the inviolable right of every innocent being to life.
Here is a reason for hope: due to proactive efforts to end abortion in the United States, there is a steady decline of cases of abortions from year 2006 to 2015.  Do not lose faith! There is so much power in prayer.
To that end, our Knights of Columbus this month are leading Rosaries in our parish courtyard every day at 7:00 pm for the unborn and for an end to the culture of death in our society.  All are welcome to join.  If you cannot make it in the evening, please offer a Chaplet of Divine Mercy, a Holy Hour, a Rosary or other sacrifices for this intention.
If you would like to take your prayers to a peaceful and public vigil, please consider signing up to pray at Planned Parenthood in Walnut Creek.  Information is at 40daysforlife.com/walnut-creek
If you are suffering from the emotional and spiritual effects of an abortion, please come experience the healing love of Jesus Christ during the Rachel's Vineyard healing retreat: October 25 - 27 in Danville. Pre-registration is required. Please make a confidential call to Gloria at 510-485-2574.
Please save January 25, 2020 on your calendars for the 16th Annual Walk for Life West Coast in San Francisco.  I want to see a large representation from St Michael's at the walk.
And may God bless you and your families.
Fr Carl