November 14, 2019 - 3:13pm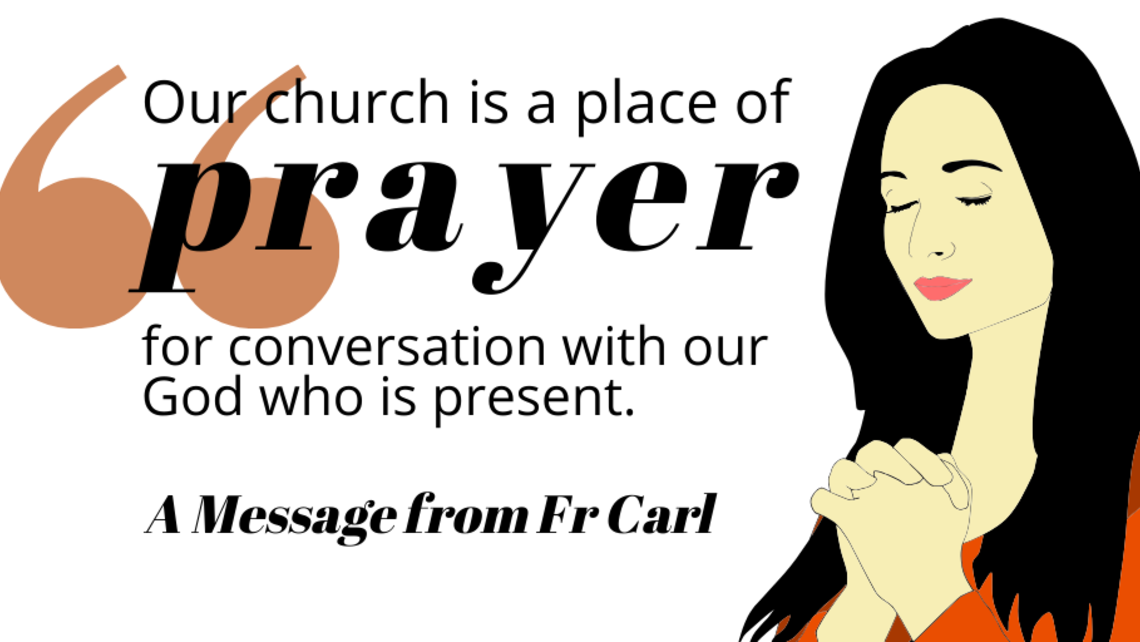 And Jesus began to teach and say to them, "Is it not written, 'My house shall be called a house of prayer for all the nations'?

—Matthew 21:13
Dear St Michael Family,
The word "church" comes from the Greek ekklesia, meaning "the called-out ones" or "the people set apart".  This original definition refers to the body of believers, or the body of Christ. When using the word "church" to mean the building, this same Greek root means a Christian place of worship where the "called out ones" come together to pray, to participate in public acts of devotion, to celebrate sacraments and for the Holy Sacrifice of the Mass, which is the highest form of prayer in the Church.

Most protestant churches or other non-denominational congregations use their worship space for relational ministry – connecting and visiting with friends – praise, worship, bible lessons and public events.  Because their worship does not include the Eucharist, the Real Presence of Jesus, it is the norm to gather for conversation and socialization inside the place of worship.
On the other hand, Roman Catholic, Greek Orthodox, Coptic, Armenian Churches and other Eastern Catholic churches where Jesus is truly present in the Eucharist are dead serious about silence and prayer inside the Church.

The Eucharist makes all the difference in our behavior and focus. Our church is a place of prayer, for conversation with our God who is present.  Our church is no place for conversation and socializing. I hope that we can transform our habits here at St Michael's, as a good tradition and practice at all times.

Here are some practical tips to form a good habit of making our church as a worship space truly for prayer:

1. Inside the church, a quick hello or wave to recognize the other person or a friend is enough of a gesture to connect with people and to welcome our brethren worshipping with us.

2. Come early or stay late to visit in the breezeway and courtyard.  Socialize and welcome new faces and  share pleasantries with old time friends.

3. If you prefer, prepare for Sunday Mass by joining our public Rosary devotion before Mass inside the Church.
4. When you are at church for Mass or other occasions such as baptisms, weddings, funerals, penance services, Adoration of the Blessed Sacrament and parish mission talks, always remember that you are there to converse with God first. God first, others second. Set a holy example for those who may not know better.

5. During quinceneara and wedding rehearsals and during funeral vigil services in the church, families and guests must maintain the church as a place of prayer. Any unnecessary conversation pertaining to the event must be done in the vestibule or the breezeway or in the courtyard.
At first, people may think that silent reverence inside the church creates an anti-social environment.  Yet what we will all learn is that people don't socialize with one another in church because they are busy socializing with God! Also, by socializing outside, we will make a more visible witness to our friendliness where it is appropriate to make new friends.

I thank you in advance for keeping our Church a place for Conversation with God.
May God bless you and your families,

Fr. Carl