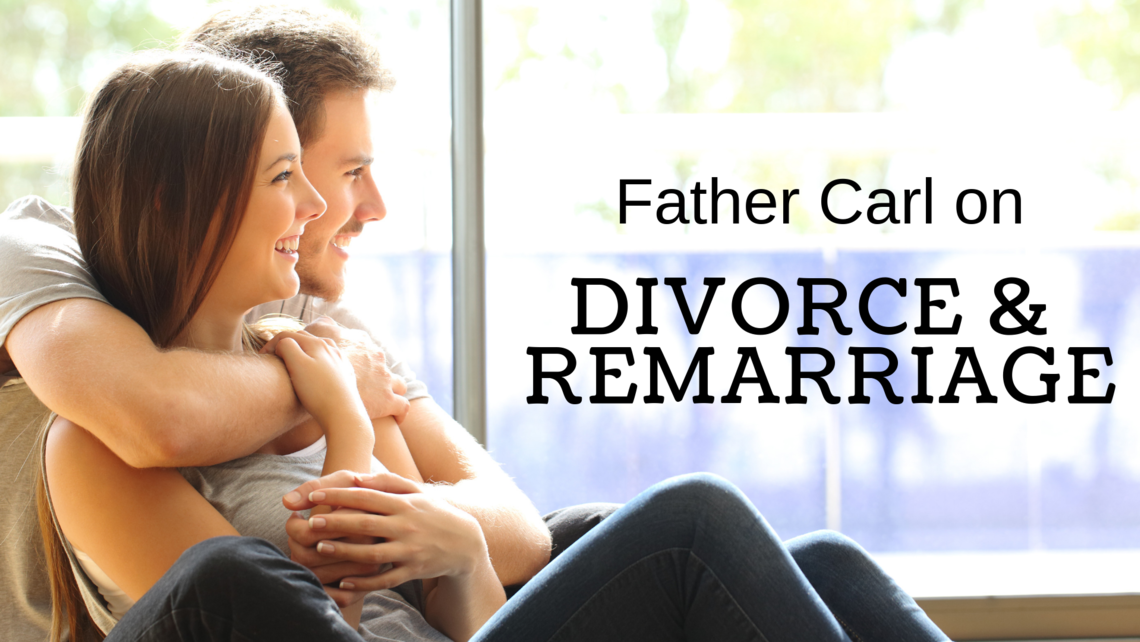 Dear St Michael Family, 
Many have asked me to explain the Church's teaching on divorce and remarriage.  I hope that this brief catechesis clarifies confusion and gives you peace, and I encourage you to make an appointment with me to help you walk this journey.
1. Divorce Destroys the Natural Law 
By itself, civil divorce is not an obstacle to Communion. It is only a civil action to settle the legal effects of marriage. However, understood as a moral action, the willful breakup of a marriage or abandonment of one's spouse is indeed seriously wrong and not part of God's plan of love. See The Catechism of the Catholic Church: 2382-2385 
2. The Innocent Party 
The spouse who is responsible for the breakup of the marriage and the one who fails to work toward reconciliation is the person indeed guilty of sin. That person has an obligation to repent and confess their sin before receiving Communion, as would any grave sinner. The innocent spouse, however, should receive Communion as other Catholics, with the usual conditions (being free from mortal sin—and going to Confession if not free of sin— and observing the  Eucharistic fast). See CCC 2386. 
3. On Remarriage 
A sacramental marriage takes place when vows are exchanged by two baptized persons, with the proper intention, and consummated by sexual intercourse. No power on earth can declare a sacramental marriage null and allow the parties free to remarry. However, a marriage tribunal of the Catholic Church is empowered to judge whether a sacramental marriage actually did occur.  If a sacrament did not occur, then the tribunal gives a Decree of Nullity (annulment). A person who receives a Decree of Nullity is free to marry in the Church since the first marriage was defective from its beginning (i.e. no sacramental marriage).  
4. Remarried Without Decree of Nullity 
Individuals or couples who have remarried but did not receive a Decree of Nullity may not receive communion. The continuous theology and discipline of the Catholic Church is that those who are divorced and remarried without a Decree of Nullity of the first marriage (whether that marriage was made within or outside the Catholic Church) are in an objectively adulterous union that prevents them from honestly repenting, receiving absolution for their sins, and receiving Holy Communion. Until the marital irregularity is resolved by a Marriage Tribunal, or other procedures which apply to marriages of the non-baptized, they may not approach Penance or Holy Communion.  
5. A Unique Case 
One final situation is that of those who have repented of their illicit union, but remain together for a serious reason, such as for the sake of their children. Catholic pastoral practice allows that IF their pastor judges that scandal can be avoided (meaning most people are unaware of their remarriage and consider them a married couple), then they may live together as "brother and sister" (without any sexual relations) and be admitted to the sacraments. If scandal cannot be avoided, then they must either separate or refrain from the sacraments. 
6.  Hope and the Next Steps 
If you think you are in the situation of being divorced and remarried without a Decree of Nullity, please email me at Pastor@StMichaelLivermore.com or call the church office at 925-447-1585 to make an appointment with me or any of our clergy. I know issues on divorce and remarriage are not easy to talk about. However, we promise that this can be the first step in the healing process.  Let me assure you that God loves you and that the Church is not against you or trying to make your life miserable. Please do me the honor of allowing me to walk with you during this difficult situation. 
May God bless you and your families. 
Fr Carl