August 24, 2021 - 11:01am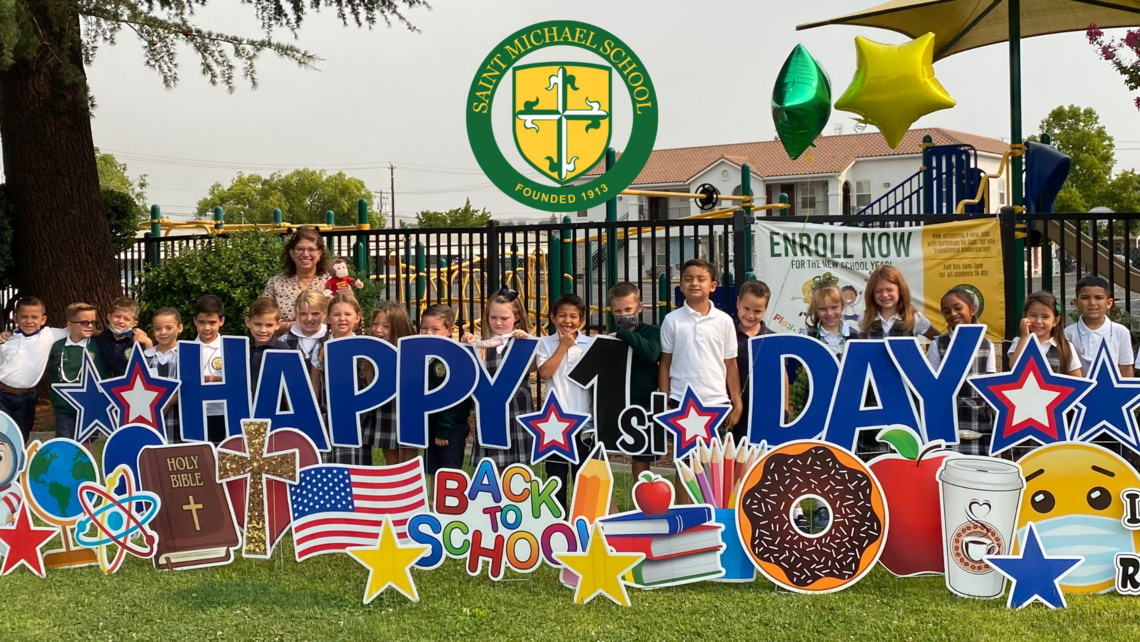 St Michael School Launches into a New Year!
Our theme this year "Doing Good Works" comes from scripture, the Book of Ephesians.
"You are God's masterpiece, created in Christ Jesus to do good works, which God prepared us to do."
As we move into the 3rd school year affected by the COVID pandemic, we hold onto the hope that we have the gift of faith. As a Catholic school community, we know that our God is with us. We are doubly blessed because we are St. Michael School. We are blessed that under the protection of St. Michael the Archangel, we have been able to carry out our Dominican pillars of community: service, study, and prayer. Whether we were on distance learning or our modified schedule last year along with all the safety protocols we had to follow, we have excelled. Through the grace of our God, we not only survived the pandemic, but we flourished!
Our student enrollment has grown by 18% and TK - 2nd grade is at capacity with a waiting list. We are blessed to have filled our open teacher positions with experienced, Catholic teachers. All our teachers and staff are active Catholics who are committed to their faith. They have all chosen to be in this precious ministry of Catholic education here at St. Michael School.
As we continue to work on our enrollment, we have chosen to begin the process of opening a preschool for 3.5-year-olds. We will keep the parish updated on the timing of when we can officially begin to accept applications. We look forward to enrolling many parish families into our preschool.
We look forward to living out our scripture-based theme this year "Doing Good Works" through our continued service to St. Michael Community Care. This year, we will continue to help supply much-needed items, and we will help distribute those items on certain Saturdays during the school year.
We also look forward to joining the parish community for Mass throughout the year. Students will be attending Mass each Wednesday at the 8:30 am daily Mass. In addition, we will be present for our once-a-month Family Mass on Sundays at the 9:30 am Mass.
We'd also like to share that we have the beautiful opportunity to create a chapel on our school campus. Teachers, staff, parents and students will have the sacred opportunity to pray before the Blessed Sacrament. We look forward to the completion of the chapel this fall.
As we continue to live out our mission of academic excellence strengthened by faith, we will continue to evaluate our curriculum to ensure that it is authentically Catholic. We are blessed to have a donor who believes in the ministry of authentic Catholic education. These funds have allowed us to purchase a robust, Roman Catholic religion curriculum that integrates Catholic art. Additionally, we have purchased a new math curriculum. These changes will strengthen our Catholic identity across many curriculum areas. We are blessed!
We will hold our parish family in our prayers throughout the school year, and we hope that you will pray for us at the school as well.
May Christ's peace and love surround you,
Alison Wilkie
St. Michael School Principal
Learn more about St Michael School