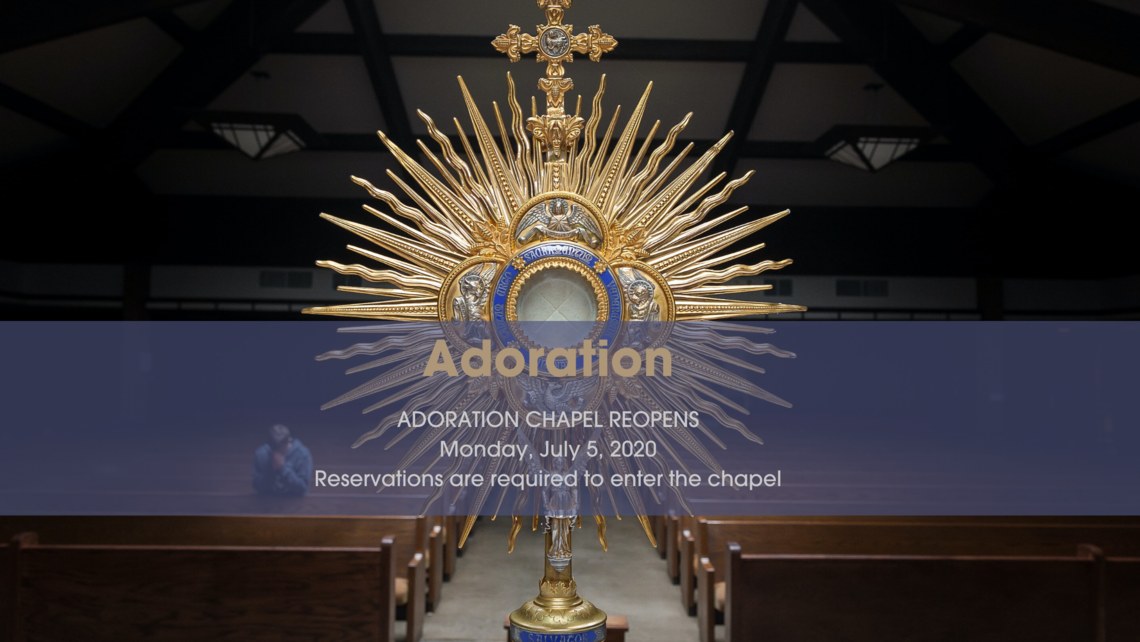 7:00 am—7:00 pm, Limited to Six Adorers Per Hour
Dear Parishioners,
St. John Marie Vianney said, "When we are before the Blessed Sacrament, instead of looking about us, let us close our eyes and open our hearts. The good God will open His. We will go to Him. He will come to us, the one to give, the other to receive."  I am happy to announce to you and welcome you back to our Adoration Chapel, reopening on July 6! Below is a letter from Dennis Lundbom, our Adoration Ministry Coordinator:

"On July 6, we will reopen our Adoration Chapel. Exposition starts before the 6:45 am daily Mass and closes with Benediction at 7:00 pm. In accordance with the Alameda County Health Department recommendations, we are limited to only six Adorers in the Chapel at one time. Face coverings are required at all times, and we ask that adorers wipe down their chair with a provided disinfectant wipe before leaving. 
To ensure that we do not exceed the capacity limit, a Chapel Reservation will be required.  At this time, we cannot allow drop in chapel visits. We will have an Adoration sign up table at all Saturday & Sunday Masses, for new adorers to sign up for available time slots.
To make a reservation contact Dennis Lundbom via email at dlundbom@gmail.com or call/text 775-772-6369."

Let me also emphasize that those who are sick or are in a high risk category for COVID 19 to please stay home for your safety and the safety of others. Please do a self temperature check at home before coming to the Chapel.  You might also want to bring your own prayer book or spiritual reading, since all hymnals and prayer books have been removed from the chapel.  The holy water font has been emptied as well.
Please offer your holy hours for the intention for an increase of vocations to the priesthood and religious life, for the end of the pandemic and for justice and peace in our country and the whole world.
O sacrament most holy, O sacrament divine. All praise and all Thanksgiving, be every moment Thine!
God bless you all!

Fr. Carl
Pastor