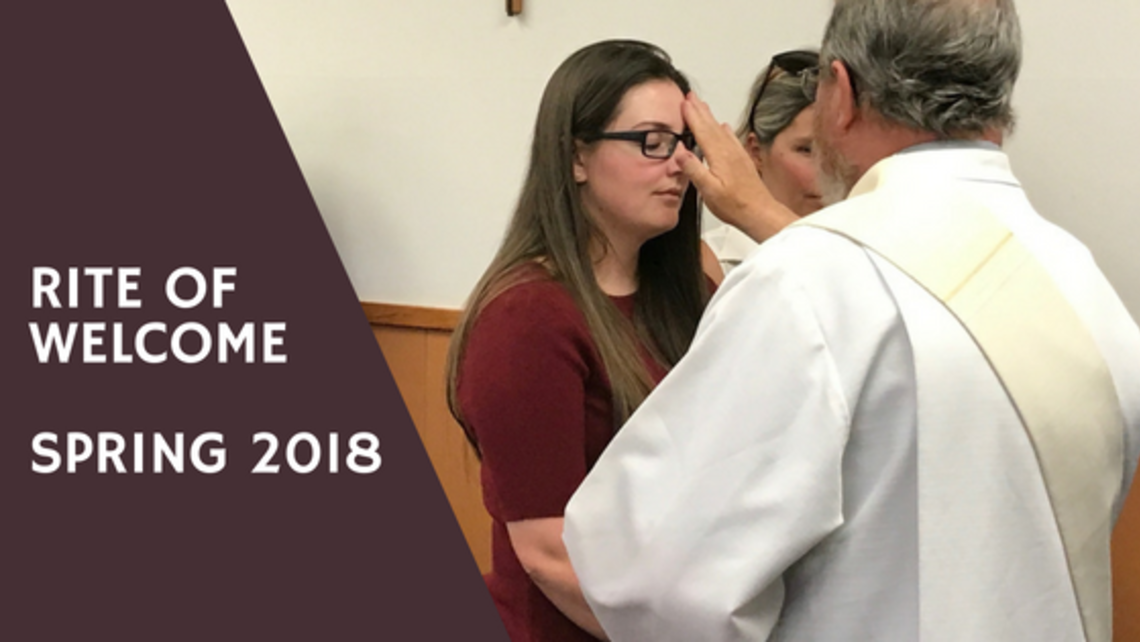 Highlights in the Catechumenate, Spring 2018
RCIA (Rite of Christian Initiation of Adults) is the ministry where adults prepare for Baptism, Confirmation and First Communion. 
Here's a report from Marjorie Melendez, RCIA Coordinator, giving us some of the highlights of of what has been happening this spring:
Highlights in the Catechumenate, Spring 2018
After our months in Alpha, followed by Holy Week, and Easter, we rejoiced to be gathered together again in our Catechumenate room.  We were so sorry to learn of the death of Larry Thomson, husband of former team member, Sheila Thomson.  Larry passed away on Divine Mercy Sunday.  Our thoughts and prayers were with Sheila.  In May she came to Livermore for a visit and stopped in to say hi one evening.  It was wonderful to see her again!
Themes and Discussions this spring
·       Luke 24:13-35, On the road to Emmaus, similarities between that Gospel and the journey of Christian initiation
·       The Holy Trinity
o   The most fundamental belief; everything else we believe is built upon it
o   God is Triune, three-in-one, three distinct persons in one God
o   God the Father, God the Son, God the Holy Spirit
·       The Sacrament of Confirmation
We are clothed with power from on high to proclaim Christ boldly and never be ashamed of the Cross.
This is exactly what happened to the disciples at Pentecost, transforming them into apostles.
 We are strengthened to be witnesses.
·       The Ascension of the Lord
A glorious mystery of the rosary
A glorious mystery of our faith
Christ is now seated at the right hand of the Father.
 He will come again in glory, in the same way as his disciples saw him ascend into heaven.
·       The heart of the Church's mission is love:  God's love for us and our response in faith to love our neighbor.
·       Creation and the Fall
Original sin is communicated to all descendants of Adam and Eve through the sinful choice they made to disobey God in the Garden of Eden. 
But the other part of the story is that we are redeemed by Christ!
Other News
For a number of years, RCIA participants have been involved in carrying the Eucharistic Canopy during the procession with the Holy Eucharist on the Vigil of Corpus Christi.  This year, Blanca Calderon and Christy and Dan Corral were among those who carried the canopy.  Blanca was a candidate and completed her sacraments in August last year.  Christy was a sponsor for many years, and she and Dan are also on the Dismissal Team.  Lisa Malone always does a great job organizing the canopy team.
Several RCIA participants recently completed part I of the Fulfilled Bible Study, taking an in-depth look at how the Old Testament Tabernacle is fulfilled in Catholicism.  This study was facilitated by our own Ron Hauck.
Two people with RCIA connections travelled to Europe at separate times recently and sent back photos of the 20 + C + M + B + 18  inscription written in chalk on doors in Austria and Germany.  We recognize this inscription from the Epiphany blessing of a home.  Thanks to Eric Beck and Wes Arnold for noticing, and for thinking of us!
Rite of Welcome
On June 12 we celebrated the Rite of Welcome with candidates Charlie Chew, Christi Wallace, and William Greene.  Deacon Rob Federle presided for us at the rite in the convent chapel.  We are so grateful to Deacon Rob for his ministry with us, and we congratulate these candidates for making this commitment to their journey of faith.  We also welcome their parish sponsors, Luke Gregory, Caterina Poggi, and Lien Le.  Watch the video here.
In preparation for the Rite of Welcome, we spent an evening focused on our baptism.  Since most of us were babies when we were baptized, we did an activity to help us "create" a memory of it, by recalling the details we know and imagining the details that we don't know.  We also discussed tending the soil so that the seeds of our baptism can grow, and reflected on our privileges and responsibilities as baptized persons.  The evening concluded with a renewal of our baptismal promises.
Time Off for the Team
The Catechumenate Team is unique among RCIA teams because the members attend our meetings year round, not just at intervals as with the other teams.  My hat is off to these dedicated individuals and we thank them so much:  Eric Beck, Lisa Malone, Lou Ventimiglio, Ron Hauck, and Thaddeus Coberg.  They are an awesome group!  July is our month off from our Catechumenate meetings, and some well-earned rest for the team.  We will be back on August 7.  The catechumens and candidates keep their connection to the process by attending Sunday Dismissal, which is ongoing from 9:30 Mass on Sundays.
Safe travels, everyone, this summer!  May the Lord guard and protect us in our time apart, until we are gathered together again.