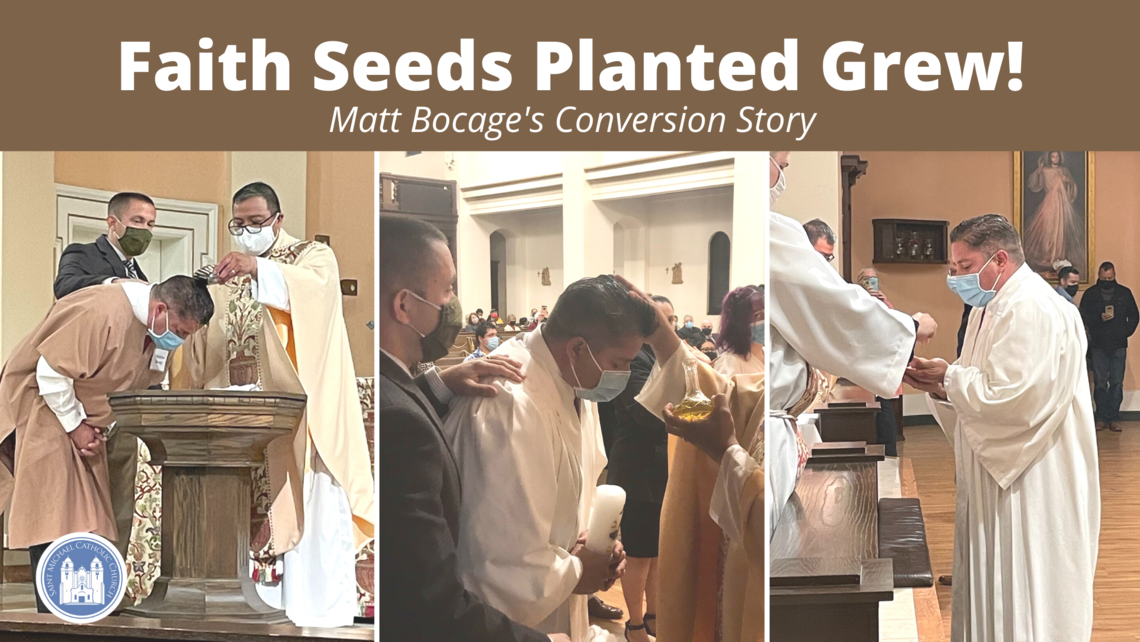 Matthew Bocage's Conversion Story
Matthew Bocage likes to get to the bottom of things. 
Whether it's in his job as a Bay Area police officer or in tending the various seeds of faith that were planted throughout his life, he's the kind of guy who has to wrap his head around things.  He simply won't let go until he does.  His thirst for deeper understanding led him to St Michael's, where he eventually received Baptism, Confirmation and First Communion just a few weeks ago at Easter Vigil.
Here's his inspiring #SacredStory:
 
Where were you, faith and religion wise, growing up?
So, I grew up in Union City.  My father's family is Catholic. My mother is a practicing Baptist and my father kind of fell off the practicing wagon even before I was born. My mom filled that religion void.  I went to Baptist churches probably 25 times as a young child, so not a whole lot. My mom was… well I don't want to say very anti Catholic, but she was not a fan of Catholicism to put it mildly.  There was a seed of doubt, I think, that was planted in my mind from a young age, a skepticism of Catholicism.
Was there a turning point at a young age that maybe put you on a path toward a stronger relationship with God?
When I was 19, my dad was in a horrific car crash on Mission Blvd in Hayward, right in front of Holy Sepulchre Cemetery where all his family is buried. At that time, I of course believed in God, but that was the hardest I ever prayed.  My father almost died and was in ICU for two weeks. I remember that so vividly. He recovered, and the funny thing is that my parents were divorced, but my mom helped nurse him back to health. Then they got married again!
Talk about more prayers being answered than what you asked for! Where did that experience lead you next?
Fast forward to my Air Force days. I was a young Airman, and I had the most amazing conversations with this man named Sargent Sebastian Scott, an Apostolic Pentecostal Protestant. We worked 12-hour shifts, so we would sit alone in an office, talking about just about everything under the sun.  He planted interesting seeds in my mind about who God is, and he was just so good and so steadfast in his beliefs. He wasn't trying to convert me, but he was just sharing.  It made sense to me, what he had to say.  He was definitely part of my spiritual journey.
Sounds like another steppingstone.
Yep.  Then I got out of the military and met my eventual wife.  Her dad is from Mexico, and they are all Catholic. She opened the faith door for sure…more like kind of flung it right open!  When we got engaged, she said, "We are going to have kids, and I'm Catholic and I want to raise them Catholic." At that point I didn't really have any objection to that.  Our kids, Jacob and Abigail, were baptized at St Michael, and we started attending Mass a little bit more regularly.  Those seeds were starting to grow.  I believed that to be the leader of our family, it was important for me to lead spiritually and develop that part of my fatherhood game. 
Did you have other influences that led you to seek more?
Yes. Another big part of my spiritual journey was my work. As a police officer, I was just seeing the worst of the worst. I mean the degree of human tragedy that I was seeing on a routine basis just bothered me. Stuff kept getting weirder, and I started questioning some of what I was seeing.  I'm like this is just not just bad human behavior, this is something else going on.  I was starting to see all this evil in a different light, rather than just dismissing it. Then later I was involved in some critical incidents at work that threatened my life and my well-being.  It was starting to take its toll.
Like God was showing you things differently?
Yeah, I think so.  I was working the midnight patrol with a man named Barry, an older sergeant while I was a brand-new Sergeant.  He's a cradle Catholic who grew up in an Irish family. It was kind of like back in the Air Force, talking about everything under the sun. He mentioned to me how his wife was just completing an RCIA program.  And I was like: tell me more about this RCIA thing!  He told me all about it and I was all wow, okay.  We continued to talk about that at length for multiple shifts over a period of time, and well, all those planted seeds were sprouting.
Kind of hard to ignore what was growing, right?
Exactly. I got online, typed in RCIA in YouTube, and I started watching a wonderful series of RCIA classes with Fr John Riccardo from Our Lady of Good Counsel Catholic Parish in Plymouth, Michigan. I kind of took a deep dive! There I was, in my early 40's and it was all coming full circle, and I was wrapping my head around all of these things that began as seeds, and they were growing and taking shape.  And it was like this makes sense to me… wow really makes sense!  I live 20 miles from work, so I was literally listening to these YouTube RCIA videos on my commute for a couple of years.  Then I was like I'm ready, let's do this. 
How did your wife feel about this transformation?
My wife was super supportive and happy. She encouraged me to go to St Michael's to figure it out.  On October 19 was when I went to my first couple of sessions of RCIA Inquiry. Then I was in the Catechumenate, then received Baptism, Confirmation and Eucharist just a few weeks ago!
We put the kids in Faith Formation at the same time, so we were in it together. We got our workbooks out together, watched formation videos together.  We pray together as a family and talk about faith stuff. It's exactly how I wanted it to be. It's made it that much more profound of an experience for me to have my family untied in faith. I keep saying … this is amazing!  
Now that you're Catholic, where do you see yourself living out your faith?
Getting to Mass every single Sunday first and foremost is the goal.  I love the idea of being part of the new Bible Study for Beginners. I need to stay plugged in and fellowship is so important. That's just really right up my alley. I think I want to continue to learn and pray, keeping the momentum going. I subscribed to FORMED. I purchased the monthly subscription to Bishop Robert Barron's Word on Fire Institute. I'm absorbing as much as I possibly can.  That's kind of how that I roll! I cling on to something and keep it until it speaks to me. 
As far as service, later down the road I could possibly see me being an RCIA sponsor. My sponsor was amazing. I mean talk about a little mini miracle there! DJ was fantastic. He's a police officer too, so we hit it off really well. He was super inspiring with the commitment that he made to me for that long of a period of time. I mean it was absolutely unbelievable, and I cannot thank him enough.  I can see myself getting into Knights of Columbus, maybe prison ministry or something along those lines.
Thank you for taking time to share your story. We are so happy to have you in our parish family!
You are welcome. And thank you!
If you are an adult who has not received Baptism, Confirmation or First Communion, and are feeling drawn to the Catholic Church like Matt was, please email RCIA@StMichaelLivermore.com
Jackie Gonzalez was received into the Church at the same time with Matt. Read her story here