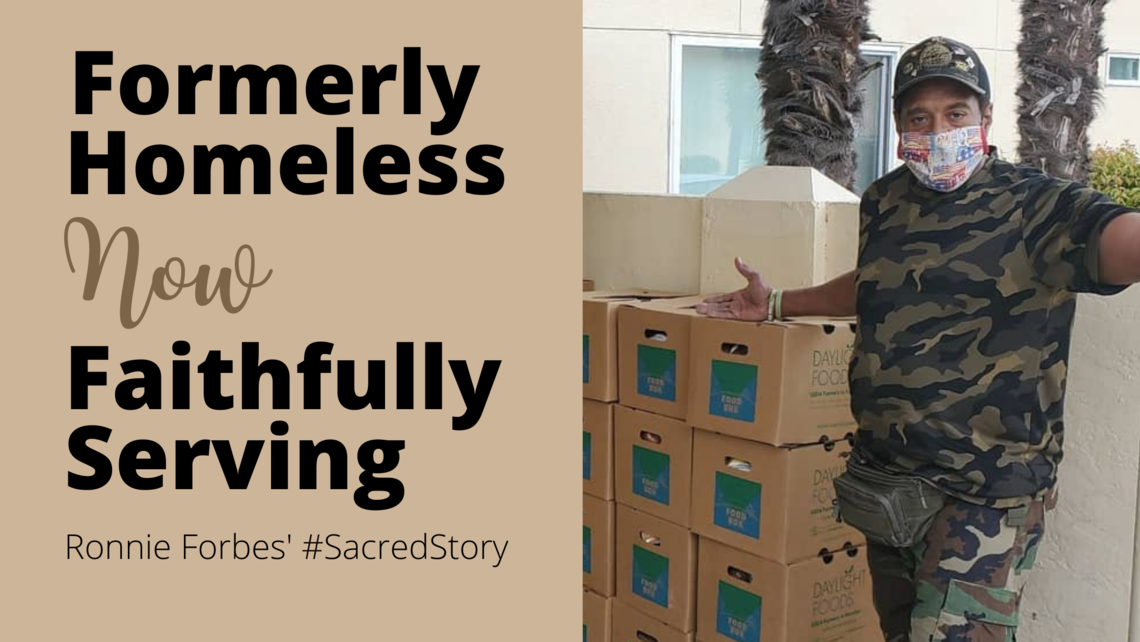 Ronnie Forbes' Sacred Story
Anyone who meets Ronnie instantly feels his joy for the Lord and his unquenchable passion for helping people in need.
His One Nation Dreammakers Veterans Mobile Food Pantry has provided hundreds of pounds of free, high quality food to over 10 cities every week, but it's his infectious laughter and spirit that has provided much more. 
But it wasn't always this way.  Here's his SacredStory:
Thanks for sharing your story, Ronnie. Tell us a bit about where you started.
I was raised in a very predominantly nondenominational household in southern California.  My mom and dad are co-pastors of Riverside Christian Family Fellowship, so you could say that I had a pretty strict upbringing!  I went to UC Irvine right out of high school and started running from the Lord and running from my upbringing. I got involved in a lifestyle of doing what I knew I shouldn't be doing.  I decided to move to Northern California and to live with my grandmother, to pursue a new life of sobriety. But yeah, it didn't work. I started using and hanging out with the wrong people again, and I had two choices: either to join the Oakland Police Department or to join the United States Army. I chose to join the Army.
Did the Army set you straight?
No, but all the glory goes to God and His patience. I went to Korea with hopes and aspirations of retiring out of the military. I met Korean woman and fell in love with her, and we got married.  So many things transpired there that caused me deep pain and trauma. Without getting all in to it, a black man married to a Korean just wasn't being treated like a white man married to a Korean.  But I stayed there in Korea for three years before bringing her home.  But I also brought with me the alcohol and the drugs that continued while I was in the military, that I was using to self-medicate my PTSD. I hadn't forgiven the military and I hadn't forgiven myself for all of the things that I had done.  And I was just in a downward spiral. I blamed God. I blamed the military. I just kept drinking and using, and my marriage fell apart. I left her and all the support of my family and ended up on the streets homeless in Oakland and Hayward. I was hanging out with the wrong crowd and back and forth to jail.
That's often a situation that many say is hopeless. What changed for you?
My moment of clarity was when I was last incarcerated. I heard a voice from God. He said, "Look. You're either going to serve Me behind these walls, or you're going to serve Me outside of these walls. But you will certainly serve Me."  I will never forget it. But it started me on my path to recovery.  So, I moved to Livermore not knowing anything about the Tri-Valley, but I came out here to continue in my quest for sobriety. Then I kept thinking about God's message to me, and I knew I was being called to help veterans.
The Lord called to help you too, right?
Yeah. I totally surrendered to Jesus on July 4, 2015. Truly Independence Day! I got the counseling help, the medical help, to help the physical. That's when the hard work of recovery partnered with God's grace made the difference.  And He led me to my beautiful new wife, my guardian angel. She's Catholic and goes to St Michael's and she's my anchor.
What did your connection to St Michael's do for you?
I started really feeling the Holy Spirit in the fellowship of St Michael's.  Everything just started happening so quickly, meeting everyone there and getting support. The changes in my life with everybody that I connected with at St Michael's… I mean St Michael's will always be headquarters to me. And that's where the veteran's food pantry program took off to another level.
So that's about when One Nation Dream Makers was founded?
Yeah, I had started fellowshipping with other veterans who were struggling like I was. And I kept thinking that this was the Holy Spirit opening doors for me. I formed One Nation Dream Makers to help veterans and those less fortunate get back on track to become positive influences in their families and in their communities.  Working in partnership with St Michael Community Care and other agencies and organizations, we started providing hundreds of pounds of free, high quality food to over 10 cities every week.  We started delivering the food directly to low-income housing facilities, government housing facilities, schools, churches, and senior citizen centers throughout the Bay Area.  Around 1,295 boxes, each containing 35 pounds of meat, cheese, milk, fruits, vegetables and pasta, enough to feed a family of four for a week.
That is quite a full circle!
I am so grateful to serve. I go back to these same places and deliver food that I was receiving from when I was a homeless veteran, out there hungry and standing in some of the same lines. It just motivates me to do more.  If I can help somebody by bringing them food, so they don't have to go shopping, they can take that money to go pay their electric bill or take that money to go put toward their rent. It's a win-win situation.  I believe that when God blesses us, we can then be a blessing to others.
How do you keep spiritually fed now?
I fellowship at another church called Christian World, and I also go to St Michael's with my wife. But most importantly, I'm on my knees every morning in my private prayer time, letting the Lord equip me for battle in the war zone of the spiritual war that's going on on the streets.
There's someone reading this that might be at rock bottom. What words do you have for them?
Nothing – I mean NOTHING – could have caused me to progress in my life without forgiveness. I asked God for forgiveness, and He forgave me. I asked others for forgiveness.  And I had to forgive myself. It's ALL about forgiveness.
I am the Prodigal Son that has come home! And now it's my purpose to reach out and help others who are ready to change their lives. I'm not perfect, but I just want to do what I can to let other people know that if God can change me… trust me he can change anybody!
So I would say, "GET UP! STAY UP!" And then go help someone else up.
Thank you, Ronnie, for sharing your story and for your service to our community.
You are welcome.
Learn more about One Nation DreamMakers and Ronnie's mission at https://www.onenationdreammakers.org/