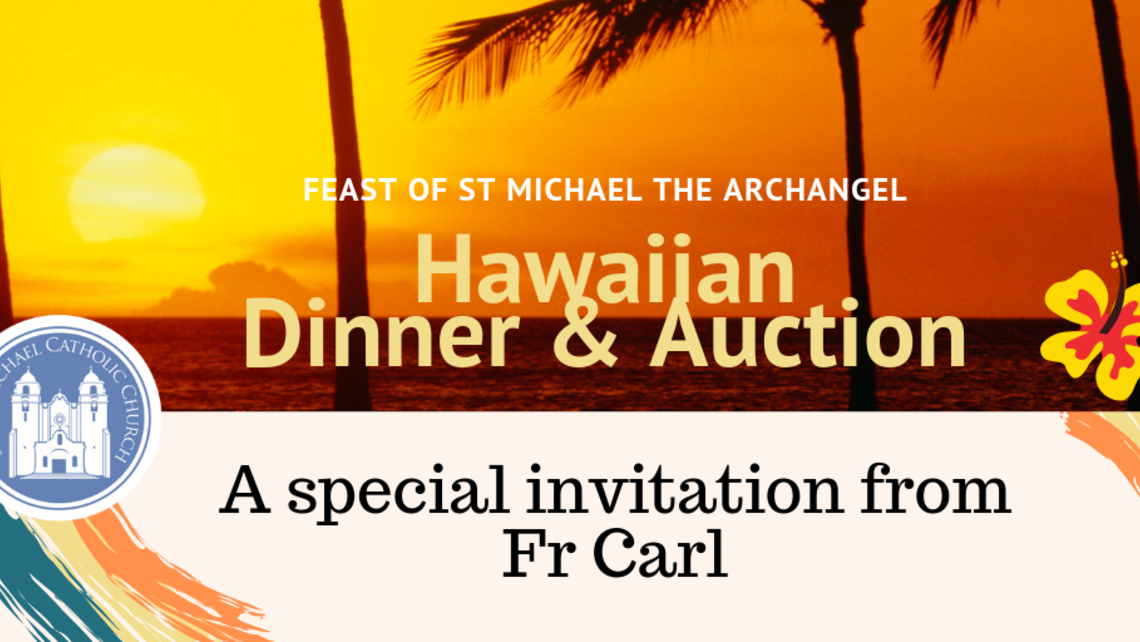 Dear St Michael Family, 
This year we shall have a different format for our annual festival, thanks to the support of our Festival Committee and Parish Council.  Now called The Feast of St Michael the Archangel, our celebration will cover three aspects: a novena of Masses (prayer aspect), an Auction Dinner (community aspect) and the Ministry Fair (service aspect).  
September 20-28 - Novena Masses in the church 
September 28 – Dinner Auction at the school ground 
September 29 - Ministry Fair in the parish parking lot 
This weekend, I would like to focus on our Dinner Auction. The goal of this dinner is to bring our ministries and families together as a parish at a meal. Second, as we enjoy our meal and entertainment with fellow parishioners and friends and family, we will have an auction to raise funds for the restoration and beautification of our school and parish parking areas.  
This year's Dinner Auction will have a Hawaiian theme, catered by 3D Catering with a no-host bar.  There will be beautiful gift baskets raffled and a live auction with a professional auctioneer.  Then enjoy music and dancing until 10 pm.  It will be a great night! 
I pray that this dinner will be symbolic of what we are as a St Michael's family. The mere fact that we can come together for a relaxing and fun meal tells us of our commitment to support and to unite as a parish in the midst of our diversity. 
Going back to the Gospels, Jesus spent a lot of His time on earth eating and drinking. For Jesus, it was important to gather people around the table, and at that table both evangelization and discipleship took place. We see countless examples of Jesus eating with people throughout the Bible, particularly in the Gospel of Luke. For example, in Luke 5, Jesus eats with tax collectors and sinners at home. In Luke 7, Jesus is anointed by a woman in the home of Simon the Pharisee during a meal. Then, in Luke 9, we see Jesus feeding the five thousand. He had some of His most notable evangelization moments at table eating with sinners, publicans and outcasts. He transformed the Jewish Passover Meal to be summit and climax of Christians Faith and Worship - the Holy Celebration of the Eucharist.  
Let us continue this beautiful tradition of our Lord to meet people and welcome them using the most basic human activity - gathering at table to eat and enjoy each other's company. 
I would like to also thank our Festival Committee who have been so generous in giving their time, talent and treasure to make this a reality. Thank you for your sacrifice, your effort and your love for the parish. 
May our parish Dinner Auction renew our commitment to be a family community. Let us gather our resources to perpetuate the legacy of worshiping and praying together, set by our founding parishioners since 1872. It is through togetherness that we take care of one another and participate in our mission to bring more people to Christ. 
Dinner Auction tickets are $50 per person or $400 per table.
Purchase tickets by emailing Clarie Duguid at duguid.knight@comcast.net 
May God bless you and your family! 
Fr. Carl