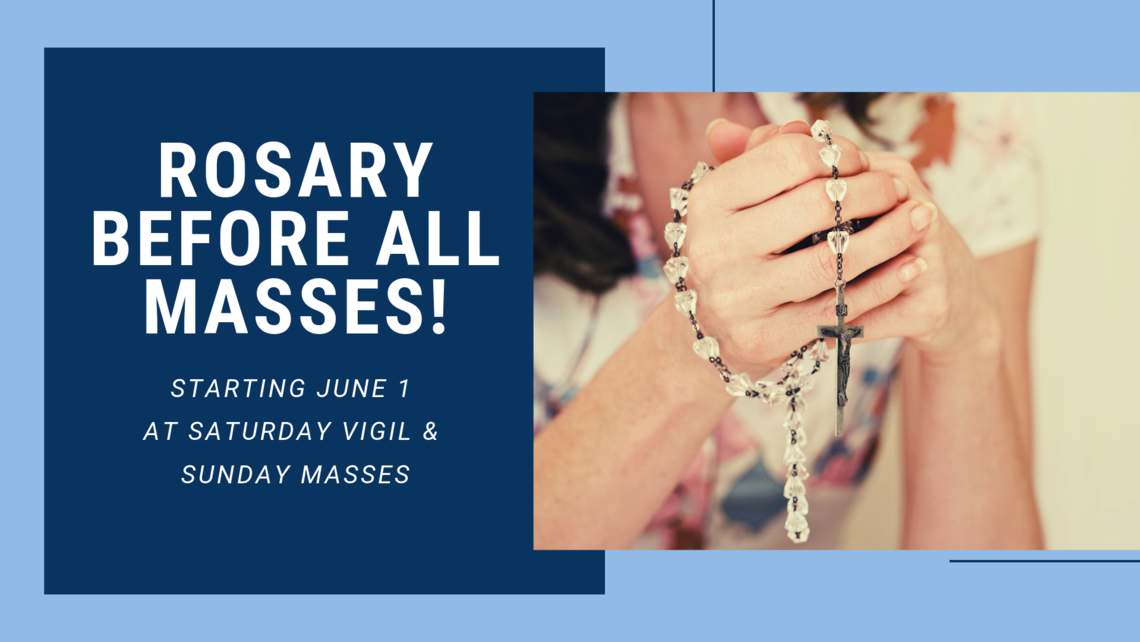 Dear St Michael Family,
As our Month of May celebrations for the Blessed Mother Mary come to close, let us continue to grow in knowledge of the importance of the Blessed Mother and her role in the sanctification of the Church and in our pursuit of holiness.
Mary's apparitions around the world are holy "wake up calls" for all Christians to shape up and focus on Jesus, Her Son! The messages of our Blessed Mother are private revelations, and they intend only to remind us of what Jesus said and did as revealed to us in the Sacred Scriptures. These messages and reminders were carefully discerned by Church authorities to ensure that they do not contradict Scripture and Sacred Tradition.
Some Marian apparitions and their respective icons have received a Canonical Coronation from the Pope. Most notably are Our Lady of Lourdes, Our Lady of Fátima, Our Lady of Guadalupe, Our Lady of Perpetual Succour, Our Lady of Manaoag, Our Lady of the Pillar, Our Lady of Walsingham, and many others.
Marian apparitions and devotions are important to the Roman Catholic, Orthodox and Anglican traditions. Most Protestants do not accept them because such devotions are not recorded in the Bible. Because of this, they believe a devotion to Mary may distract attention from Christ. However, a devotion to the Virgin Mary does not amount to worship, which is reserved only for God. Both the Catholic and Orthodox traditions view Mary as subordinate to Christ, but uniquely so, in that she is seen as above all other creatures.
Adoration or Veneration?
The honor we give to God alone is properly called adoration, the highest honor we can give. The honor we give to Mary and the saints is called veneration. Proper veneration does not interfere with the worship due to God, but rather fosters it. Pope Paul VI in Lumen Gentium said, "Our communion with those in heaven… in no way weakens, but conversely, more thoroughly enriches the worship we give to God the Father, through Christ, in the Spirit."
With this understanding of proper veneration of Mary and her role in our lives, starting June 1, we will pray the Rosary before each Mass on Saturday Vigil and Sundays. As a parish, our intention will be for the protection of human life, from conception to natural death, and for protection of the sanctity of marriage and family.
On a more practical level, praying the Rosary before Mass will prevent people from chatting inside the church, leading us to a reverent disposition before Mass. It will be a clear witness that church primarily is a place of worship, not a place to have a conversation. We always have the vestibule, breezeway and our courtyard for that purpose.
I need your all-out support on this.
I need people to lead our Rosary at every Saturday evening Mass and every Sunday Mass. If you are a parishioner, a lector or an Extraordinary Minister of Holy Communion, please join me in the crusade in consecrating our parish through the powerful intercession of Mother Mary by reciting the Rosary before our Sunday Masses.
To sign up to lead a Rosary before Mass on Saturday evening or Sunday, see the sign up sheet on the bulletin board at the courtyard entrance to the church.  Or contact Glenda Dubsky or Marise Arena at dubskyglenda@gmail.com or marisearena@yahoo.com
"O Mary, conceived without sin, pray for us who have recourse to thee."
And may she continue to shower blessings on you and your families.
Fr Carl