November 20, 2019 - 5:40pm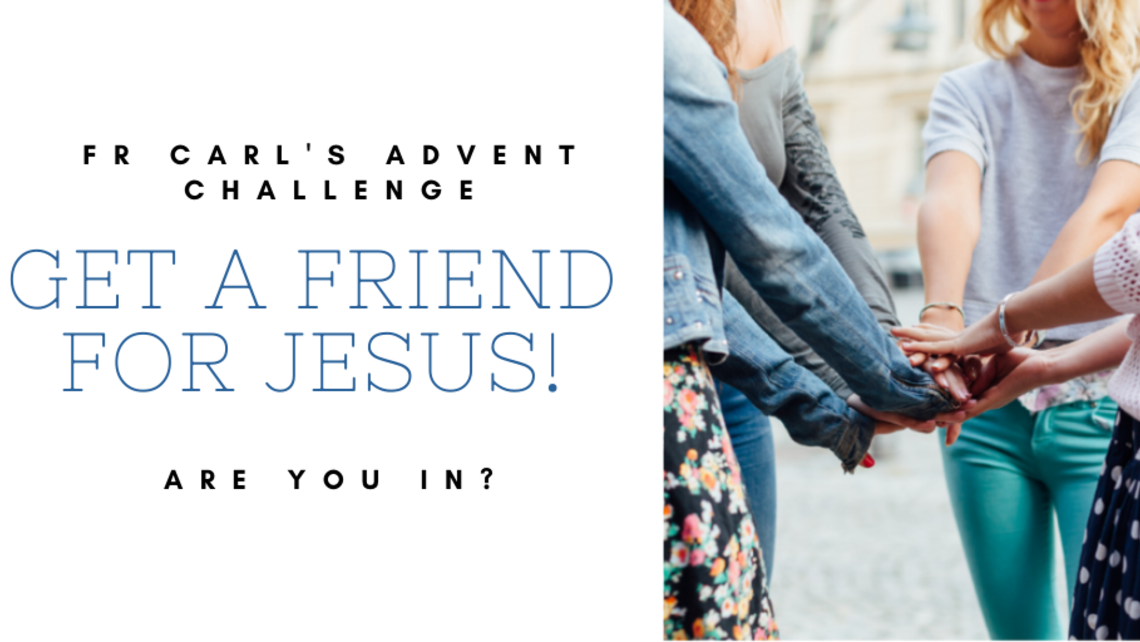 Dear St Michael Family,
The best Evangelization does not start with a parish program, module, Bible study or a book club. It starts when we immerse ourselves in the daily lives of other people. It is our personal witness to our Faith as we encounter another person. For me as your pastor, it is to be there to lead and to provide the sacraments you need to grow in holiness. It is to be a witness to my call to service, celibacy and simplicity of life. For you as members of the lay faithful, it is for you to witness to your baptismal call wherever you are, to pray and serve as followers of Jesus and as sons and daughters of the Church.
As we approach the Season of Advent (the new liturgical year for the Catholic Church) and as we prepare to celebrate the Incarnation of Most Holy God in and through the Birth of Jesus our Messiah and Savior, I have a simple (but maybe not easy) challenge for each of us this year:
Introduce a friend to Jesus!
He or she could be your officemate, a friend, a member of your family, your acquaintance in the gym or someone you meet in the street, grocery store, restaurant or wherever you are. Get a new family for St. Michael Parish and for our School. Let us concentrate all our energy this year to bring someone or a family member or a soul to Jesus.
Imagine the effect of this on our parish. If each one of you who goes to Mass makes it a rule or challenge in your life to focus on someone this year to evangelize, to talk about the Word of God, to invite to Alpha for dinner, to talk about what is going on in our parish and in our lives, to pray for each other and to have fun together with food, wine and our life stories. This could create an enormous impact in our parish and school. Just one soul, just one more family, someone each year to bring to Jesus.
Some Fun Facts:
According to a Facebook survey, the average number of Facebook friends per user is 338.  Half of internet users who do not use Facebook themselves live with someone who does!
In a Gallup poll, conducted Dec. 11-14, 2003 found that, on average, Americans have nine "close friends" not including their relatives.
I am sure most of us have friends and members of our family who are not active in their Catholic faith. The harvest is great! The opportunity is good. Why look somewhere else? Why depend so much in a program or a module to evangelize? The best means is in your heart, your speech and your way of life as a practicing Catholic and a follower of Jesus.
St Mother Teresa of Calcutta, inspired by St. Therese of Lisieux, the Little Flower said, "Not all of us can do great things. But we can do small things with great love."
I realize that sometimes our bishops and brother priests are caught up with many plans, mission programs and schemes on how to get people involved and to participate in the church mission and to grow as disciples. We don't see that the best answer and solution is YOU. It's ME. It's US ... The baptized in Christ called to witness and live out the Gospel of Joy.
So, this Advent and Christmas Seasons, God beckons us, challenges us and invites us. Not really a big and complicated mission that needs logistics and volunteers... A simpler, holy task and mission - Get a friend or a family for Jesus and for St. Michael's. Let us do this every year. Let us pray for a friend or someone whom we could bring to Jesus. 
Hail Christ the King! A blessed Advent to all of us!
Fr. Carl