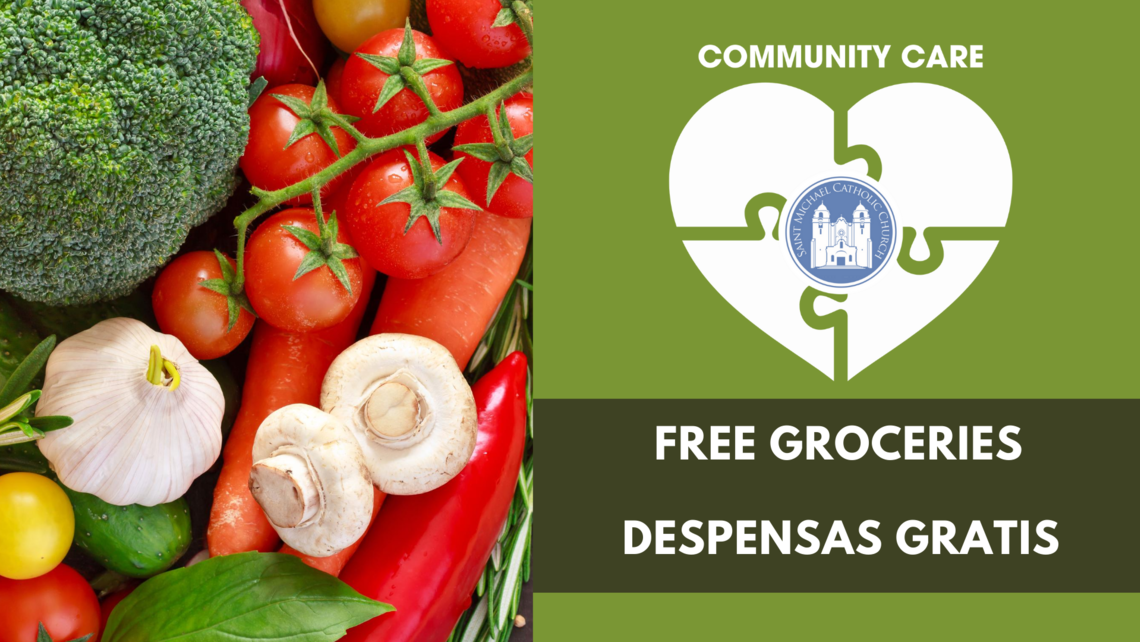 Community Care at St Michael Catholic Church offers FREE groceries to struggling individuals and families in Livermore.
We focus on providing our neighbors with FRESH produce and other basic food staples.  No one should go hungry!
Free groceries will be distributed on Saturday, September 5, from 9:00 am - 11:00 am
Drive through our St Michael School parking lot (enter from the 4th Street gate) and volunteers will place food kits in your car. 
Food is available while supplies last.
Onsite Prayer Teams are also available to pray for you and with you from your car.
For those who are sick, elderly, homebound or without transportation, please request a delivery by messaging us here or emailing Office@StMichaelLivermore.com.  You may also call 925-447-1585 and leave a message (slowly!) with your name and address.  Delivery is limited to Livermore.
If you would like to volunteer, please email Care@StMichaelLivermore.com
-----
Community Care en la Parroquia de St. Miguel ofrece alimentos GRATUITOS a individuos y familias con dificultades en Livermore.
Nos enfocamos en proporcionar a nuestros vecinos productos FRESCOS y otros alimentos básicos. ¡Nadie debería pasar hambre!
Los alimentos gratuitos se distribuirán a partir del sábado 5 de septiembre, de 9:00 a.m. a 11:00 a.m. y después cada 1er y 3er sábado del mes.
Conduzca a través del estacionamiento y los voluntarios colocarán kits de alimentos en su automóvil. La comida está disponible hasta agotar existencia.
El equipo de oración también estará disponible en el lugar para orar por usted y con usted desde su automóvil.
Para aquellos que están enfermos, ancianos, confinados en su hogar o sin transporte, podrán solicitar una entrega enviándonos un mensaje por este medio o enviando un correo electrónico a Office@StMichaelLivermore.com. También puede llamar al 925-447-1585 y dejar un mensaje (¡lentamente!) Con su nombre y dirección. La entrega está limitada a Livermore.
VOLUNTARIO! Si usted, su familia, grupo o ministerio desean voluntario, envíe un correo electrónico a Care@StMichaelLivermore.com o llame al 
925-667-4051