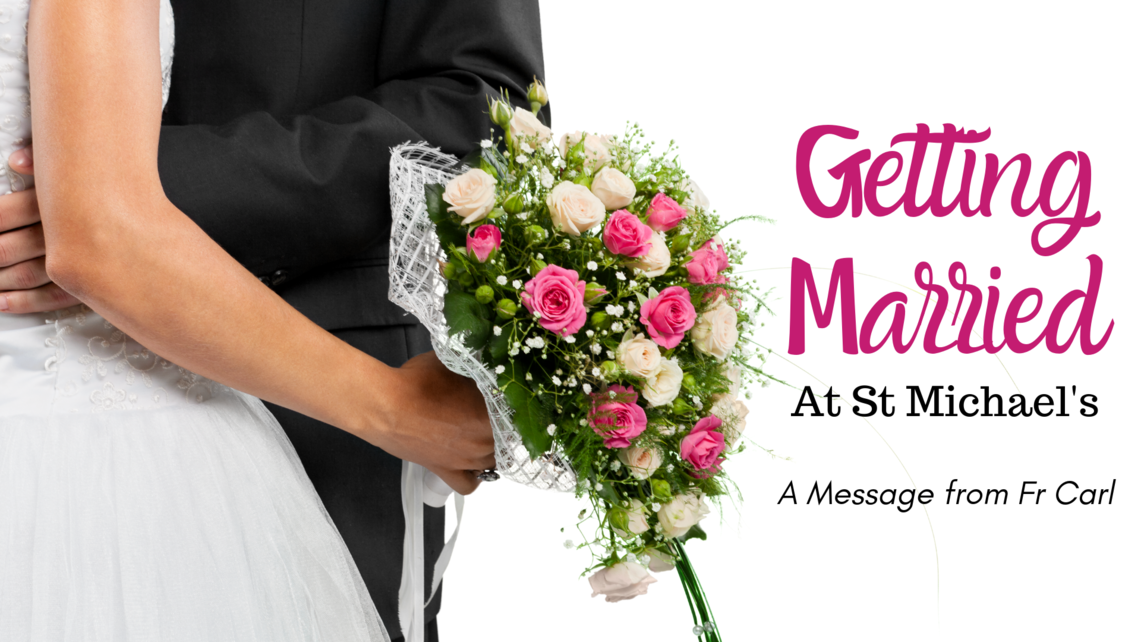 The month of June is considered by many as the "June Bride Month".
And since Livermore is a "destination" for weddings, due to our 50+ beautiful wineries and our iconic 100-year old church building, every other month is "Bride Month" at St Michael's as well!
For Catholics, marriage is a divine calling.
It is part of God's divine plan and our Sacred Scriptures are the foundation of this Truth. Here are just a few points:
1. Marriage is an indissoluble relationship except on the highest grounds (Matthew 19:9). It is for life. A couple who has a truly sacramental marriage cannot divorce.
2. Monogamous relationship between husband and wife as stated in the original law (Matthew 19:5, 1 Corinthians 6:16). Once married, always married till death do they part.
3. Husband and wife are equal before God (Ephesians 5:29-31, 1 Peter 3:7). 
4. The relationship is to reflect the image of God (Genesis 1:26-27). 
5. Husband is the loving head of relationship and wife is subordinate (1 Corinthians 11:8-9, 1 Timothy 2:13, Ephesians 5:21-33, Colossians 3:19, 1 Peter 3:1-6).
6. The relationship is fruitful (Genesis 1:28a). God designed marriage for the purpose of propagation of the world, that is to go and multiply and be fruitful.
Steps for Getting Married at St Michael's
Note: COMPLETE THESE STEPS BEFORE BOOKING THE RECEPTION!
STEP 1: Become familiar with Catholic marriage at ForYourMarriage.org.  Then download the St Michael Wedding Packet from StMichaelLivermore.com/Weddings
STEP 2:  Please call the church office at 925-447-1585 to set up your phone interview. During this interview, the priest or deacon will ask the bride and groom questions to determine if they are free to marry.  If they are not yet free to marry, they must complete the paperwork dispensations and/or annulments.  An in-person meeting with the priest or deacon will be scheduled at this time.
STEP 3: Couple meets with a priest in person with the completed Wedding Packet.  They choose a wedding date and pay 30% of church fee as a non-refundable deposit.  Both the bride and the groom must attend together.
STEP 4: The Wedding Coordinator will contact the couple and provide detailed information for the process toward their wedding. You will receive a  preferred vendor list included in the Wedding Information Folder. If you would like to use additional musicians, you MUST contact our Director of Music for further information PRIOR to booking them.
 As a policy, all paperwork, fees and outside clergy Letter of Suitability must be submitted to the church office no later than 45 days before wedding.  Missing paperwork may cause the wedding to be canceled.
Since marriage is a lifetime commitment, Marriage or Convalidation Preparation Classes are required. The primary purpose of this preparation is to help the couple know deeper and understand consciously the responsibilities of married life as a covenant and as a vocation of service in the Church.
As of April 15, 2019, Marriage Prep and Marriage Convalidation prep is available at St. Michael's.  Alternatively, there are several marriage preparation programs throughout the Diocese of Oakland.
I encourage all engaged couples and all married couples to watch the video-based study series BELOVED available free to parishioners on FORMED.org.  Whether you are new in your relationship or veterans to the sacrament of matrimony, this series will help you grow in understanding of God's intention for your vocation.
Together let us all pray this month for engaged and married couples, and for single people who are praying to know God's will for them.
May God richly bless you and your families.
Fr Carl