November 2, 2020 - 10:11am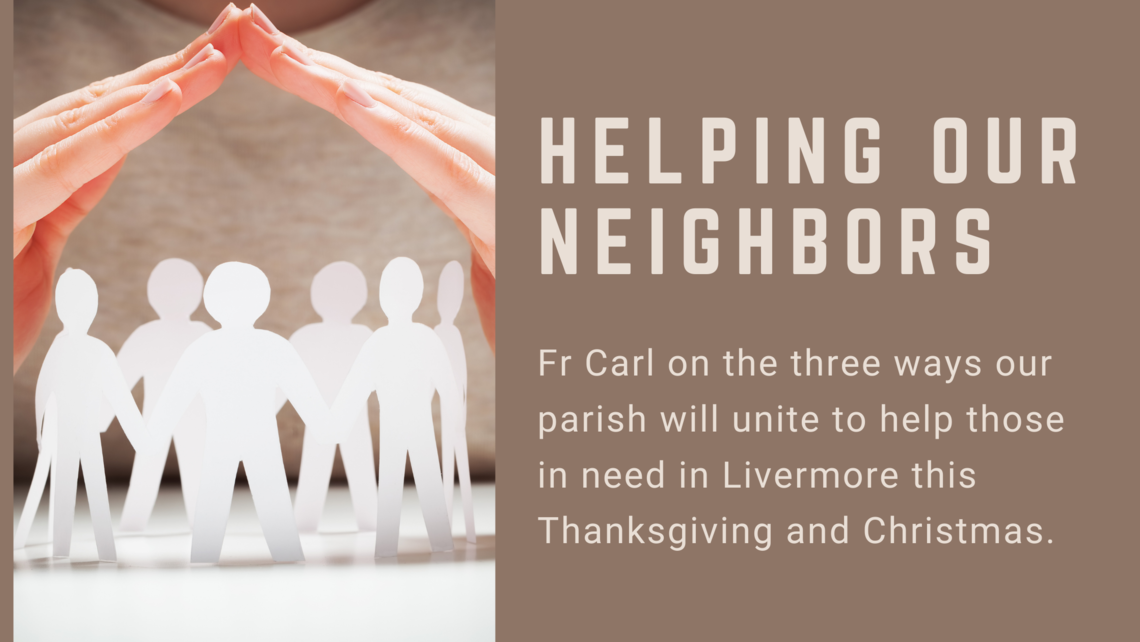 Dear Parishioners,
Thank you for voting in the election this November 3rd.  I hope that our country and our all our newly elected leaders may be guided by our Lord to lead us and protect the common good.
Now let us also do our part for the common good in our local community, to help our neighbors thrive and flourish, using the gifts that God has given to each of us.  People in Livermore are struggling during this pandemic, and we have an opportunity to be good shepherds to one another. We have been given a personal mission to evangelize and touch people's lives through our good works, empowered by our faith in Jesus Christ. Especially during the seasons of giving - Thanksgiving and Christmas - let us join together to help ease suffering and spread joy!
Let us unite together as a parish in these ways:
1. Sponsor a Family with a Thanksgiving Dinner

We are asking for $25 to sponsor a Thanksgiving meal for a family.  Our target is to prepare grocery kits for 250 families before Thanksgiving.  Each kit will include a turkey, fresh fruit and vegetables, ingredients for all the traditional side dishes, plus baking supplies and desserts.  See here for details.
2.  Volunteer at the Community Care Grocery Distribution
We have several teams that individuals and families can join to help distribute groceries to Livermore neighbors in need in November and December. See here for details.
3.  Donate Gift Cards to Deacon Dave's Santa's Secret Service
This year, Santa's Secret Service is different. Instead of wrapped gifts, Deacon is asking for donations of grocery store gift cards.  His "elves" will distribute them to guests in the Community Care Grocery drive through on December 19.  Gift cards can be mailed or dropped off to the church, addressed to Deacon Dave.
During this time as your pastor for two years and three months, I have witnessed how generous and prayerful so many of you are. Please continue to support our efforts to help the poor in our community.  Thank you in advance for being a part in making their Thanksgiving Day and Christmas truly special days for them and for all of us.
Fr Carl