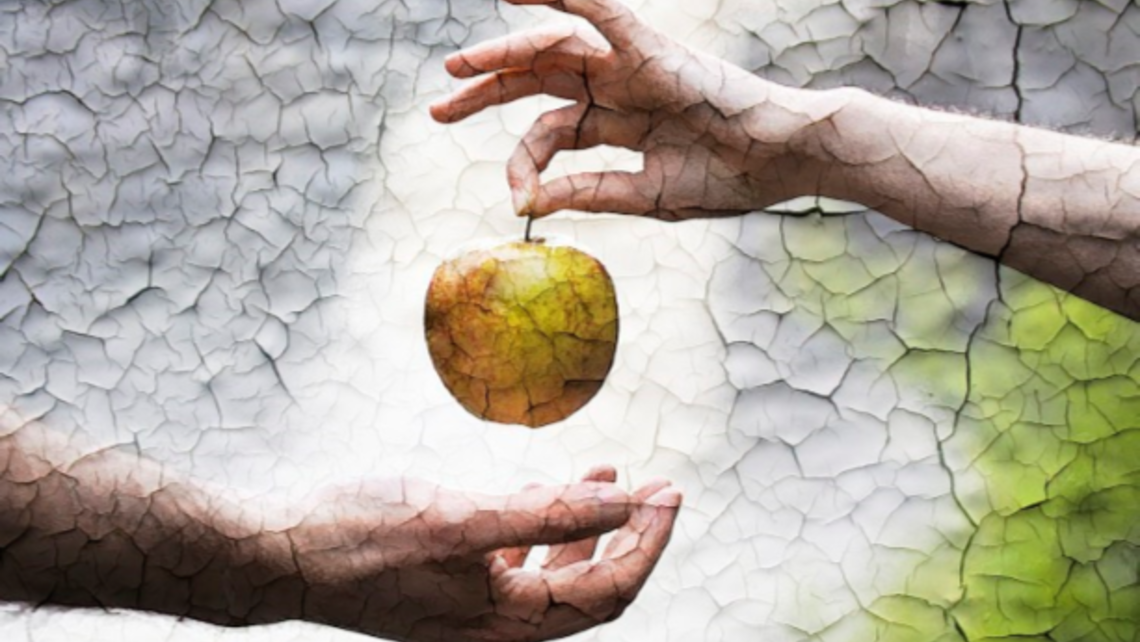 Scripture Reflections for the Tenth Sunday in Ordinary Time
Today's Gospel demands our conversion, which is a two- step process.
It requires a change of heart and then a turning around toward God. It is both an interior and exterior change, which could be likened to re-aligning yourself to follow your north-facing compass—it first requires a knowledge that you are no longer headed north, and then the willingness to change paths in order to head north.
Because conversion requires a metanoia, or a change of heart, we know that to be converted, our consciences must be open. Truth must be  able to penetrate our thoughts so that we become aware of our failings and shortcomings. When our conscience speaks we need to conform ourselves to the truth, instead of trying to justify our wrongdoing. The will then follows the intellect. If we know something to be true and want to embrace that truth, then our actions will begin to follow. The second step in conversion requires us not just turning away from something, but turning toward something else. Conversion is turning away from sin and turning toward God; turning away from vice and toward virtue. The best confessors will not just tell us we need to stop being greedy, but rather will encourage us to break the vice of greed by growing in the virtue of generosity.
First Reading Reflection
This Sunday's Gospel shows us the important division between followers of Christ and followers of the devil. The First and Second Readings help to highlight the difference.
The character of the evil one is revealed in this reading. Though Adam and Eve are misled, God has come and there is no deceiving him. The first sign of Adam's sin is fear: Adam hides from the God who made him out of love. Then Adam and Eve attempt to justify their actions by blaming others. There is no repentance, no apology, and not even a request for mercy. The voice of "the accuser" is in the mouths of God's children, and they do not trust their Father to forgive them. What a sad change from the gentle walk with God that used to  grace their evenings.
God's judgment of the serpent shows us what a miserable exchange it is to follow the devil instead of God. While this story is a literary figure, its message can help us to identify the telltale signs of the enemy: separation from others, blame, pride, and lies. Such thoughts and actions are sure signs of temptation. When we recognize these tendencies in our own lives, we must look for the devil's tail. And in keeping with the reading, we can turn to the woman and her seed, that is, to Mary and Jesus, to stamp out the evil.
Second Reading Reflection
St. Paul's words to the Corinthians provide a striking contrast to the sorrowful scene of the First Reading. Here is a son of God restored to grace.  He is full of brotherly encouragement and zeal for the salvation of "more and more." Unlike the distrusting accusations of our first parents, he is confident in the grace of God. He believes in the love God has for him and for others. He believes, not because he is confident in his own abilities, or because he is doing well from an earthly standpoint. In fact, the previous verses in the chapter show that he is suffering much. He believes because Jesus has been raised from the dead; he believes because God has promised goodness. In fact he is so confident in God that he sees his sufferings as an instrument of good: "This momentary light affliction is producing for us an eternal weight of glory."
As he encourages his readers, Paul makes an allusion to the people in Israel who traveled in tents, hoping for the Promised Land. He sees himself and all Christians as the people of God who dwell in tents in the world. The "promised land" of eternity is what awaits us. The followers of Christ see God's love in affliction and draw strength from it. They trust in his mercy as they journey towards the heavenly Kingdom.
Gospel Reading Reflection
Jesus is accused of insanity by his family and of Satanism by the scribes, learned men from Jerusalem. He seems untroubled by the first accusation, but vehemently rejects the second. Of course, Jesus is not insane, but perhaps he is willing to concede a certain craziness in his activity to the eyes of the world. And as the final verses of today's Gospel show, he is preaching a family bond that goes beyond the bounds of human comprehension.
However, Jesus is determined to establish the difference between his work and that of the evil one. First, he summons the scribes. (How interesting that they come and obey his call, even though they seem to have dismissed him. Christ's power is at work.) Then he gives them a parable in the form of three questions about how an interiorly divided entity can survive. Then he asks how one can actually penetrate the defenses and cause such division: How can one bind the strong man? After these compelling arguments, he comes and warns them that they are heading into blasphemy of the  worst kind.
The sin against the Holy Spirit is unforgivable because it rejects mercy. The scribes have attributed Jesus's merciful restoration to the power of darkness. They are like the older brother in the parable of the Prodigal Son; they see the kindness of the Father as an attack on themselves; and they cannot go to the feast of mercy simply because they won't.
Discussion
Watch the short Opening the Word video reflection on today's readings.
In the Second Reading, Paul is encouraging the Corinthians as he says, "Our inner self is being renewed day by day." How are you allowing God to renew you each day?
In today's Responsorial Psalm we proclaim, "I trust in the Lord; my soul trusts in his word." Do you place your trust in the Lord? Do you turn to the Scripture as your rock, or do you lean on other things or people in your life? Where do you look for security?
Reflection reprinted with permission from Augustine Institute.