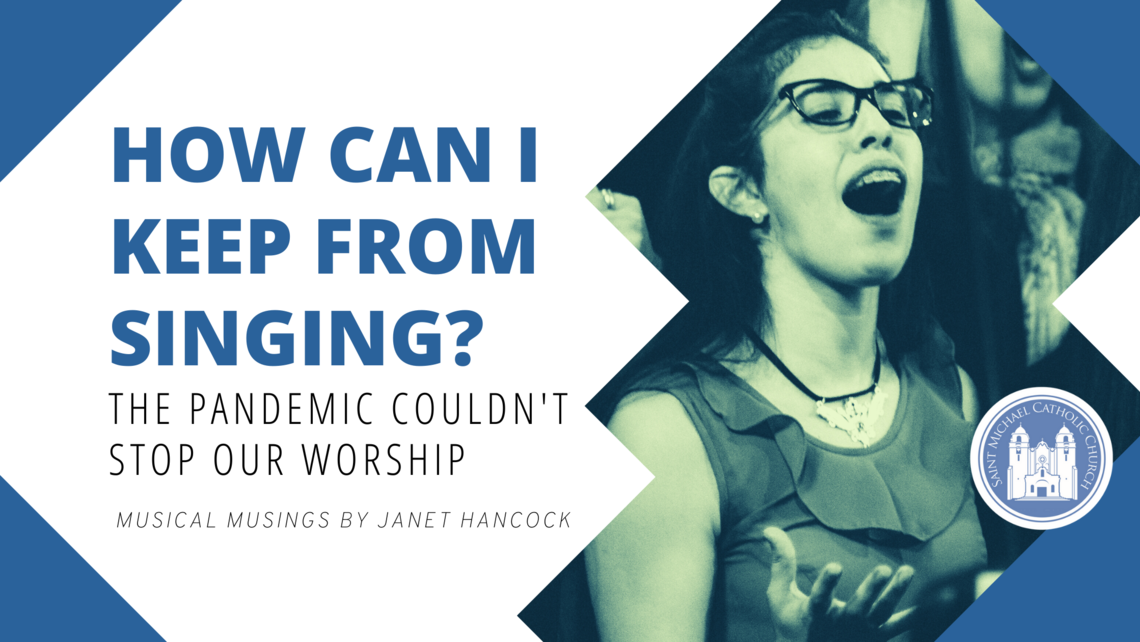 The Pandemic Couldn't Stop Our Worship
In March of 2020, our world as we knew it came to a screeching halt due to the Corona Virus.
We sheltered in place in our homes, businesses deemed "non-essential" were closed, in person learning at schools was halted while educators scrambled to continue teaching through "distance learning". And many workers were either laid off, furloughed or, when possible, worked from home. 
At St. Michael's we had livestream Masses in the newly remodeled adoration chapel and offered drive through communion and drive through confession. As time went on, we were able to offer livestream Masses in the church, followed by walk-in communion. Then we eventually were able to have limited capacity, socially distanced Masses both indoors and outdoors. 
During our liturgies, much was streamlined, all the while striving for a continued sense of reverence. In the beginning, our sacristans took on the role of sacristan, lector and altar servers. Our priests began to habitually enter from the sacristy to begin Mass (a practice that was common at daily Mass, but not on Sunday). There has been no procession of the gifts as the Eucharistic table is prepared. There is no physical contact during the sign of peace and holy water fonts are empty. Pews are roped off to insure safe social distancing. 
And we stopped singing. Scientific studies began to find that singing -- particularly loud and robust singing – could more easily spread aerosol particles and droplets into the surrounding air that the act of speaking. This brought about concern that the virus could be more easily spread through the very act of singing. As time has gone on, we have used precautions and enacted protocols that enables us – both musicians and parishioners – to sing safely and with joy. And those precautions and protocols have changed and relaxed over the months, just as guidelines for other ministries have modified. 
Singing is communication to our fellow saints, as well as communication to God. In the letter to the Ephesians, St. Paul says we should, "speak(ing) to one another in psalms and hymns and spiritual songs, singing and making melody with your heart to the Lord; always giving thanks for all things in the name of our Lord Jesus Christ to God, even the Father." (Ephesians 5:19-20). 
How do we give thanks in the midst of a pandemic? When there is fear? Death? Loss of income? Isolation? 
I am reminded of the text of Psalm 137 (our responsorial Psalm this past 4th Sunday of Lent) – "Let my tongue be silenced if ever I forget you." The Psalm expresses the sorrow and yearnings of the Jewish people during their Babylonian exile. During the exile the people of God enter into their faith in a new way, much like we have done during the time of the Pandemic. Though the temple was destroyed and the holy city of Jerusalem ransacked, the people were sustained by their memories and also in the sure knowledge that their God is still with them. The people learned to "sing a song of the Lord / in a foreign land." How have we learned to sing a new song during the pandemic? How does the journey of the Jewish people during their exile and their example of faith bring us comfort? 
Our closing song at Masses this weekend is "How Can I keep from Singing?" While the song reminds us that we are in God's hands, it does not ignore the fact that on earth we still lament; we face tumult and strife. Yet in the midst of the laments, the foundation of our lives is a different tune—a peaceful, hope-filled song of faith. "How Can I Keep from Singing" is the song of my heart. My prayer is that it can be yours as well. 
1. My life flows on in endless song  
Above earth's lamentation. 
I hear the real though far-off hymn  
That hails a new creation. 
Refrain 
No storm can shake my inmost calm, 
While to that rock I'm clinging. 
Since Love is Lord of heaven and earth,  
How can I keep from singing? 
2. Through all the tumult and the strife,  
I hear that music ringing; 
it sounds and echoes in my soul;  
How can I keep from singing? 
3. What though the tempest 'round me roar,  
I hear the truth, it liveth; 
What though the darkness 'round me close,  
songs in the night it giveth. 
4. When tyrants tremble, sick with fear,  
And hear their death knells ringing; 
when friends rejoice both far and near,  
How can I keep from singing? 
5. The peace of Christ makes fresh my heart,  
A fountain ever springing. 
All things are mine since I am his;  
How can I keep from singing? 
Text: 87 87 with refrain; attr. to Robert Lowry, 1826–1899, alt.; verse 3, Doris  
Plenn. Music: Quaker Hymn; attr. to Robert Lowry. 
(shared with permission of Janèt Sullivan Whitaker)