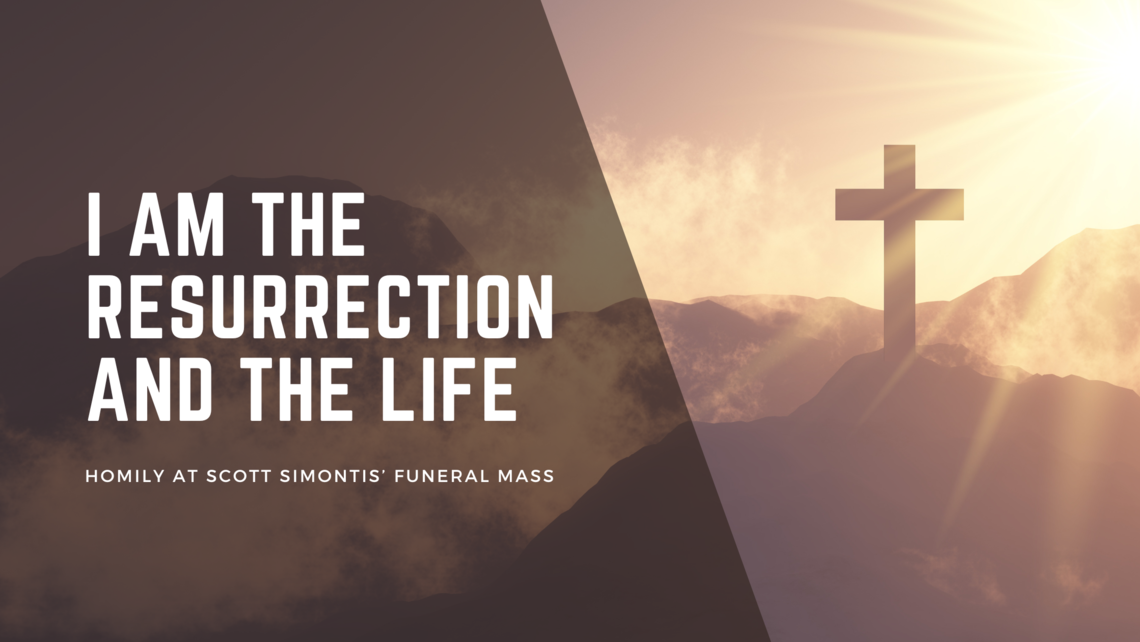 Homily at Scott Simontis' Funeral Mass
By Deacon Eric Simontis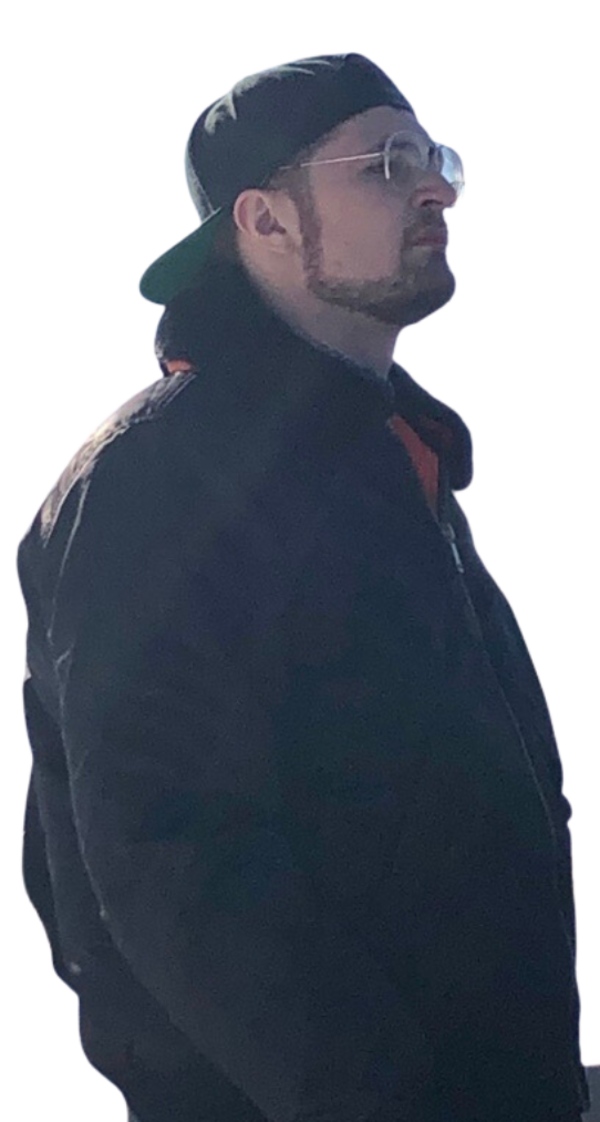 Kathy and I, and indeed our families, went through a really trying time a couple of years ago.  My Father passed away suddenly and then in short order, so did my and Kathy's mother. Prior to this, Kathy and I had been driving to Cleveland every other weekend and it was all overwhelming.  For all of us.   In a conversation that I had with Bishop Knestout, my former boss in DC, about this, Bishop Knestout said that accepting a cross isn't a natural reaction.  No one wants to embrace pain or suffering but rejecting our crosses is a problem because God sends these crosses both to us and for us.  These crosses are meant to form us into being the person that only God can see.  But we look at our crosses without understanding, sometimes feeling like we are laboring and staggering under their crushing weight without purpose.
Scott received the twin crosses of addiction and mental health issues early in his life.  These crosses may have left him for brief periods of time but, in truth, never really left him.  And with his crosses, we received ours.  Life with someone who is addicted or has mental issues is difficult at best.  As Kathy once remarked, it teaches you a lot about unconditional love.   It is like having explosives in your house that can go off at any minute or, in our case, with the next phone call we received.  And with each explosion our family and in many cases, our friends, felt the collateral damage.
On Tuesday, February 21 at 2:08 Pacific time, following a wellness check that we initiated, we learned that Scott was finally able to set his crosses down but we picked up a new cross, the cross of loss. 
And in those first horrible moments when we got the call that Kathy and I both knew was coming, but had prayed that we would never get, I heard a voice in my head saying over and over and over: "I am the resurrection and the life.  Whoever believes in me even if he dies, will live."  Over and over again, I heard that refrain and, in those horrible moments, it gave me something to hold onto.
And later that night, it dawned on me that, now, I would have to plan my son's funeral.  I knew that I had to find that Gospel reading because that gospel would absolutely be in the funeral liturgy.  And I smiled when I found out that this refrain comes from today's Gospel of John where Jesus goes to the home of Martha, Mary and Lazarus after Lazarus dies.
Martha, you see, is a favorite of mine.  Because I love the spiritual trajectory and service of Martha which, in some ways, is the same trajectory as Scott.  We first meet Martha in Luke, chapter 10 when her brother brings home Jesus and his disciples.  Mary takes her seat at Christ's feet and Martha is running around, trying to get some food on the table for this sudden onrush of guests by herself.  So, Martha goes to Jesus to have Him ask Mary to serve.  And Jesus replies, "Martha, Martha, you are anxious and worried about many things.  Mary has chosen the better part and it will not be taken from her."
Now, I think I'm in the minority, here, but I always focus on the fact that Jesus doesn't tell Martha to stop serving.  We all have different gifts from God, and I believe that Mary's gift was the gift of contemplation and prayer and, in sitting at Christ's feet to listen to His Words, she had chosen HER best part.  Mary's gift was to serve and, quite frankly, I think literally serving Christ is a pretty noble endeavor.  And that's the point.  We need to find the gifts that God has given us and use them in the service of others.
But the next time we see Martha is in the Gospel reading we heard today, and it is a very different Martha.  Patient and Faith-filled.  Because it is Martha and not Mary who sets out to meet Christ who, waiting away from Bethany until Lazarus dies, is now journeying to Bethany.  Martha, who has just lost her brother says to Jesus that, if he had been here, Lazarus would not have died.  [But] even now I know that whatever you ask of God, God will give you."Jesus said to her, "Your brother will rise." Martha said to him, "I know he will rise, in the resurrection on the last day."Jesus told her, "I am the resurrection and the life; whoever believes in me, even if he dies, will live, and everyone who lives and believes in me will never die."
What I love about this is that Jesus says, "I AM the resurrection and the life."  Not "I will be" or "on the last day" but I AM.  It is not some distant time in the future but today, now.  And Lazarus was indeed raised from the dead.  That day.  What a comfort that truly is.
As I look back on Scott's life, I see that he, too, was anxious and worried about many things. That was both the drugs and his being bi-polar. In fact, Kathy used to joke that she was going to change Scott's profile in her phone from his name to "Anxiety" so that, when he called, she could choose to either accept or decline anxiety.  But she always accepted.
But, like Martha, he also served.  We have so many stories and have heard so many more since his passing about how good he was.  How, even in his addiction and even with his mental health struggles, he gave of himself.  He helped his friends both new and old. He also worked with a group called "Underdog Devs" where he mentored formerly incarcerated or economically disadvantaged software engineers.  So many times, we wanted to go out and had to wait for Scott because he was mentoring one of his underdogs.  So many times.  And, looking at the people he helped, I believe Scott saw some of the brokenness in them that he had in himself.  Kevin remarked that, unlike the airlines, which tell you to put your mask on first, Scott always put the other person's mask on before his own.
And it needs to be said that there were people who took advantage of Scott's caring side. People who used Scott to enrich themselves. And you know what?  Scott just kept on serving people.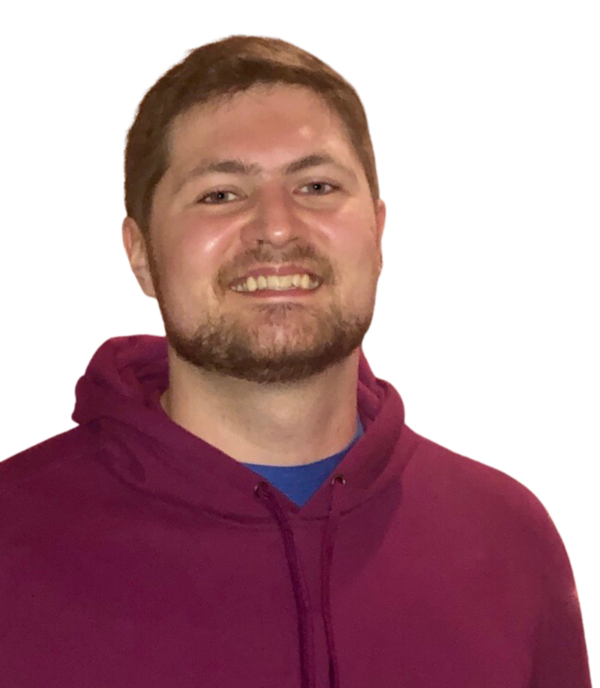 And we are also grateful that God prepared us as best as He could.  As I have shared with some of you, no one person's death is a surprise to God.  In December and January, Scott visited us twice in California.  He surprised his mother and me on Christmas when he came out with almost no notice.  On December 23, we went whale watching on Monterey Bay and Kathy took a picture of him where he looked absolutely peaceful and content. I remember thinking vividly that we were creating memories for Scott when God was preparing memories of Scott for us.  And then, in January his mental illness or drug use or both reappeared. Kathy and I received a series of horrifying text messages from him.  About shootings and killings, police and stalking.   When he was finally lucid, Kathy told him to come back out to California, and he spent three great weeks with us and was, once again, relaxed and content.
And while Scott was still visiting us in January, we kind of forced our youngest, Kevin, to come out to California for a visit and the tickets were booked and Kevin arrived in California just days after Scott's passing.  And this worked out so perfectly because we were all together following Scott's passing.   
So, as we look back on all the events surrounding Scott's passing, Kathy was the one who said that you could see God's fingerprints everywhere.  And, in His great mercy, he created opportunities for us to get together both before and after his death.
God's grace was, indeed, all over this.  From the visits to the bible passage God gave me and in all the wonderful comments we received from the people that Scott mentored from booking Kevin's ticket three weeks before Scott's passing.  I have said it before and it was very true here.  He prepared us as best as he could for the call we always knew we would get and prayed so hard that we wouldn't. 
Brothers and sisters, we are all broken in some way but, like Saint Martha and like Scott, we are called to serve Christ by serving others using the gifts and charisms that God has given us.  That's simple Christianity at its best. 
Finally, our God is truly great.  We know that He is everywhere, all the time. And, as we have seen throughout our struggles, He is most present when He is most needed.  And I take great comfort in that and continue to take comfort in it.
Finally, we also know that Scott's struggles with addiction and his mental health issues are over and, for the first time in his life, that he is finally, truly, at peace.
May he rest in that peace.
God bless.
Deacon Eric Simontis