September 29, 2016 - 8:00am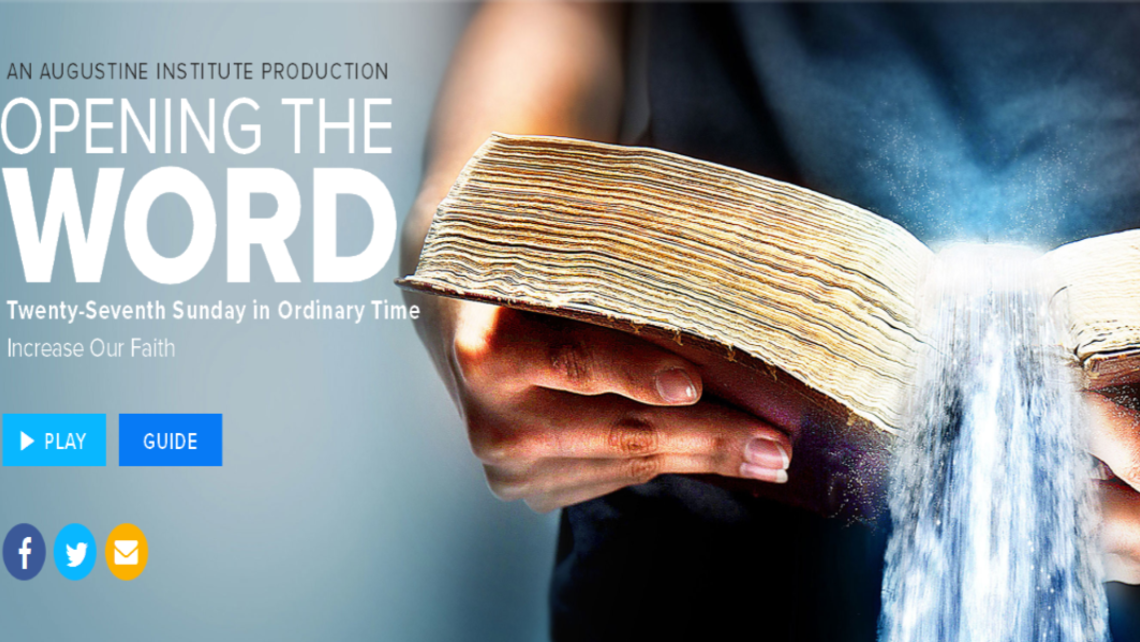 Reflection by Opening the Word
First Reading
In spite of violence, destruction, and ruin, the just person, because of faith, will live (Habakkuk 1:2-3; 2:2-4).
Habakkuk, who's one of the twelve minor prophets of the Old Testament, lived at a time in Israel's history when Babylon had just become a threat to Judah. Here, Habakkuk  poses the question that has always vexed mankind: Why do the  innocent suffer evil? In the short portion we have the reply of the Lord to Habakkuk's question.  We don't find anything like an explanation, only an invitation to faith. "The just man, because of his faith, shall live," he's told.
Many commentators draw a comparison between Habakkuk and the book of Job where the question of suffering receives the closest examination in the Old Testament. One similarity is that both Habakkuk and Job end finally with worship. Perhaps worship in faith is finally the only answer to human suffering.
Second Reading
Bear hardship with the strength that comes from God (2 Timothy 1:6-8, 13-14)
This letter is written with a greater note of urgency than 1 Timothy.  Paul was at liberty in Macedonia when he first wrote 1 Timothy, but  now he's most likely in a Roman prison with only a short time yet before his death on the Ostian Way outside Rome. Paul's mind is on last things,and so he speaks to Timothy of the end of time and of his own likely end.We can read 2 Timothy as a kind of last will and testament to the whole Church. Paul enjoins Timothy—and us—to "take as your norm the sound words that you heard from me, in the faith and love that are in Christ Jesus.  Guard this rich trust with the help of the Holy Spirit that dwells within us." To this day, so far from that Roman prison, we're still guarding that "rich trust" of faith. How thankful we ought to be to that faithful servant, Paul, and to all the bishops of history who, like Timothy, have guarded it so faithfully.
Gospel
Lord, increase our faith! (Luke 17:5-10).
In speaking to his apostles in this week's Gospel reading, Jesus asks them to reflect again on the proper relationship between master and servant. It may seem odd that those who are closest to Jesus should  be schooled like servants while those who are wary of Jesus should be taught as sons; but Luke is interested in all those who will follow Jesus without benefit of having been Jewish insiders. Having been servants of God outside of the covenant of Israel, they'll be transformed into children  of God; the new Israel after Jesus' work of redemption is done. The good teacher doesn't require more of his students than they're able to give and so Jesus schools the servants of God to be good servants and doesn't demand that they act like children of the household until they've received their inheritance. That may well account for the phrase "If you have faith..." The disciples aren't even ready to exercise their faith.
Meditate and Discuss
The readings for this week center around the theme of faith. What would you expect to see in a person who has great faith?
What should we do when we feel we don't have enough faith?
Watch the free video presentation that accompanies this reflection at Formed.org and consider the questions which the presenter asks at the end. Do you really believe that there is nothing you could do to earn or deserve God's love, but that he loves you just because of who he is? Why or why not? And are you really ready to be a generous receiver? Why or why not?
---
Opening the Word offers prayers and insights for the Sunday Scriptural lessons. Watch the video presentation that accompanies this reflection FREE at Formed.org.