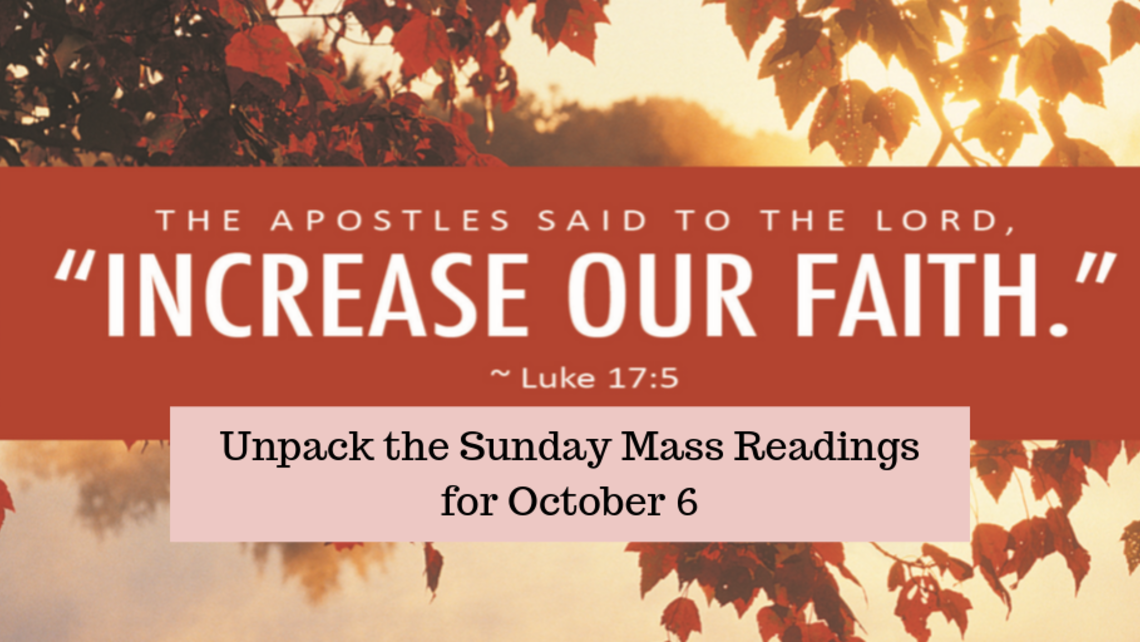 Unpack the Sunday Mass Readings for October 6
Last week, in the Sunday Mass readings, we looked at how we are to treat the poor and how we are to use our material possessions.
This week's lesson extends the idea of poverty to point out that we are all poor before God. We are encouraged to realize they we can be rich and poor at the same time.
This Week's Overview
Underlying all three readings this week is the idea of faith. It begins with the first reading: the prophet Habakkuk cries out to God with a question common to every human heart: Why does God allow evil to persist in the world? God doesn't answer with the kind of explanation we would normally want. Instead, God's answer to Habakkuk is a call to trust in his plan, a call to have faith. After all, we see only the tiniest part of God's plan. We are called to wait in faith, believing that in the end everything will be made right.
The second reading reaffirms our need to have faith and trust, adding that we do not have to do this on our own, but the Holy Spirit will give us the aid we need.
Finally, in the Gospel reading, the apostles recognize that they don't have enough faith, and they ask Jesus to increase their faith. Christ tells them that if they had faith as tiny as a mustard seed they could do great things. But he also warns us that we can't wait until we have a strong feeling of faith; we must act on the faith we have now.
Taken together, these three readings provide a powerful three-pronged lesson: First, God calls us to exercise trust in his plan for our lives, a call that is based on our faith in him and his goodness. Second, even though faith can be difficult, the Holy Spirit will be with us helping us to both exercise and increase our faith. Third, we are not to wait until we have a plentitude of faith, but we are to begin with the faith we have, since it is in the exercising of faith that faith itself will increase.
Unpack the First Reading
Habakkuk, who's one of the twelve minor prophets of the Old Testament, lived at a time in Israel's history when Babylon had just become a threat to Judah. Here, Habakkuk poses the question that has always vexed mankind: Why do the innocent suffer evil? In the short portion we have of the reply of the Lord to Habakkuk's question, we don't find anything like an explanation, only an invitation to faith. "The just man, because of his faith, shall live," he's told.
Many commentators draw a comparison between Habakkuk and the book of Job where the question of suffering receives the closest examination in the Old Testament. One similarity is that both Habakkuk and Job end finally with worship. Perhaps worship in faith is finally the only answer to human suffering.
Unpack the Second Reading
This letter is written with a greater note of urgency than 1 Timothy. Paul was at liberty in Macedonia when he first wrote 1 Timothy, but now he's most likely in a Roman prison with only a short time yet before his death on the Ostian Way outside Rome. Paul's mind is on last things, and so he speaks to Timothy of the end of time and of his own likely end.
We can read 2 Timothy as a kind of last will and testament to the whole Church. Paul enjoins Timothy—and us—to "take as your norm the sound words that you heard from me, in the faith and love that are in Christ Jesus. Guard this rich trust with the help of the Holy Spirit that dwells within us." To this day, so far from that Roman prison, we're still guarding that "rich trust" of faith. How thankful we ought to be to that faithful servant, Paul, and to all the bishops of history who, like Timothy, have guarded it so faithfully.
Unpack the Gospel
In speaking to his apostles in this week's Gospel reading, Jesus asks them to reflect again on the proper relationship between master and servant. It may seem odd that those who are closest to Jesus should be schooled like servants while those who are wary of Jesus should be taught as sons; but Luke is interested in all those who will follow Jesus without benefit of having been Jewish insiders. Having been servants of God outside of the covenant of Israel, they'll be transformed into children of God; the new Israel after Jesus' work of redemption is done. The good teacher doesn't require more of his students than they're able to give and so Jesus schools the servants of God to be good servants and doesn't demand that they act like children of the household until they've received their inheritance. That may well account for the phrase "If you have faith…" The disciples aren't even ready to exercise their faith.
Reflect & Discuss
Delve deeper into this week's Scripture readings with a friend and see what the Bible has to say about having great faith. Please start by watching the short Opening the Word video on FORMED.org
In today's Gospel reading, the apostles ask Jesus to increase their faith. What should we do when we feel we don't have enough faith?
Let's consider the questions which the presenter asked at the end of the video:
Do you really believe that there is nothing you could do to earn or deserve God's love, but that he loves you just because of who he is? Why or why not?
And are you really ready to be a generous receiver? Why or why not?
Reprinted with permission from  Augustine Instituted from the Opening the Word Leader Guide available on FORMED.org