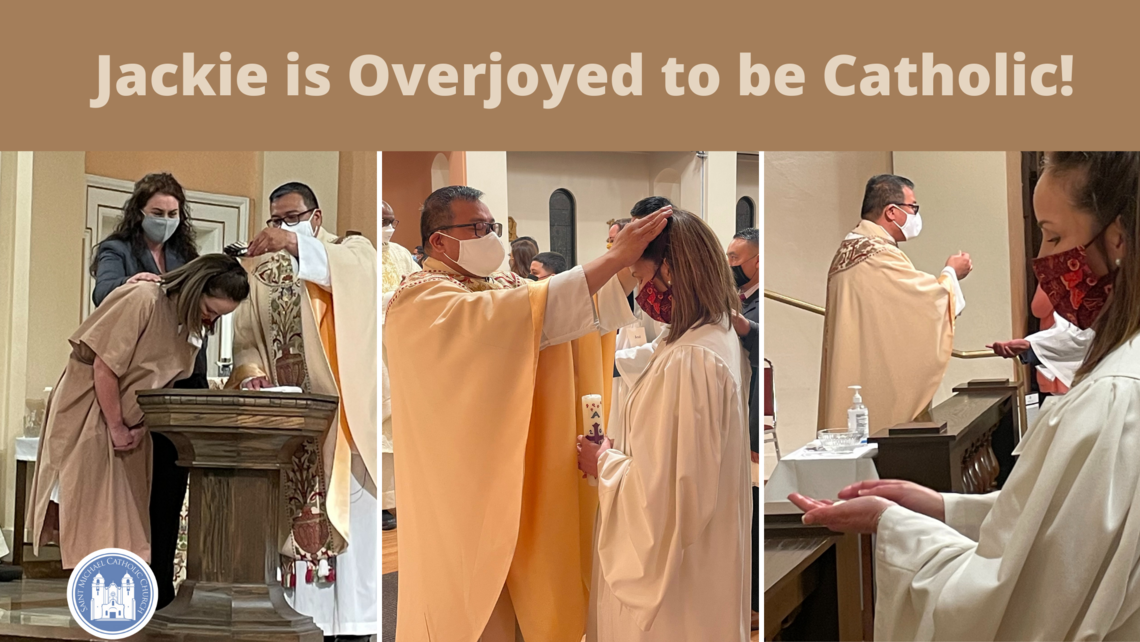 Jackie Gonzalez always knew there was a God but did not have the religious framework to develop her faith.
She was craving more and was drawn to the Catholic Church. She joined the Rite of Christian Initiation of Adults (RCIA) process at St Michael's and over time she came to know Jesus and His presence in her life.  She was overjoyed to receive Baptism, Confirmation and Communion a few weeks ago at Easter Vigil.
Here's her #SacredStory:
Thank you for sharing your story with us, Jackie. I know so many of us at St Michael's followed your journey, especially during Lent and at Easter Vigil.  Can you tell us a little about your background and where you were spiritually growing up?
Well, I was raised somewhat as a "holiday protestant Christian". Growing up we were kind of off-and-on church goers.  I always knew there was a God, but I just didn't know much formally. One of my closest childhood friends was Catholic, and when I would sleep over, I had to take church-appropriate clothes because going to Mass was required.  I actually liked it!
Seeds were planted early! What were some turning points that nudged you toward the Church?
Well, my husband is Mexican and a cradle Catholic, so through him I had some more exposure to the Church.  But I think if I look back at a particular moment, it was when I was going through some really rough times.  I was mad at God and just angry all the time.  Then I was doing some yoga one day and at the end where you focus on your breathing and meditation, out of nowhere THANK YOU GOD just popped into head. I was like "where did that come from?!".  It felt right though, and it was the nudge I needed to start attending RCIA Inquiry [the first step for adults to prepare to receive Sacraments]
I love hearing how God intervenes right when we need Him.  Were there any obstacles that you had to overcome when you started RCIA?
I'm not sure I would say it was an obstacle, really, but I felt intimidated by all the ritual and rules of the Catholic Church.  I mean, at Mass it's like everyone knows what to do: when to stand, sit, kneel. And they seem to just know how to say the prayers and how to respond.  But once I got into the Inquiry group discussions, and I met other people who were learning too, I just had to remind myself that this is the right place to be. It started to feel more natural.
Congratulations for your bravery! You mentioned your husband grew up Catholic. Did he help you along the journey?
Well, it turned out that my husband had not been Confirmed, so it worked out well that we were both learning and preparing at the same time.  It helped to have him there with me. And he learned and recalled so much from his childhood too.  He grew deeper in his faith through it.  We weren't married in the Church, so we had our marriage convalidated [made Sacramental]. It was something that we wanted to do for his family, but by the time we got there it was for us.
Did you have anything that you struggled with?
Some of the Church teachings felt really restrictive at first.  For instance, there's the Ten Commandments and then you can break them down into all these other ways to break them! I think it's something that I'm going to have to grow into and see how minute I have to get into.  I can overthink it, like there are these rules, but there's also my free will. I think I need to pray on it and ask for guidance and just trust that God knows I'm not perfect!  I'm trying to not get too hung up on the drilled down details and trusting that it will all fall into place.
Did you have any big "ah ha" moments when it all came together?
During the RCIA process, something that started changing and I started realizing that this was the right thing was that I started having "God Moments" and I started tracking them. I started logging them in my phone, these moments when I noticed God's presence.  It's kind of a cool thing to write them down! When you're not feeling great, you can go back and look and go "yeah, God's here."
One time I had big problem on my mind, and I prayed asking God, "Please give me guidance".  Then literally an email popped up with a Bible verse that touched on EXACTLY what I had been praying about.  I had not been looking up scripture or anything, didn't have an app open. I was trying to find out where it came from, asking other people if they got a scripture email, and they were all "no, we didn't."  I realized that He is listening, He does care, we do have this relationship.  And apparently, He has my email address! So, things like that started happening more often. I used to call these things coincidences.  But so many more "coincidences" started happening.
That is pretty cool! It helped you get more excited about receiving Sacraments?
Yes, for sure. Then during Lent in an RCIA discussion, we were talking about the Eucharist. The team members were explaining how it will be so exciting for us to finally be able to receive Jesus. They explained that Eucharist is the most intimate experience we can have with God, because we literally take Him into our selves. I hadn't really thought about it like that before this point.  I mean God is all around us and we can have conversations with him in prayer. But consuming the Eucharist means His whole body and divinity, becomes a part of me.  It was just this moment like "well of course that's the case!" I just started thinking of the strength that His gift of the Eucharist would give me, you know? Me and Jesus together.
Now that you're a fully initiated Catholic, where are you headed now?
I am excited to spread my wings and start exploring living my Catholic life. I'm also interested in the beginner bible study class that is starting.  I want to make sure I keep in community, because it is within a community and discussions that those "a ha" moments start happening. I mean even before I started this journey, I would have little moments where I felt like God was guiding me, but its through the connection with other people who are also on a faith journey that it just intensified.  I don't know if it's because He knows I'm more engaged and listening and that now a channel is open or something, but I want it to continue! 
What advice would you give to someone who is thinking about becoming Catholic?
I would definitely say that you should highly consider it!  For me personally, it's made me grow, made me appreciate things a lot more. It's also given me a new perspective on life and death, you know, the things that are just going to happen no matter what.  My relationship with God has given me peace, knowing that He is there, that He's in control. 
There are so many trials and tribulations in life, but if you tap into sort of "God's network" or put yourself in His hands, you don't have to drive yourself crazy worrying and stressing. Instead, you just say "Hey God, I don't know how to handle this" or "I need guidance on this" and then just be open to receiving the answer.  I know that God loves me, and He's got me.  It's going to be fine. 
I only wish that I had peeked through this curtain earlier. I mean, God's been here in my life the whole time. In a sense I have always known that, but I was just distracted. And now I am happier, more fulfilled.
Thank you, Jackie, for your beautiful witness! We will continue to pray for you, and I look forward to seeing you in the beginner bible study group!
If you are an adult who has not received Baptism, Confirmation or First Communion, and are feeling drawn to the Catholic Church like Jackie was, please email RCIA@StMichaelLivermore.com