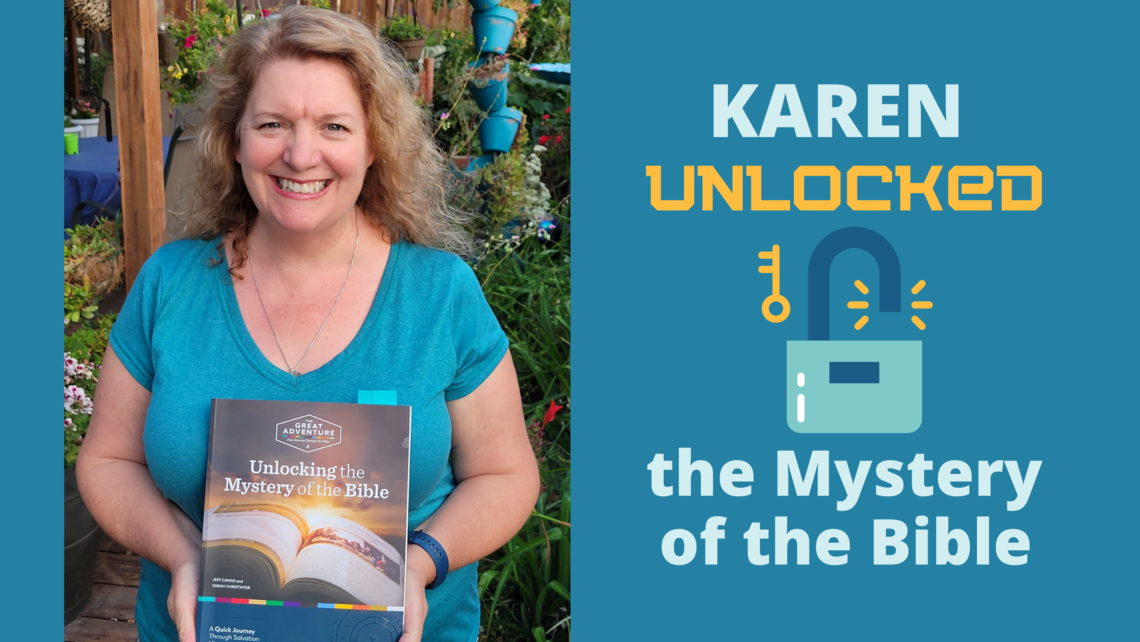 Karen Reedy's Sacred Story
Karen Reedy was pretty sure that Bible Study groups would be boring.
But when she joined St Michael's online Unlocking the Mystery of the Bible group, she was more than pleasantly surprised! Now she's hungry for more and on a mission to bring more people to the Bible.  Here's her Sacred Story:
What made you want to join a Bible study group?
My neighbor wanted to get back to the Catholic Church.  So, I started giving her information and encouraging her etc.  Then she said, "What I really want to do is a Bible Study."  I inwardly groaned because this was not on my bucket list. I had very little interest in participating in a Bible Study. This sounds bad, but just I thought it would be boring, and I figured that I'd be the youngest person in the group by 10 or 15 years and that I wouldn't connect.
But I knew that I needed to support her, so I saw that St Michael's was offering Unlocking the Mystery of the Bible as a great beginner course, and just 8 weeks' worth of sessions. I signed up and brought my neighbor along with me!
What surprised you when you joined the Unlocking the Mystery of the Bible group?
Well, first the materials are so good!  Along with the workbook, you get a chart that color codes the narrative books of the Bible with other pieces of information to put it into context. Jeff Cavins is the video presenter, and he does such an amazing job.  But equally important are the group discussions with classmates.  I love hearing other's insights and their faith sharing. This study is so doable, and it made the Bible really accessible for me. 
Also, what surprised me is how much I look forward to doing the homework and meeting with everyone! [laughing]. Like I said, I was expecting Bible Study to be, you know, boring, but it was really inspiring. I was and continue to be surprised at how each step makes me crave more of God's Word. I find myself eager for more explanation of what God is revealing to me in Scripture, and I want more details about the great story of the Bible and more of how it applies to me.  I was pleasantly surprised to find out that I wasn't the youngest person in the group! [laughing] and I liked that we had such a mixed group of ages and different stages of faith. It brought so much to the discussion.
What has changed in you because of joining a Bible Study group?
I think the biggest thing is that I feel motivated to seek out more resources, more information. It's like there's just not enough time in the day to absorb all that I want to learn and think about! I'm listening to at least one or two Catholic podcast a day, like Fr Mike Schmitz' Bible in a Year. I'm seeking other materials and talking to other people about Scripture.  I feel inclined to share what I'm experiencing with other people.  I'd say that in a lot of ways my faith is renewed, because I'm picking up new information and integrating it and getting closer to God. I mean, how is that not exciting? I feel that a Bible Study group is an experience that everybody should get to have, that everybody would want to do if they if they give it a chance.  So, I'm trying to figure out ways to approach people about Bible Study, trying to kind of hit people where they're at and encourage them to give it a try.
Do you find that you get more out of Mass now?
Yes, especially the Old Testament.  The Old Testament in general is something that in the past I have always just, you know, kind of ignored. I had minimal teaching on it. Even just sitting in Mass, the Old Testament was just the part that you just kind of ignored and kind of said, "Yeah, alright yeah yeah yeah I got it.  Moving on."  But after completing Unlocking the Mystery of the Bible, I definitely have a much broader knowledge of the Old Testament. At Mass, now I know the context, where it fits, and how it relates to the Gospel.  I'm paying closer attention to it.
When you think about it, we go to Mass, and there are three readings and a psalm.  If we don't know the context of the Old Testament, we ignore the first reading because it doesn't make much sense. Then the second reading is an epistle, and you don't know what was going on in that time, you ignore that too.  Then we get to the gospel, which is easy enough to understand maybe on the surface, but we're missing out of most of God's Word to us!  I feel that now I have a much richer experience.
Did you have any big "Ah Ha" moments in the Bible Study group?
Yes, several! But again, going back to really discovering the Old Testament, I remember getting into the Exodus story of the plagues of Egypt. We learned that each plague represented the One God's supremacy over each of the different false gods of Egypt.  It just was like a moment of wow, like God is all powerful and would not stop at nothing until Israel was set free from idolatry. And then I thought of that in terms of how God wants to free US from our idolatry, you know? I mean, God wants to dominate the things that dominate us and free us from them.  And only then can we have true freedom, so we can worship him and be in relationship with him. I just remember thinking, "God just keeps revealing himself to us and revealing how he wants us to worship. He just doesn't give up." I think that was a big a-ha moment.
What if people are just too busy to join a Bible Study?
I would say there are not very many people on the planet who are busier than I am [laughing]. If I can fit it in, then I feel like pretty much anybody can fit it in. I would also say that it wasn't anywhere near the time commitment that I thought it would be. It just took consciously setting aside a specific time of the week to do the reading and the reflection questions and to watch the video.  But I think having a group is better than trying to do it on your own. Our group held each other accountable and so I think that was a big difference too.
I mean, we make time for things that are important, right? Some might say, "I don't have the time to go to Mass."  Well really, I don't have the time to NOT go to Mass! If they say, "I don't have time to pray," then I say, "I don't have time to NOT pray!"  The thing is time is not standing still while we try and fit in things like Mass or prayer or Bible Study.  Time marches on, and we only have so much of it. 
Here's the other thing:  There's never been a time that I have gone to Mass or prayed or studied the Bible and then afterwards I said, "Gosh, I wish I would have stayed home and watched TV." Or, "If I only didn't pray so much, I would have been able to finish vacuuming my house!" [laughing]. Every time we choose the path of getting closer to God and serving him, then you know that's a no-regrets situation.
What is your next Bible Study?
I just started The Bible Timeline: The Story of Salvation, which is the 24-session deep dive into kind of the same overview as Unlocking the Mystery of the Bible.  I found that after the 8-week quick tour, I just wanted more. More, more, more! I have a hunger to go more in depth. Several of us from the Unlocking the Mystery of the Bible group moved on to The Bible Timeline too, so it's nice to be with friends in community.
Thank you so much for sharing your journey!
You are welcome! I'm feeling blessed to be a part of it, and I can't wait to see more people join.