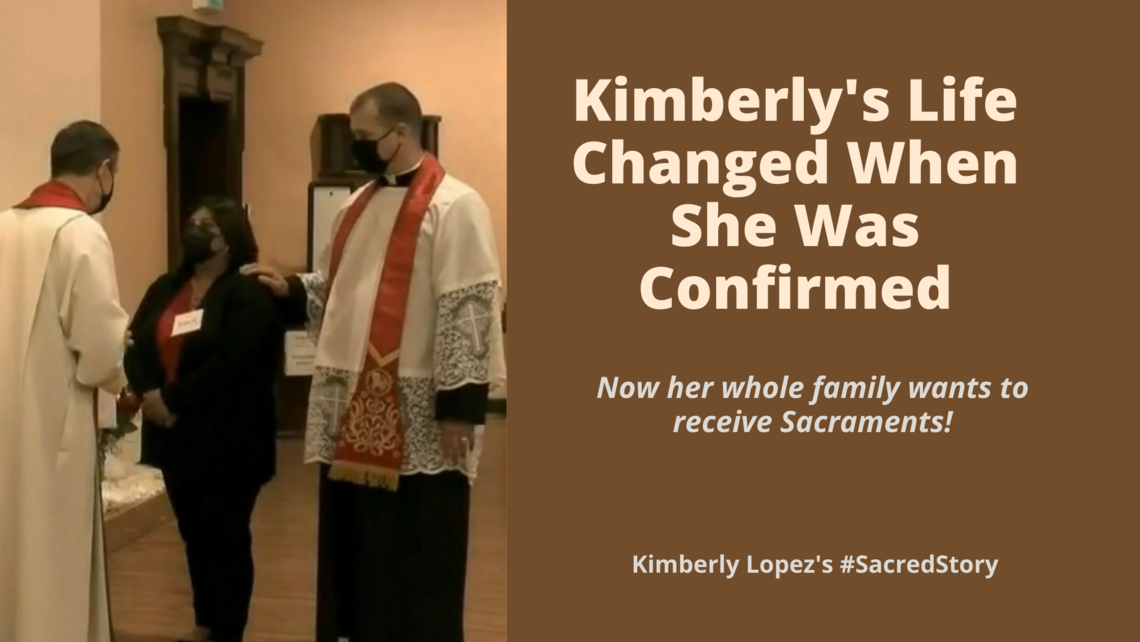 Now her whole family wants to receive Sacraments!
Kimberly grew up culturally Catholic but had stopped going to Mass after her First Communion as a kid.
The fact that her nephew was not baptized started to bother her, so she decided to prepare for Confirmation to be his godmother and his example.  Her life has changed so much, that several other family members want to complete their sacraments too! Here is her SacredStory:
What was your homelife like growing up?
I was raised Catholic by a whole family of Catholics.  I was baptized in Mexico with my twin sister when we were about 3 years old. Shortly after, we moved to the US, and I remember we would go to Mass every Sunday. Every Sunday, first thing, and then we would go out to eat or somewhere to spend family time.  But first thing was always church.  Then my mom had to get a job, and she worked on Sundays, so then church was pushed aside. We got really disconnected. My mom might have felt it too, because then she changed, and she was like, "No, we should go back to the church again."  Since she worked on the weekends, we would go to Mass on Friday nights, back when they had a night Mass in Spanish at St Michael's. I was like around 10 years old. So every Friday night was our time.
Then when we were about to turn 15, I wanted to have my quinceañera.  So my mom said I had to sign up for First Communion.  I enjoyed my first communion classes so much!  We would go every Wednesday for the first year, then for the second year it was every Sunday plus going to Mass.  It was so good, and I enjoyed making friends. We turned 15 before we received First Communion, because it was a two-year sacrament prep program, and we started late.  But our quinceañera was beautiful anyway. 
I don't know what happened, but after our First Communion, it's like we forgot about church again. I guess my family I guess got busy and it was hard to go to church every Sunday. I never felt distanced from God, and I always believed, but after my First Communion we just we had high school stuff, I guess it just got busy. It was hard to put God first.
What changed that made you come back?
Well, my dad passed away in August.  My family met Fr John, and he said that one of the biggest steps that you need to complete your connection with God was to have all your Sacraments.  He explained that it is through the Sacraments that we receive God's life. It was one of those things that just stuck to me since that day.  So, I kept thinking about it, that I had to receive Confirmation, because I only had gotten as far as First Communion. Suddenly that was just not enough. 
Then we did my dad's novenario [nine days of prayer for the deceased] here at my house.  Every day we were praying the rosary for 9 days. It was so soothing and so powerful.  And I kept thinking, okay, I need just one more step to come closer to God.
What was that next step?
Well, my nephew, my twin sister's son, is not baptized. That was the thing that clicked.  My mom's like, "We need to get that kid baptized! Right now, God knows him as a child, but he's not really introduced to God properly in his soul."  When she put it in that sense, it really hit me.  My sister and her boyfriend want to get their son baptized, but you know how it is.  It's just a lot of "I'll do it tomorrow, I'll do it tomorrow, I'll do it tomorrow."  Then I told her, "You know what I'm going to do? I'm going to sign up for classes to prepare for my Confirmation, because I want to be my nephew's godmother!  I need him to be known to God, to bring God to his life, to have God's life in his!" I took that step for him, because his parents want to, but they always had something that got in the way.  I can't be a godmother and be an example if I don't have all my sacraments!
How hard was it to fit Confirmation classes into your schedule?
Well at first, I was getting nervous about if I could do it, but my mom encouraged me.  She said, "If you're going to do this, it is something that you're going have to be committed to every Tuesday and you're going to have to find the time." I thought about it a lot because I have a full schedule with school and work. It wasn't easy. Life is busy, I think for everyone. But it was so important. I knew it was important. And it's just one hour a week. I had no excuse.
Were there other obstacles?
About a week into class, we got a phone call that my grandfather died. My dad's dad. We had to fly out to Mexico, and we did the novenario for him.  So I was praying the rosary again, but I was also trying to go to class.  It was hard, and I thought "Why is this happening?" But I think maybe I was being tested. And maybe my dad and my grandfather were praying for me and my family. Pushing me to do this.
Did you feel like God was encouraging you be Confirmed?
YES! One day, before I signed up for class, I was sitting with my mom and we were looking for a movie to watch on Netflix, and we saw one on Fatima. And we had just talked about Our Lady of Fatima! I thought, whoa, that's a weird coincidence.  And then right after that, one of the shows I watch was all about finding God's way and doing the right thing. And I was all, "This is a sign!" It was so crazy! I was telling my cousin all about it and asking, do you see this pattern? Do you see what's happening here? [laughing] I never ever thought I'd be that kind of person who would experience something like that. That was the last thing. There was no way I couldn't go to Confirmation classes.
Even though you grew up in a family with a Catholic culture, did you find that there were things that you didn't know when you got to Confirmation class?
Growing up, I remember my mom telling me Bible stories and stuff, and of course things from the Mass.  There was this feeling of hearing some of it before. At class, watching the session videos and having discussion after it, it all came together better.  And it was kind of like "Oh, that's where my mom got it from, and that's why my mom does this and that."  It's like it all came back from so far away, but then I got to see it from an adult perspective.
For example, I didn't really understand what Lent was all about, the details of it.  I didn't know what Pentecost was. That's the day I was Confirmed, and I didn't know why everyone was so excited for me to receive Confirmation on that day. Then I learned about the Holy Spirit. And bigger fundamental things became clear too, like Adam and Eve and Original Sin.  I was like, "I don't understand, I don't understand, I don't understand!"  Then we went a little bit in depth in one of the classes. We watched a video and FINALLY I got it. I was like THAT'S what they meant this whole time. It finally clicked. I loved being in a learning community with other adults.
Do you feel like you're more equipped as a Catholic now that you are Confirmed?
Now that I am sealed with the Holy Spirit, I feel like God not only came after me, but is using me to bring in my nephew and my sister and my mom and my cousin!  Because I learned so much, my family sees something in me that's different. They are so excited, and they can't believe how happy I am now.  My life has changed so much that even at work people are all, "You look so happy! You look so bright! You look so different!" I don't come home from work or school stressed anymore, but if I am worried I turn to God.  And then before long I'm asking myself, "What was I really complaining about anyway?" I have this new sense of calm, and I just crave Sundays to go to Mass!  I just have this need for God in my life, and a weight has lifted off my shoulders in such a big way.  My heart is just so full!
You are so on fire! Where do you think God is leading you?
Fr John is starting to assemble a team of online facilitators to help with people to prepare for confirmation in Spanish.  Jose Angeles, the guy you also interviewed, is going to be on the team too.  He's actually a family friend, and we reconnected at Confirmation class.  His dad was best friends with my dad, and it was so weird, like do I need another sign? [laughing] But I am really excited to help more people come closer to God.
Thank you for sharing your story of how God is working in your life!
You are welcome. I am happy to share, especially if someone is experiencing something like I did. I hope it encourages them.
FIND OUT MORE…
About how adults can prepare to receive Baptism, Confirmation and First Communion at St Michael's: StMichaelLivermore.com/RCIA