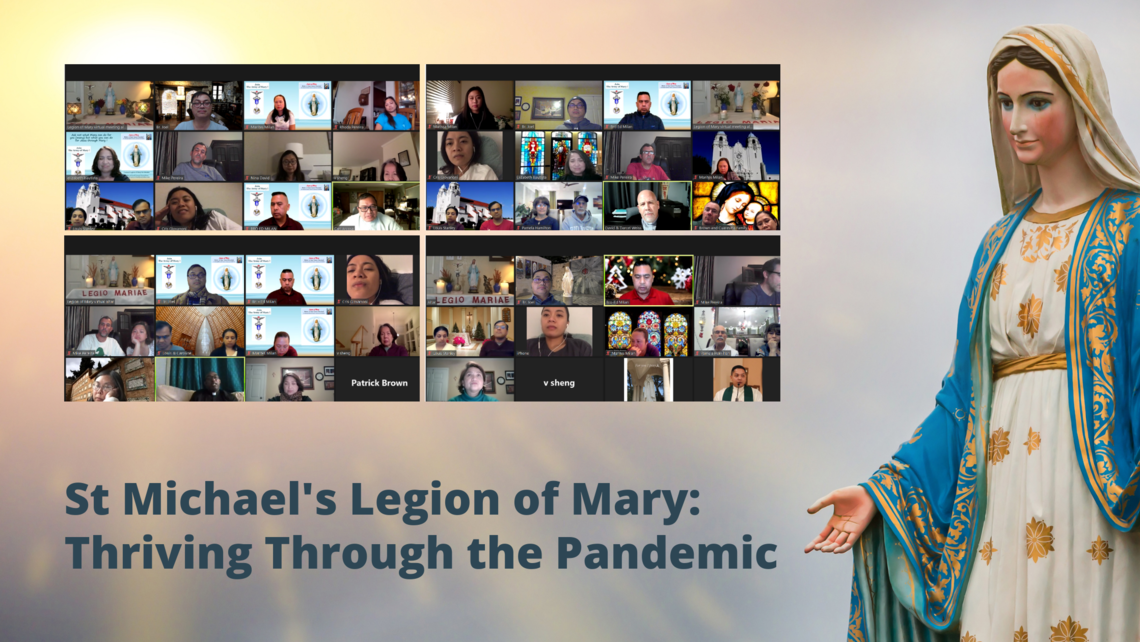 Pivoting to Remain Prayerful
Devotional groups have found it to be very challenging to keep vibrantly on mission during a pandemic, but our Legion of Mary praesidiums at St Michael's are thriving. 
I had the pleasure of talking with Mike Pereira (via several email messages) about how the devotees learned how to pivot this past year and remain prayerful and faithful.
Hi Mike!  In case some of our readers do not know, can you tell us a little about what the Legion of Mary is?
The mission of the Legion of Mary is the glory of God through the holiness of its members developed by prayer and active co-operation in Mary's and the Church's work. The unit of the Legion of Mary is called a praesidium, which holds a weekly meeting, where prayer is intermingled with reports and discussion. It's about growing in holiness though prayer and works.
That really does sound beautiful. What were some pandemic challenges you had to overcome as group to continue your mission?
Well, we are a community that supports each other in our faith, so meeting together is a vital part of our ministry. Not being able to meet in person was a big challenge.  It's different and sometimes harder to connect as a community online by video conferencing.  Also, many of our in-person works we did had to stop, such as door to door evangelization, visiting care giving homes, leading devotions and bible studies in the church.
Wow. It's like the rug was pulled out from under your whole ministry.  How were you able to keep vibrant anyway?
I think like for many, we had to think outside of the box. While a lot of our yearly functions or events were cancelled, we managed to convert some of our Legion of Mary functions beginning September 2020 into virtual events.
One of the virtual events we hosted was a combined praesidia (two or more praesidium) celebration around the feast of the Nativity of the Blessed Virgin Mary, which is also the anniversary of the worldwide Legion of Mary. In the absence of social gatherings with food, we made the event a mini retreat instead.  After the usual prayers and Mass, our youth and adult groups joined in one big spiritual mini-conference online.  We split into two big groups for separate adult and youth spiritual talks with speakers. We invited Legion of Mary members from different praesidia and parishes in the East Bay, and they were grateful, because they didn't have any events to attend in their parishes. Overall, we had more than 70 adult members (from at least 10 different parishes) and about 20 youth members!
That sounds like an amazing virtual event! Were there unexpected blessings to be found when you moved some of your other gatherings online?
I would say so, yes.  We were able to invite priests and deacons not only from our own parish but from outside Livermore as well to join us and give reflections on our spiritual readings from the comfort of their respective locations (e.g. Dublin, Brentwood, San Jose, and even from the Philippines). Likewise, we were able to invite other people from outside our parish and city to join us and become members or returning members of our group. We now have a remote members from Texas and Arizona and previous members who moved out of the area (Rio Vista) that we're able to reach out and return to become active members again.
Another feature of the online meetings is that we have taken advantage of the ability to use and share visual aids (e.g. powerpoint presentations, documents, videos) in presenting our spiritual readings, faith studies and reflections.
Have you found other works that are not online?
Several of us also help out at Community Care Grocery Distribution.  We work the line, placing groceries in the guests' cars and also serve on the prayer team.  A little more than half of the cars in the drive through request prayer, so that is a wonderful aspect to the ministry.
You have done such a tremendous job at keeping Legion of Mary a truly vibrant ministry, even during a pandemic!
Thank you.  We as a ministry are vibrant because our parish as a whole is also vibrant. We've been able to thrive due to the strong leadership and guidance by our pastor, clergy, pastoral council and ministry leaders (Communication, Liturgy, Music, etc.). The creativity of our parish staff and our parishioners' active participation in our community all played a supporting role to create an environment of not giving up.  As a parish, we came together, and you can see it in the provision of resources: the a/v system for livestreaming, the commitment to Mass and Sacraments, the makeshift altar and canopy for outdoor Masses. And our parish has also made strides to help to our greater community with outreach programs like Community Care Free Groceries, Drive Through Prayer, Nourish for Caregivers, emergency services at St Vincent de Paul and a lot more.  We met each challenge where other parishes in the Bay Area could not overcome obstacles. It's because of this strong foundation that Legion of Mary was also able to flourish during this difficult time.
A group effort indeed! Can you share how the Legion of Mary has helped you personally to be a better disciple?
What I didn't do before joining the Legion of Mary was formal studies. Studying the Bible, Catechism and Apologetics is necessary to do door to door evangelization as one of our works.  I also improved my pray life by being involved with Marian devotions such as praying the Rosary more consistently, Perpetual Help and Consecration to Mary.  I am more aware of my faith and have a better relationship with Jesus through Mary.
We all could use that kind of growth!
Yeah, to know more about our faith and improve our relationship with God should be what all Catholics are looking for.
You have junior groups for youth too. What can Legion of Mary offer kids that other groups or activities can't?
Legion of Mary has much to offer our youth, and the benefits are many.  It forms a spiritual army of youth within any parish. Many worthwhile tasks are performed, which would otherwise be neglected. As a consequence, more blessings are earned, more graces are gained, and more souls are saved.
For kids, it's a unique opportunity for spiritual growth. No other organization offers a daily program of prayer, a weekly work assignment and the discipline of a meeting each week. In crucial years when formation is so essential, the Junior Legion develops spiritual and mental growth of the personality, Junior Legionaries stand to gain for everything they freely give in service to Mary.
And to the wider Church, a firm spiritual foundation given to our youth will ensure a supply of Lay Apostles for years to come. As Junior Legionaries, our youth are taught to give to their Church rather than to wait for what they can receive. The Junior Legion forms good Catholics now, and better Catholics tomorrow.
Thank you and your fellow members for all that you are doing at St Michael's and in our greater community.  If someone wants more information or wants to join, who should they contact?
Adult Groups
Mary, Mother of Good Counsel Praesidium
Meets online on Wednesdays, 7:30-9:00 pm
Joel Bautista
925-216-3213
Mary, Help of Christians Praesidium
Meets online Mondays, 7:15-8:45 pm
Erleene Echon
phone 925-223-7791
Youth Groups:
Mary, Our Lady of Fatima Junior Praesidium
Meets online on Fridays, 4:30-5:30pm
Rhoda Pereira
510-432-6645
Mary, Mother of Mercy Junior Praesidium
Meets online Fridays, 4:30-5:30 pm
Coren Macias
415-310-1807
DO YOU HAVE A #SacredStory TO SHARE?
Contact Tina Gregory, Communication and Adult Enrichment Coordinator at St Michael Catholic Church at TinaGregory@StMichaelLivermore.com or 925-667-4051