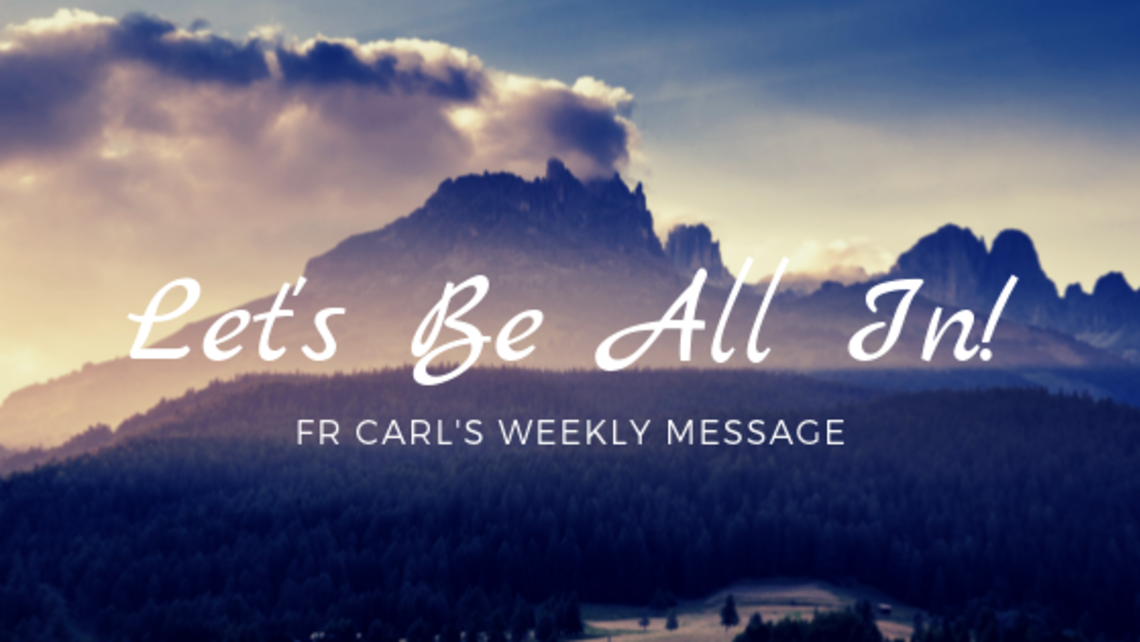 Faith Formation for all of us – children, youth and adults - is crucial for our lives.
Growing in faith is a continual process of development and is how we gain a deeper understanding of what we believe. Along with a dedication to a life of prayer, continual formation will eventually help us make good moral decisions. Our lives become purposeful, joyful and peaceful as intentional disciples of Christ!
Faith Formation is not only dependent on a program or a textbook. We are formed in the faith through the many facets in our parish life. We can encounter Christ through liturgy and prayer devotions, through social events and gatherings or through opportunities to practice the spiritual and corporeal works of charity.
In the Joy of the Gospel #28, Pope Francis wrote, "The parish is not an outdated institution; precisely because it possesses great flexibility, it can assume quite different contours depending on the openness and missionary creativity of the pastor and the community. It is a community of communities, a sanctuary where the thirsty come to drink in the midst of their journey, and a center of constant missionary outreach."
This is what I am talking about! Parish life and all that we do as a community is an evangelical and catechetical resource, a place where we can grow deeper in our relationship with Jesus through our Catholic faith.
Let's be ALL IN!
If we just half-heartedly only come to Mass on Sundays, we cannot grow in faith. We must be ALL IN. Total growth is possible when we become active members of the parish through involvement in ministries and other volunteer opportunities. All ministry efforts are geared toward forming intentional disciples and missionaries of the gospel. The parish community herself is a catechism!
Here are my 5 Requests:
1. Don't be a spectator. You're not an audience member in the parish. Get involved in our spiritual and community events and affairs.
2. Register for our online resource for Catholic movies, video-based study programs, audio talks and eBooks at StMichael.FORMED.org. This library is free for parishioners and contains faith-growing content for every topic.
3. Invite Catholic friends and family to Mass every Sunday and Holy Days. Encourage them to approach the Sacrament of Reconciliation.
4. Prayerfully read the bulletin each week. Ask the Lord how He wants you to be involved in the parish. Visit our Ministries page to see where the Lord is calling you.
5. Parents and grandparents, see to it that your family members avail themselves of our faith formation opportunities for children, youth and adults.
As a final note, I would like to commend all our catechists for all the sacrifices and effort you do for our parish. We need more orthodox and faithful catechists who are willing and ready to teach our Catholic Faith to others, particularly to our children. Please help us build a future of disciples.
If you have questions, please email the following members of our staff leading our parish faith formation team:
Tina Gregory, for adult continuing education: Adult@StMichaelLivermore.com
Marjorie Melendez, for adult sacramental prep: RCIA@StMichaelLivermore.com
Priscilla Stutzman, for programs for children age 3 though 12th grade: DRE@StMichaelLivermore.com
Joseph Garcia, for programs for middle and high school: Youth@StMichaelLivermore.com
May St. Michael protect us and defend us!
Fr. Carl
Pastor