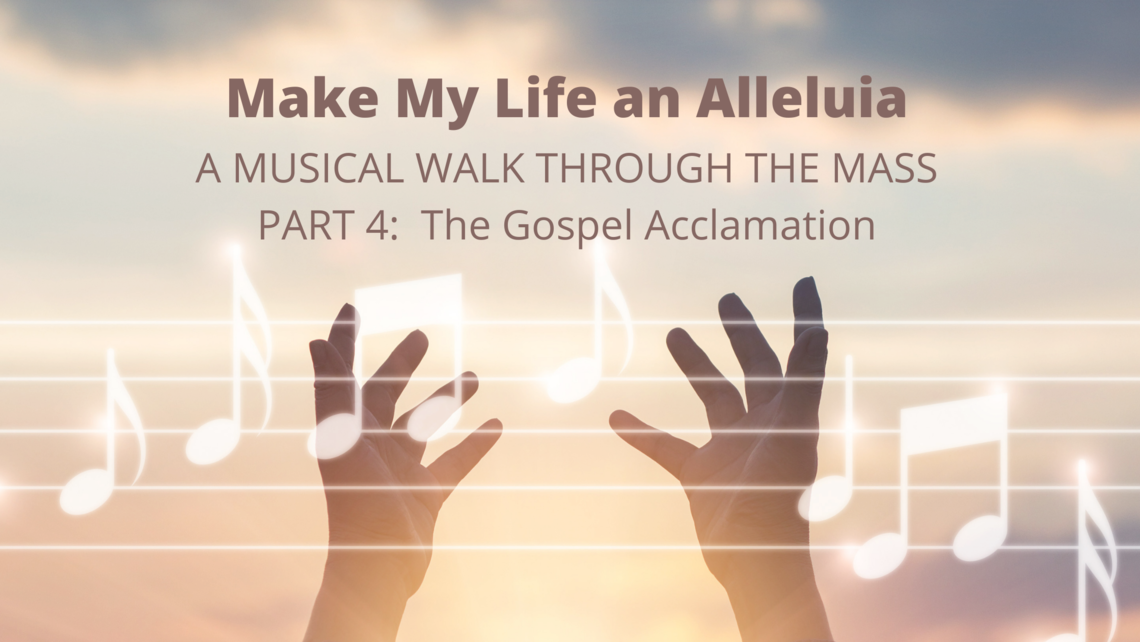 Musical Walk through the Mass: Part 4
MAKE MY LIFE AN ALLEUIA … 
The Almighty has done great things for me: he has raised up the lowly. You will hear these words as we sing the Gospel Acclamation this Sunday at Mass.  
In the simplest terms, the Gospel Acclamation is our greeting of the Gospel reading. On Sundays it takes place after the 2nd reading and acts as an introduction to the Gospel reading by the Priest or Deacon. At a weekday Mass (its use is optional on weekdays), it comes after the Responsorial Psalm and before the reading of the Gospel. On Sundays, the Acclamation is sung by the Cantor or choir, on a weekday Mass if a Cantor is not present, it is sung by the Priest or Deacon who will be reading the Gospel. 
The proclamation of the words of Jesus in the Gospel is the high point of the Liturgy of the Word. We have been seated, listening to the first Reading from the Old Testament, and then responding by joining in with the Responsorial Psalm.  Then we listen to the proclamation of the second Reading from the New Testament letters.  After this, there is a bit of a change in mood.  We are about to hear the words of Jesus, read from the book of the Gospels. We stand. There is a short procession to the ambo.  There may be candles. There may even be incense. The priest or deacon will kiss the book of the Gospels. And  –  while all of this is happening, the Gospel Acclamation is sung. Then we have the reading of the Gospel, the Good News (dare I say, the BEST news!).  
Outside of the season of Lent, the Acclamation is "Alleluia", during Lent another Acclamation is sung ("Praise to you Lord Jesus Christ" is an option). The word alleluia comes from the Hebrew hallelu, meaning let us praise and Yah, which is a shortened form of one of the Hebrew names of God. Alleluia can be translated "God is great" or "Praise the Lord'. 
The Cantor or choir will generally sing a verse to accompany the Acclamation. This verse is from usually from the New Testament but sometimes is a verse found elsewhere in Scripture. The verses are prescribed for each week of the liturgical calendar, but common/seasonal verses may also be used. 
We stand for the Gospel Acclamation and the reading of the Gospel. Standing has been considered the appropriate position for prayer since before Christ's time. When we stand, we are following this centuries old tradition. Standing is also a simple but profound way of honoring and respecting the words of Jesus. We stand to acknowledge the significance of hearing his very words. 
May our prayerful and robust singing of the Gospel Acclamation echo through our daily lives and be a reminder to us of the Gospel message.