September 12, 2020 - 9:00am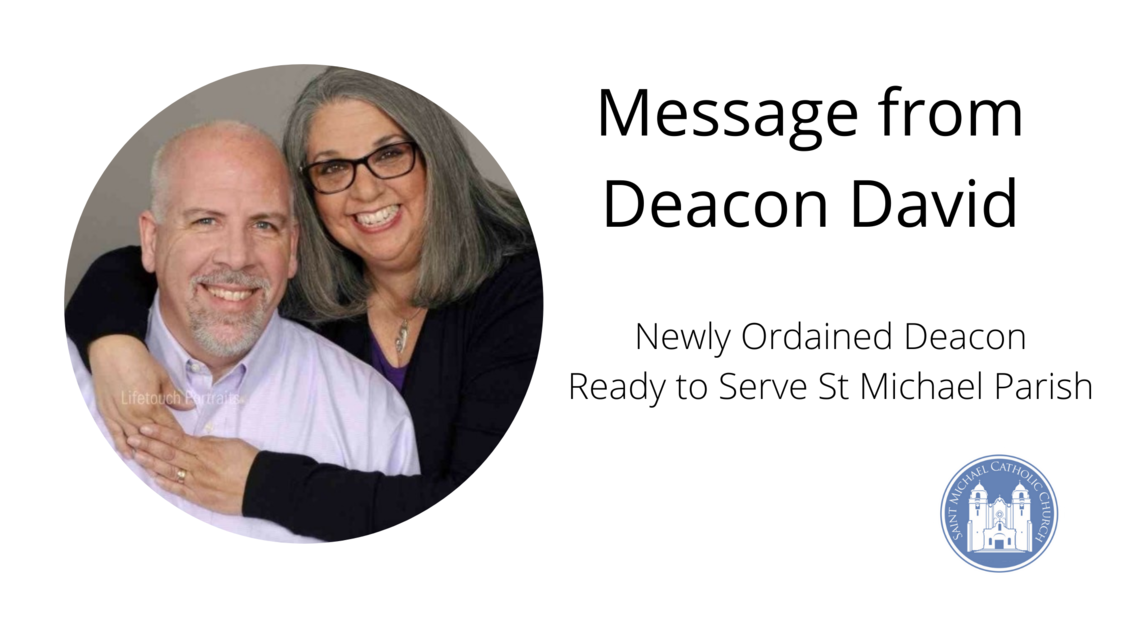 Dear St. Michael Family,
Greetings and blessings to all of you. I am honored and excited to be a newly ordained, permanent deacon for the Diocese of Oakland with my first assignment to my home parish of St. Michael. My wife and I have been parishioners here for about 8 blessed and fruitful years. Many of you may know me from my service as a lector or as a Knight of Columbus. I am looking forward to getting to know many more of you as your servant deacon.
As a deacon, by the sacrament of Holy Orders, I am marked with an imprint that configures me to Christ who made himself the servant (diakonia) of all. Among other tasks, it is the task of deacons to assist the bishop and priests in the celebration of the divine mysteries, above all the Eucharist, in the distribution of Holy Communion, in assisting at and blessing marriages, in the proclamation of the Gospel and preaching, in presiding over funerals, and in dedicating themselves to the various ministries of charity. (CCC 1570).
Because of his ordination as bishop, the bishop has the fullness of these responsibilities. Priests and deacons are ordained into a participation in the bishop's ministry, and all priests and all deacons have responsibilities for all three areas of ministry. Each order exercises these ministries in distinct ways, but all of the ordained have an obligation to exercise all of them in ways appropriate to their order. Those who are constituted in the order of the bishop or the priest receive the mission and capacity to act in the person of Christ the Head, whereas deacons are empowered to serve the people of God in the ministries of the liturgy (presiding at the prayer of the people of God in the sacraments), the word (evangelization, preaching, and teaching) and charity (servant-leadership).
I look forward to exercising these ministries at St. Michael. I will be serving regularly at Sunday Masses and will be working with Fr. Carl and Fr. John to learn my roles within the Sacred Liturgy. I will be learning from our priests and deacons how to baptize, officiate at weddings, and preside at funeral vigils and committals. As a servant-leader, there are dozens of opportunities at St. Michael to serve the needy. I will be looking to serve where the need is great and my talents can be a benefit to those I serve.
I ask that you please be patient with me as I get familiar with this new responsibility. I also ask that you pray for me and my family that the Holy Spirit will work through us to be the hands and feet of Christ to the St. Michael community and all those who need our help.
God bless you,
Deacon David Weiss