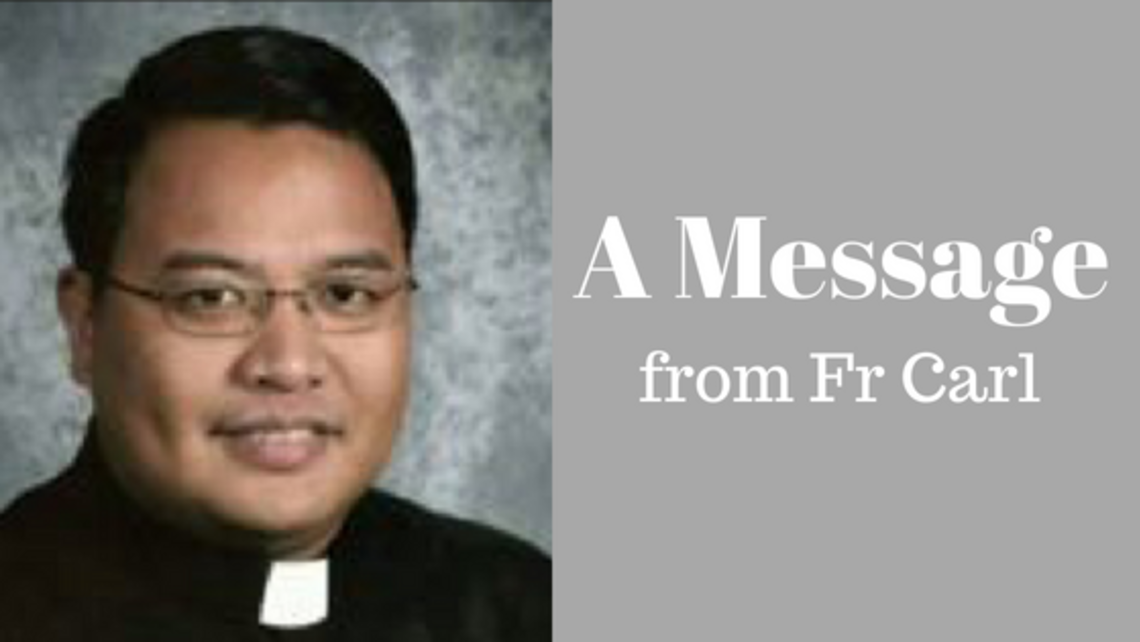 Dear St Michael Parishioners,
Greetings of peace and hope! It is with great joy that I begin my journey with you as your new pastor, spiritual father and part of your parish history this weekend.
My YES to the Bishop to be your pastor was a fruit of my openness to serve wherever I am called to serve. It was not easy to leave Good Shepherd Parish in Pittsburg. However, the need for a pastor at St. Michael is a priority of our Bishop and our Diocese.
I would like to thank Eric, our business manager and Deacon Dave for facilitating my transition in the office, rectory and parish. I would like also to thank Fr. Alfonso and Fr. Alfred for their sacrifices and dedicated service and to all the priests who helped the parish during this transition. For months, you have been pastor-less. I commend the staff, under the leadership of Deacon Dave.
As your new pastor, I would like to humbly ask you to pray for me (for 9 days starting August 5) for the guidance I need to be your servant-leader, to be your effective pastor and wisdom in making objective decisions for the parish. Offer your novenas, masses, visits to the Blessed Sacrament and others for my new mission and journey with you. Also pray for Fr. Van and all the priests who have served and guided St. Michael.
My desire for St. Michael is sim- ple, though I know for sure it will not be easy: a parish directed toward making Christ's love and mercy known, and to make St. Michael a home - a place of prayer, mercy and hope, like a little taste of heaven here on earth.
My goal is to meet all our leaders and council members and all those involved in the pastoral service of the parish. It is known that St. Michael Parish is an organized and gifted parish. I hope we can come together and use our gifts and talents collaboratively to fulfill our common mission and our vo- cation as a People of God.
Let me share with you quotes from our Holy Father, Pope Francis, of what a parish should become:
"The parish is the presence of the Church in a given territory, an environment for hearing God's word, for growth in the Christian life, for dialogue, proclamation, charitable outreach, worship and celebration. In all its activities the parish encourages and trains its members  to be evangelizers." (Joy of the Gospel # 28)
The highest call for us all as parishioners of St. Michael is not just to pursue the business as usual approach in building a parish. We are primarily called to reach out and become missionary disciples of Jesus always ready to be sent and work in the vineyard of the Lord for the salvation of souls and to find good ways to improve and facilitate the ongoing faith formation of the people. Hence, called to be a missionary parish rather than a maintenance parish.
When a new pastor arrives, some people will ask, "What are some of the things you will change, Father?" I will respond, "Why fix it if it ain't broke?" My first 3 to 6 months would be months of listening, dialogue, celebrating the Liturgy with you and getting to know you. Change is a good thing, but must be done with careful discernment by the priest and the parish staff, councils and the community. We need change to enhance, promote and improve pastoral services.
As your administrator, I will pay attention to our office operations and clergy pastoral ministry in the parish. The clergy and office staff were not hired nor assigned in a parish to serve ourselves or our agenda. We were called by GOD for His own agenda and were placed in the ministry to serve and to make present and alive the presence of Christ. Pastoral care of the sick and providing daily the Sacrament of Penance and Holy Mass should always be ready and available for St. Michael parishioners. These three sacraments of healing will be my focus as I begin my pastorate and of course, to improve in transforming the parish to become a more prayerful, more vibrant, more hospitable and a more welcoming parish.
Thank you all for your warm welcome and for giving me and Fr. Alfonso, our deacons, our office staff and maintenance crew and other clergy this opportunity to serve you!
Your Servant, Fr. Carl Arcosa