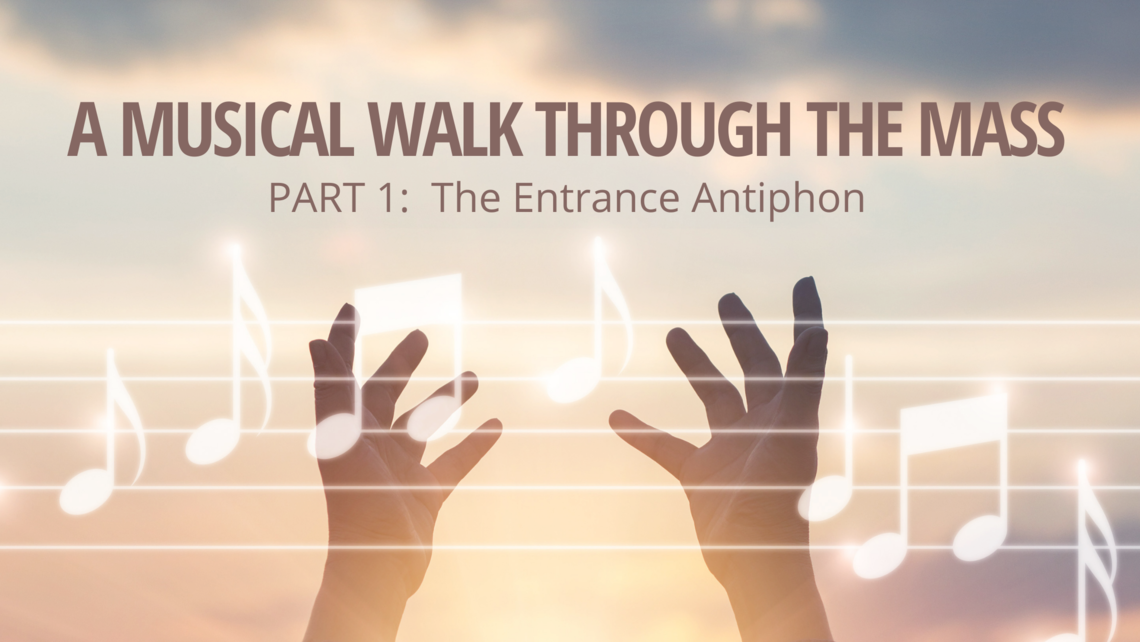 Part 1: The Entrance Antiphon
Now that we are "getting back to normal," let's explore the back story of the music at Mass. 
Today, we look at the Entrance Antiphon:
While we were abiding by health guidelines during the pandemic and congregational singing was discouraged, we chose to implement the traditional use of Entrance and Communion Antiphons at all Masses (a practice already in place for daily Masses). The Entrance Antiphon was sung at the beginning of Mass as the Priest and other ministers approached the altar. The Communion Antiphon was sung as the priest prays (often inaudibly) "May the blood of Christ keep me safe for eternal life".
What are Antiphons?  The Church provides scripture passages for Entrance, Offertory, and Communion for every Mass and these are reprinted in most missals and hymnals. These Antiphons are small bits of scripture organized according to the liturgical calendar in the same way as the Psalms and Gospel Acclamations in the Lectionary. Pope Celestine I (432 AD) is thought to have instituted the tradition of singing Psalms before Mass as a way for the assembly to enter the mystery of Christ that the church is celebrating that day.
Each antiphon contains the fundamental thought of the psalm to which it is sung and gives the key to the liturgical and mystical meaning regarding the feast on which it occurs. The Antiphons for a given Sunday in Ordinary Time are also used on the weekdays the following week, except on obligatory Feast days (often substituted for optional Memorials, at the discretion of the presider). During the seasons of Advent, Christmas, Lent and Easter, the daily Antiphons are specific to the day (not to Sunday) and the antiphons during the Easter season always end with "Alleluia".
St Michael Music Updates
Hymnals have returned to the pews!
Cantors are inviting us to sing hymns and psalms during the Mass. We are returning to singing the Propers of the Mass (liturgical texts – most especially the Gloria, Holy, Mystery of Faith, Amen and Lamb of God).
We will SING the Entrance Antiphon!
This coming Sunday, the 13th Sunday in Ordinary Time, we are called to be grateful and share our gratitude and so we sing in Entrance Antiphon, "All peoples, clap your hands, Cry to God with shouts of joy" (Psalm 47:2).
Entrance Chant and Full Procession Returns July 4!
Beginning July 4, we will return to our pre-Covid practice of singing a community Entrance Chant to accompany the full procession into the church (see the next blog installment). Our plan is to continue with the cantor or small choir singing the Entrance Antiphon just before the Entrance procession then move directly into community singing of the Entrance Chant.