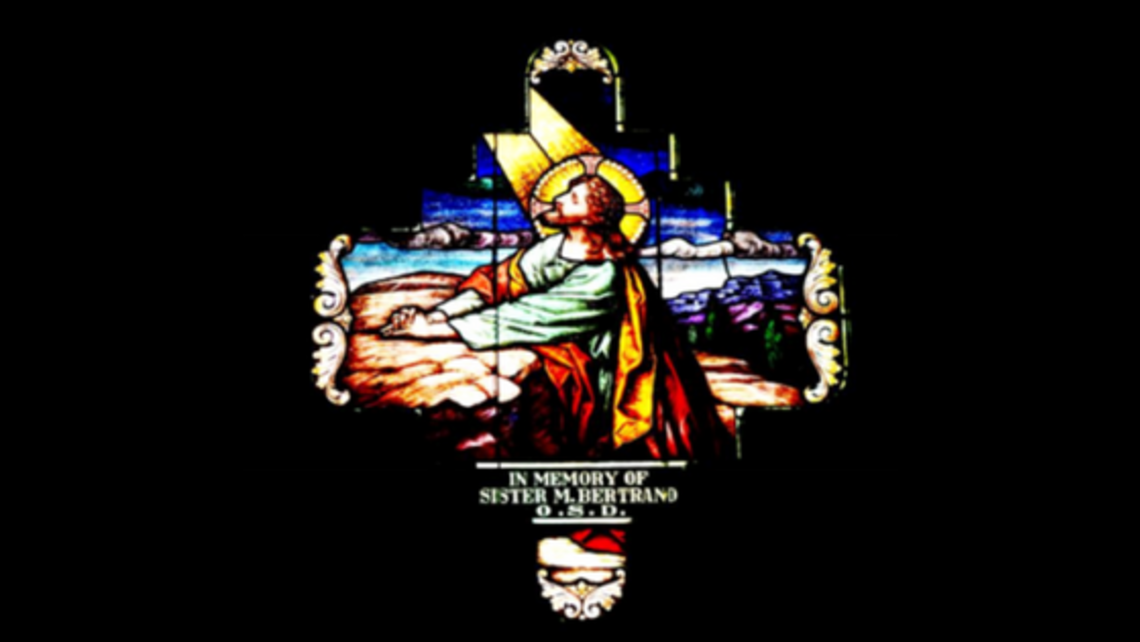 Sister Bertrand Stained Glass Window
This small window at the top of the choir loft is the only window dedicated to the memory of a Dominican sister. 
She must have been greatly loved, but no one in 2018 knew who she was.  None of the Dominican motherhouses had her on record.  Finally we found her obituary in the Livermore Herald of July 21, 1917.  Sister Mary Bertrand had a last name:  O'Connor!  She was a native of San Francisco who had joined the Dominican order and had taken her final vows just six months before her untimely death.
Sister Mary Bertrand had joined the staff of the St. Michael Academy to teach music when it opened in 1913.  By 1917, Sister Mary Bertrand needed an operation.  No one expected the operation to be life-threatening.  Her death was a great shock to everyone who knew her.  Quoting her obituary, "She had grown to love the warm-hearted people of Livermore, and they returned the feeling in kind.  People of all denominations who knew her were charmed with her cheery manner and deeply regret her untimely death."
Construction of the new St. Michael Church on Maple Street was underway in 1917, and although the stained-glass windows commissioned from the Church Art and Glass Studio in San Francisco depicted saints and angels known throughout the Catholic world, two windows were reserved for recently deceased people who had contributed greatly to the St. Michael community. One window was dedicated to the memory of Father Patrick Power, the pastor who had purchased the land for the St. Michael Academy and the cemetery on East Avenue.  The second window was the small one lighting the choir loft showing Jesus praying in the wilderness.  Having Sister Mary Bertrand O'Connor honored in the place her music students would occupy during Mass was entirely appropriate.
Looking for "Window Descendants"
Are you a descendant of those who are remembered on our church's stained glass windows? Help us solve more mysteries and be part of the Stained Glass Window Presentation.  Contact Barbara Mitchell at 925-455-0944 to share your family's story.
Stained Glass Window Presentation
Sunday, Sept 3 at 7:30 pm in the Church