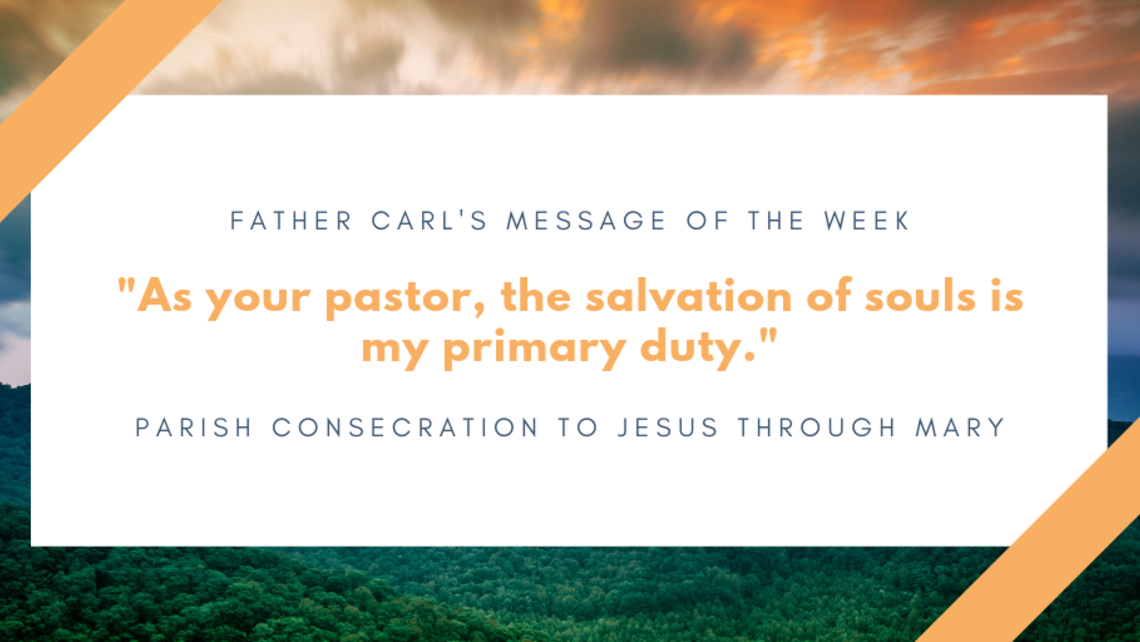 As your pastor, the salvation of souls is my primary duty.  
It is my job to make our parish truly a spiritual place to encounter Christ and grow in relationship with Him throughout our lives.  Creating a social club or an assembly of friends is also important, but it is secondary. Our parish mission is to Celebrate the Sacraments, Grow Disciples and Bring Christ to People. Hence, Consecration to Jesus Through Mary could not be more important and on-mission! But what is it and how do we do it… 
Background 
St Louis de Montfort was a French priest, ordained in 1700, who was a gifted preacher and founder of the Company of Mary (the Montfort Fathers), a missionary group of priests. He is most known for his devotion to Mary, and for his insistence that the fastest and easiest way to grow close to Jesus is through her.  His method of devotion is known as "Total Consecration," "True Devotion," or "Holy Slavery." He preached, "[Mary] of all creatures the one most conformed to Jesus Christ, so it follows that among all devotions that most consecrate and conform a soul to our Lord is devotion to Mary, his Holy Mother, and that the more a soul is consecrated to her the more will it be consecrated to Jesus Christ." What is Total Consecration to Jesus through Mary? 
To "consecrate" means to set aside for a holy purpose. If we wish to give our lives totally to Jesus, to allow Him to live and work through us, this beautiful exercise will increase our ability to truly serve Him. The basic premise set forth by St. Louis de Montfort is simply that Jesus came into the world through Mary and that for us to always be assured of being close to Jesus, even closer than ever before, we should go through Mary. But surrendering ourselves completely to the Lord may seem hard to do! How do we go about it? 
How Consecration Works 
Following St Louis de Montfort's method, we will take 33 days for personal, daily prayer on specific topics that will lead us to the Act of Consecration. Each day, we will set aside about 20-30 minutes to search our hearts, reflect and pray.  Many find it helpful to pray at the same time and in the same place each day.  The prayers and reflections can be found in the Consecration book that you receive when you register.
The first 12 days focus on freeing ourselves from the "spirit of the world", or everything that our society and culture tells us is important.  Then for 7 days, we reflect on our sins and sorrow for them.  After that, we spend 7 days getting to know Mary and 7 days getting to know Jesus. After the 33-day preparation, together we will make the Act of Consecration on August 15 – the Solemnity of the Assumption of Mary – at the 6:00 pm Mass in English or 7:30 pm Mass in Spanish.  
Your Next Steps 
1. Day one is Saturday, July 13.  If you have not registered and picked up your book, please contact Marise Arena or Glenda Dubsky by email at arenamarise@gmail.com or dubskyglenda@gmail.com.  If you missed day one, don't worry! Double up today and commit to the daily prayers and reflections on the remaining days. 
2. Saturday Spiritual Talks by Fr Conrad and Fr Benjo will take place on Saturday mornings after the 8:30 am Mass, from July 13 through August 10.  While these 30-minute talks are not required for Consecration, they are designed to support you on this personal retreat. Please come to as many as you can! 
3. Save Thursday, August 15 for your Consecration Day, at either the 6:00 pm Mass in English or 7:30 pm Mass in Spanish.  Together at Mass, we will recite our Act of Consecration! 
I am excited and hopeful for our parish. This Consecration will transform your life and the lives of others around you.  Our whole community will transform, and we will renew this Consecration each year.
In Jesus, through Mary, 
Fr Carl