November 23, 2019 - 11:59am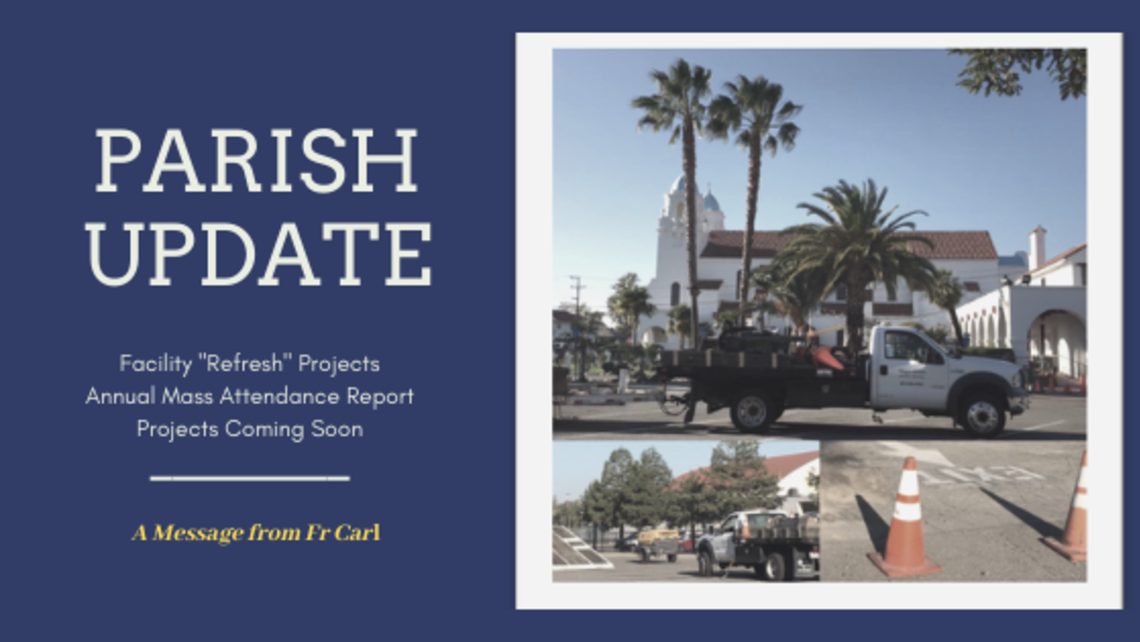 Facility Projects, Mass Attendance and More!
Dear St Michael Family, 
As we begin the Church's new liturgical year, allow me to reflect on what we have accomplished as a community of disciples and where we hope to go in the upcoming year. 
Thank you to all our generous parishioners who continue to give so faithfully to our regular offertory and to our Maintenance & Improvement fund the first weekend of each month.  With the guidance of our Finance Council, we continue to ensure that we are good stewards of your financial contributions to our St. Michael community.  Contributions given to our maintenance & improvement fund make the below projects possible along with other substantial contributions from our community. Additionally, your generous support of the Feast of St Michael dinner auction and raffle has been a tremendous support.  Here is a brief report of your donations at work: 
Phase 1 of our Church parking lot maintenance and beautification has been completed. 
Phase 2 of our parking lot and asphalt maintenance in the school yard is scheduled for April 13th, 2020 during Easter Break (weather permitting).   
The Adoration Chapel Refresh Project will be taking place in mid-December.  The old, creaking pews will be replaced with new cushioned chairs. Carpeting, softer paint colors, lighting adjustments and seating configuration will be taking place to create a soothing and quiet place for prayer.   
Sound dampening panels have been purchased for the Large and Small Hall to help with the acoustics, especially needed for small group discussions.  These will be installed in December and January.   
Improved LED exterior lighting around our entire campus took place in Spring 2019 
Completion of the Convent refresh happened in Winter 2019 
I am also happy to report that the number of parishioners attending Mass has increased since last year. The Eucharist is the source and summit of our faith, and without it, all the programs and groups and events are without soul.  It warms my heart to see our pews full at Mass, being nourished by the Lord!    
Adults: 1,868.25 (2018) vs. 1,977.5 (2019) –   +5.6% 
Children: 347 (2018) vs. 360.25 (2019) -- +3.6% 
Our Fall Alpha program was a wonderful success, with so many people encountering Jesus for the first time or in a new way.  Special thanks to the Knights of Columbus, Hispanic Community, Catholic Daughters, Legion of Mary, IDES Portuguese Community, Vietnamese Community and Filipino Community for sponsoring meals for our Alpha guests.  The food was delicious, reflected our ethnic diversity and was a big hit!  Thanks also to our core team, our hosts and helpers, our prayer team, and all the Alpha volunteers who worked behind-the-scenes.  We are excited to keep the momentum going with our Spring Alpha, which will begin on February 10.   
Our parish is thriving and is becoming a more vibrant community, all thanks to your prayers, discipleship and contributions.  We are truly blessed, and it is my prayer that we continue to embrace our motto to Celebrate the Sacraments, Grow Disciples and Bring Christ to People. 
This Advent please pray the Angelus and the St. Michael Prayer every day at 12 noon. When we do this together, we remember who we are as parishioners united in prayer and in our mission entrusted to us by Christ.
May God bless you and your families. 
Fr Carl