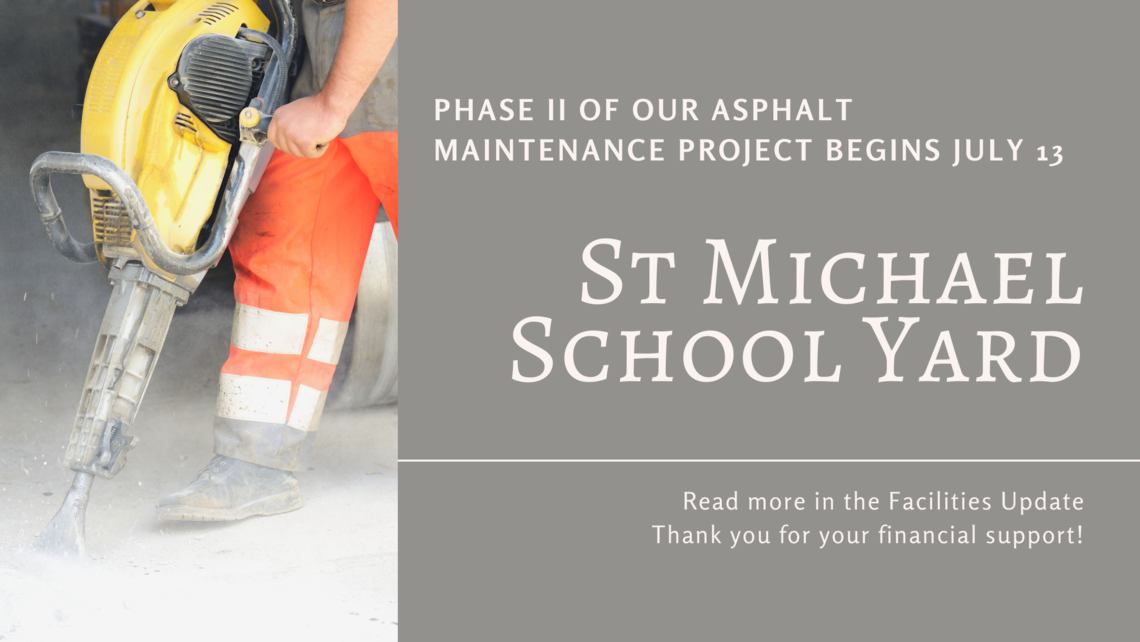 FACILITIES UPDATE 
Phase 1 of our Asphalt Maintenance Project was repairing and restoring our church parking lot.  We are happy to announce that beginning July 13th, we will complete Phase 2 of this project with the resurfacing of St Michael School's yard.  Funds had been held aside by both the parish and school to get this completed.  Thank you very much for your support.
Additionally, we have discovered that we need to repair sewer pipes that are causing plumbing and water flow issues in our rectory. With a building that is over 100 years old and with many years of deferred maintenance, we are now taking a more comprehensive approach versus the "band-aid" approach for the longevity and health of our facilities.
Maintenance projects such as these couldn't happen without the generosity of our parishioners.  Your continued support through one-time financial gifts and your monthly support of our Maintenance and Improvement Fund allow us to care for our parish grounds for the future of our community.
For any questions, please contact me at EricHom@stmichaellivermore.com.
Thank you for doing your part in keeping St Michael's beautiful!
Eric Hom
Donate online at bit.ly/StMOffering
or by texting any dollar amount to (925) 258-2969
or by dropping off in the offertory boxes inside the church or at the secure mail slot just past the St Michael statue
or by mailing to 458 Maple Street, Livermore, CA 94550