September 21, 2021 - 8:11am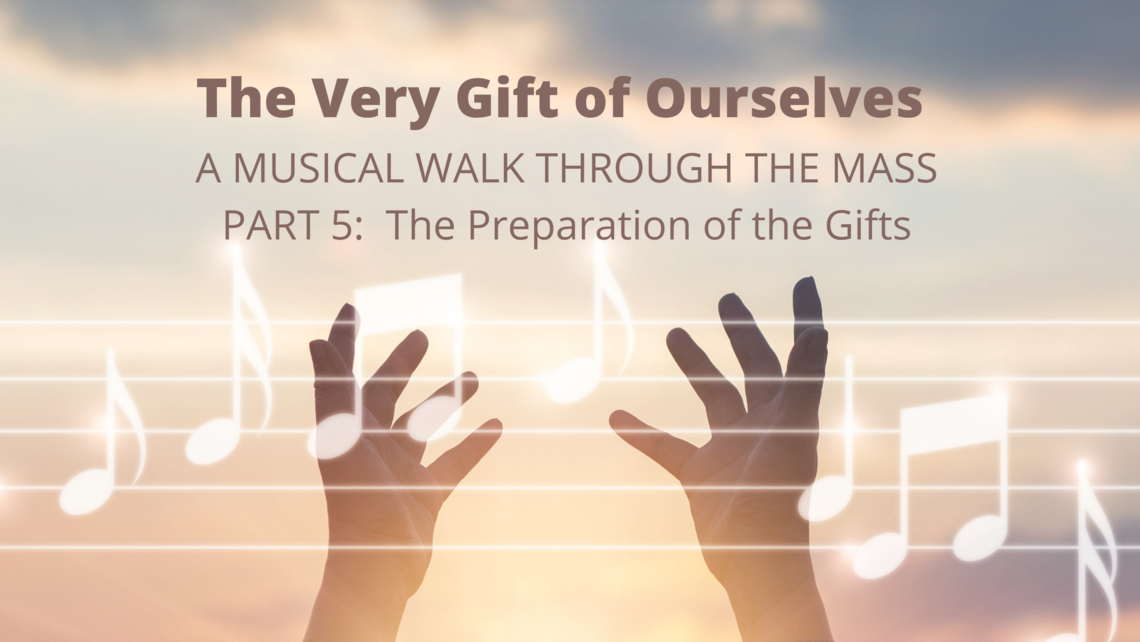 Musical Walk through the Mass: Part 5
Following our recitation of the Creed and the Prayer of the Faithful, the Liturgy of the Eucharist begins with the Presentation and Preparation of the Gifts, sometimes referred to as the Offertory.
During the presentation of the gifts many things occur simultaneously: the Presentation of the Gifts, the Preparation of the Altar, the Collection and while all of this is going on … we sing.
This moment of the liturgy also has been called the Offertory, not merely in reference to the monetary offerings that are brought forth. Traditionally, the Offertory refers to the priest preparing the gifts of bread and wine to be offered. The gifts include the bread and wine, the monetary gifts of the faithful and the very gift of ourselves in response to all we have heard in the Scriptures presented during the Liturgy of the Word.
The gifts are brought forward in procession. Music accompanies the procession and the preparation of the altar. Unlike the Entrance Song, the purpose of the music here is simply to accompany the ritual action. We all sing during this time to reveal that we are all part of the offering - our spiritual selves, just as Jesus is with us spiritually through the priest and the bread and wine, which become his body and blood.
The music chosen for the Presentation and Preparation of the Gifts will often mirror the Scriptures we have heard during the Liturgy of the Word and reinforce the challenges we hear in the homily. Last Sunday, we sang "Open My Eyes", a direct response to the first reading from Isaiah ("the eyes of the blind will be opened, the ears of the deaf be cleared") and the Gospel account of the healing of the deaf man with a speech impediment.
Your challenge this week could be to absorb the words of the hymn we sing during this time. How do the words reflect the scripture we have heard? Could these words be my own? Can this song be my prayer today and through the coming week?