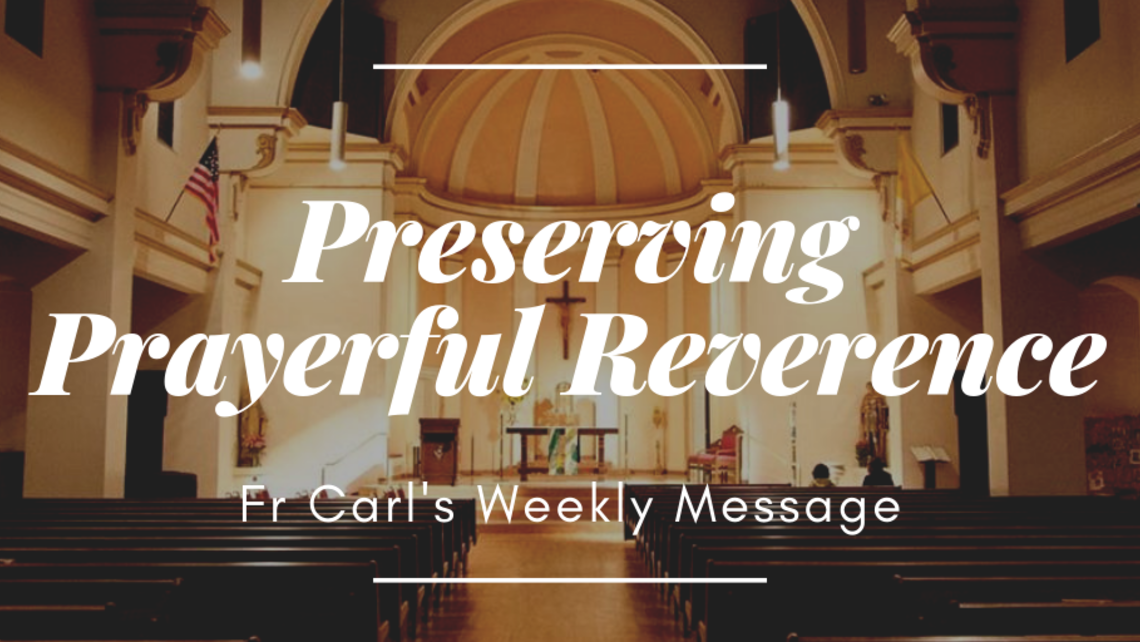 For almost a year of being a pastor here at St Michael, I have learned that this community has a great reverence for the Mass!
I am grateful to have found much support in understanding that as a priest, I cannot recreate or invent my Mass from my own personal interpretation or whims. Fundamentally, it is not "my" Mass, nor anyone else's. It is the Mass of the Church, entrusted to me for the people of God. My role, as your pastor, is to celebrate with God's people the Holy Mass, faithfully guided by the General Instructions of the Roman Missal. 
I am thankful for the dedicated parishioners who have noticed the common abuses listed below that are in practice in many parishes today.  I want to ensure that we do not fall into complacency here at St Michael Parish. 
1. Disregarding the prescribed text of the Order of Mass and the importance of sacred silence within and during Mass. 
2. Interrupting the Mass for long announcements, entertainment and skits. 
3. Omitting the penitential rite. 
4. Clergy dictating postures and how to receive Eucharist for the assembly contrary to the General Instruction of the Roman Missal (GIRM) and Diocesan liturgical guidelines. 
5. Ignoring rules for reception of the Eucharist, especially on fasting and seeking the Sacrament of Confession for the forgiveness of mortal sins. 
6. Holding hands during the Our Father and the assembly raising up arms in the Orans position. 
7. Performing liturgical dance. 
8. Closing the holy water fonts at some seasons like Lent. 
9. Omitting the homily on Sunday Mass or allowing lay people to offer a homily. 
Preserving Prayerful Reverence 
Our ultimate goal is to preserve a proper disposition of prayer and ambiance before, during and after the Holy Mass in order to participate in an encounter with God. Mass is all about God and for God.  Mass is not to be centered on us: not the presiding priests, not the assembly, ministers or groups.   
Hence, to secure opportunities for this holy encounter, below are the Policies on Adoration of the Blessed Sacrament and Use of Church for Holy Mass at St Michael: 
1. Follow the Rite of Exposition and Benediction as prescribed by the Liturgical Laws. 
2. Music must be suitable and appropriate to enhance a reverent adoration and worship. 
3. Very loud praise and worship music must be done without the Blessed Sacrament. Careful selection of song is needed when the Blessed Sacrament is exposed. Chanting of eucharistic hymns is still the most fitting genre that the Church highly recommends. 
4. Adoration only takes place in the chapel or church, except when permission is granted by the pastor to adore in the Parish Hall. 
5. Use of drums or percussion must be minimal. Organ or piano accompaniment is preferred. 
6. The Church will be used for liturgical celebrations only, except for faith formation or for spiritually inspiring talks, such evenings of reflection and parish missions. 
7. Civic meetings, group gatherings and other similar types of events must be held in the Parish Hall or other location. 
8. Use of Parish Hall for Masses and Eucharistic Adoration must have explicit permission from the pastor. 
9.  Silence is to be maintained in the Church. If verbal communication is absolutely required, it should be in a hushed tone and as brief as possible. 
Thank you for your cooperation and your faith in making our Liturgy truly a reverent and holy encounter with our Lord. 
Fr. Carl 
Pastor