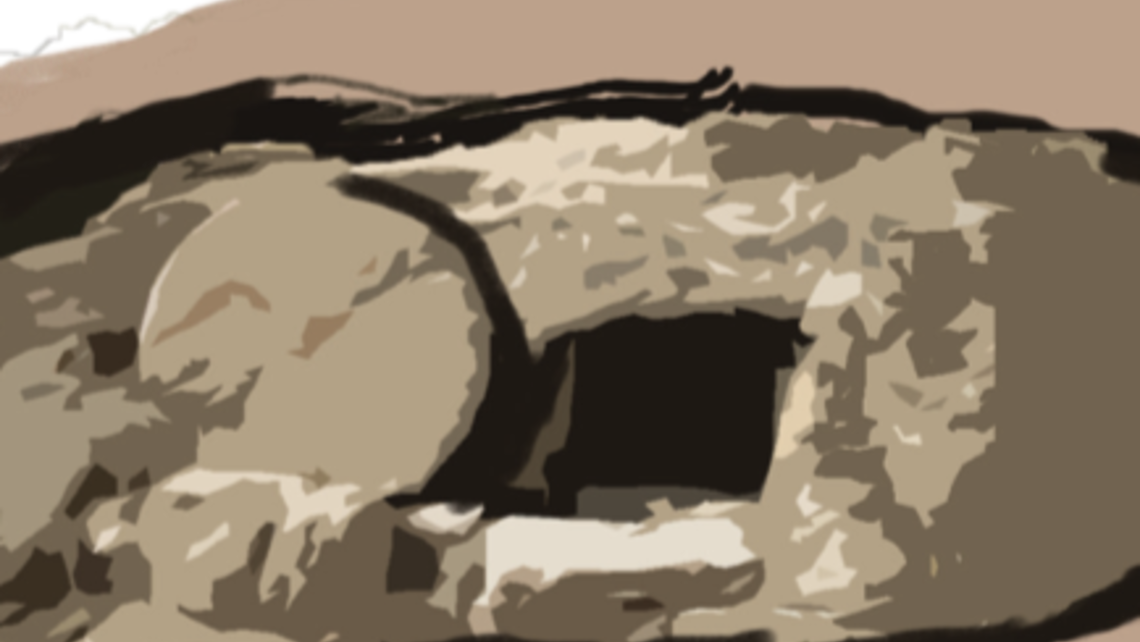 Scripture Reflections for the 5th Sunday in Lent
When there are Elect in the parish participating in the Scrutiny Rites during the Third, Fourth, and Fifth Sundays of Lent, the whole community journeys with them, hearing from Cycle A readings at all Masses. We hear the gospel stories of The Woman at the Well, The Man Born Blind and Lazarus, reflecting on our own conversion and praying for the Elect.
The story of the raising of Lazarus is more than just an account of a miracle.
The raising and unbinding of Lazarus sheds light on how God wants to heal the dead areas of our lives and free us from whatever sins, burdens, or wounds prevent us from living life to the fullest.
When Jesus arrives at the tomb, he has the stone rolled away and calls Lazarus to come out. Lazarus emerges, although he is still bound in the burial cloths. We are often like Lazarus. We have areas in our lives that are dead and need to be enlivened again by Christ. But we also may be bound either by our own sins or by the hurts others have inflicted on us. We may carry great burdens or worries or dysfunctional patterns of relating to others that bind us down and keep us from peace and happiness. Jesus wants to free us from those wounds; he wants us, like Lazarus, to be unbound.
This week's Gospel shows us Jesus wants us to let him into all those places that have been rendered dead by sin. He wants to weep with us in his humanity, but also to reveal his divinity and bring about a total healing. He wants our better selves to step forward as he says to each of us, "Come out." Even if our situation seems hopeless—and certainly Lazarus' death seemed hopeless for his many mourners—nothing is impossible for God. All we need to do is surrender our lives to him and trust in him, for him to be able to bring us to new life.
First Reading Reflection
This passage follows Ezekiel's famous vision of the dry bones in the first half of chapter 37. The prophet is shown a dry valley full of bones and is commanded to prophesy. When he does, the bones come together and are covered with flesh. Again he prophesies, and the breath of life comes into the bodies. Ezekiel, whom the Spirit of the Lord addresses as "son of man," is told that this scene represents the resurrection of Israel, which is now in exile in Babylon. The "son of man" who speaks and causes Israel to rise from exile points liturgically to the "Son of Man" who will speak and cause Lazarus to rise. Ezekiel paves the way for the extension of the Covenant to the Gentiles by expanding the Jewish conception of God's providence to extend it into all nations.
Second Reading Reflection
It's easy to assume that the term "flesh" denotes something essentially evil in this short passage. However, flesh is good in that it has its origin in God, and is still further ennobled when our flesh is assumed by Christ. Adam exclaims that Eve is flesh of his flesh when shown her by God, in an expression that suggests the deepest communion of love. In the Hebrew conception, body and soul are united in a personal being. Paul uses the term in the Hebrew way; he's not making a distinction between body and soul in which the body is evil and the soul is good. Rather, he's making a distinction between life with Christ versus life without Christ.
In essence, Paul is saying that if we remain merely earthly creatures—in the flesh—we remain outside the dying/rising salvational scheme that Christ gave us. This scheme is effected in us by the grace of Baptism, in which we're anointed and made Christians. When we cooperate with that grace, we "are not in the flesh."
Gospel Reflection
We might find it shocking that the greatest miracle that Jesus performed to define his saving mission as one to free mankind from death is the catalyst that causes the Jewish authorities to plot his death. The very act of life-giving ends in death-dealing. By definitively showing that he is "the resurrection and the life," Jesus precipitates his own death. The same act that causes Mary, Martha, and many of the Jews who had come to visit them to have faith in Jesus causes the opposite reaction in the Jewish authorities. There's no halfway in John's Gospel. One can walk in darkness or light, one is blind or sighted, one is alive or dead; no middle ground exists.
Lazarus will die again, of course. But by that time there will be no death at all for those who believe. And it seems unlikely that Lazarus would ever be able to doubt Christ after this episode. Those who believe will have their faith confirmed by this event, and those who won't will find their resistance hardened by it. In no other episode in the Gospel story is Jesus shown so clearly for what he is: the resurrection and the life.
Reflections reprinted with permission from Opening the Word, Augustine Institute.
The Scrutiny Rites
"The scrutinies, which are solemnly celebrated on Sundays and are reinforced by an exorcism, are rites for self-searching and repentance and have above all a spiritual purpose. The scrutinies are meant to uncover, then heal all that is weak, defective or sinful in the hearts of the elect [those preparing for the sacraments of baptism, confirmation and the Eucharist]; to bring out, then strengthen, all that is upright, strong and good. For the scrutinies are celebrated in order to deliver the elect from the power of sin and Satan, to protect them against temptation, and to give them strength in Christ, who is the way, the truth and the life. These rites, therefore, should complete the conversion of the elect and deepen their resolve to hold fast to Christ and to carry out their decision to love God above all" (RCIA No. 141). 
Essentially these rites are composed of prayers of intercession and the laying on of hands so that the Holy Spirit may be invoked and the spirit of evil cast out. They are celebrated purposefully at Mass, so that the whole congregation is given the opportunity to pray for and support those preparing for the Easter sacraments and to make the point that conversion is not only a personal matter but a communal commitment. 
Please particularly pray for the members of the Elect at St Michael's:
Heather Caley
Francisco Rodriguez
Ema Padilla
Konia Nava
Evelin Ramirez
Magali Manjarrez