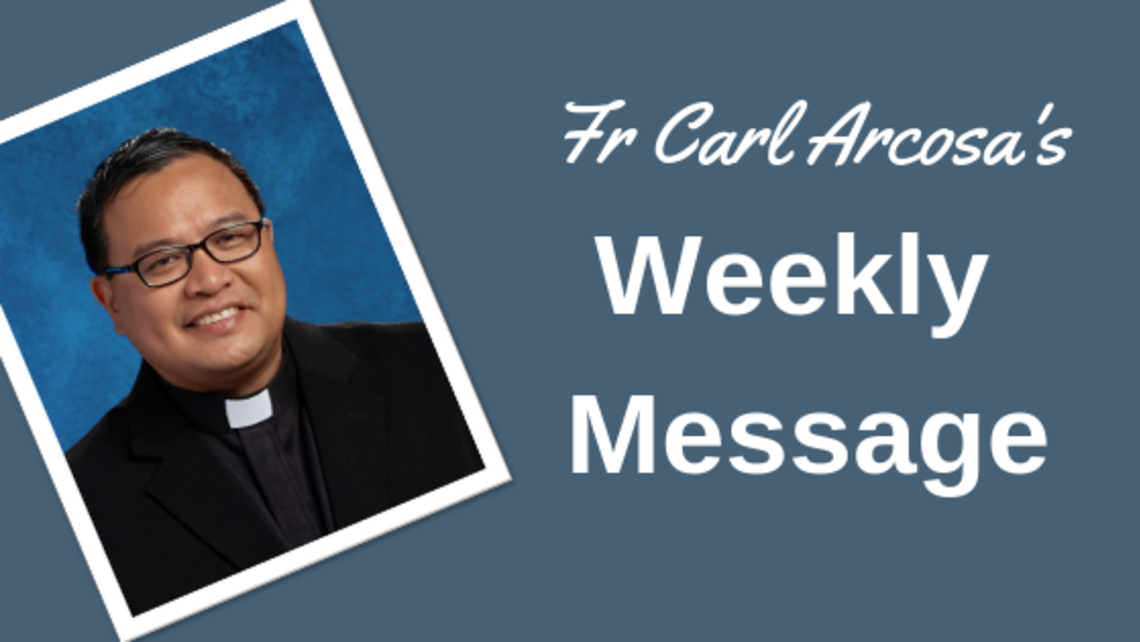 Dear St Michael Family,
This Sunday, I would like to remember and pray for all our children who will receive their First Holy Communion, and for our teens who will be sealed with the gifts of the Holy Spirit in the Sacrament of Confirmation. These Sacraments are vital to our life of grace, in our pursuit of happiness and holiness as followers of Jesus.
The three Sacraments of Initiation are Baptism, Confirmation and Eucharist. Each is meant to strengthen our faith and to forge a deeper relationship with God. Baptism frees us from original sin, Confirmation strengthens our faith and Eucharist allows us to taste the body and blood of eternal life and be reminded of Christ's love and sacrifice.
The Catechism of the Catholic Church, paragraph 1285, states that "Baptism, the Eucharist, and the sacrament of Confirmation together constitute the 'Sacraments of Christian initiation,' whose unity must be safeguarded. It must be explained to the faithful that the reception of the sacrament of Confirmation is necessary for the completion of baptismal grace. For by the sacrament of Confirmation, [the baptized] are more perfectly bound to the Church and are enriched with a special strength of the Holy Spirit. Hence, they are, as true witnesses of Christ, more strictly obliged to spread and defend the faith by word and deed."
Originally, these Sacraments were administered together. Still to this day in the Eastern branches of both Roman Catholic and Orthodox Churches, all three Sacraments are still administered at the same time to both infants and adults.  Today, western Christians in the Roman Catholic Church celebrate them as different milestones in the spiritual lives of followers.  Whether received all at once or over a period, the purpose of these Sacraments is the same: to graft and root us in the source of sanctifying grace. This sanctifying grace is that which strengthens us as we live out our Christian Faith in our daily lives.
How can we live out our Baptismal call, strengthened by the grace of Holy Communion and the gifts of the Holy Spirit? The answer to this question leads us back to our vision and mission of our parish:
1. We Celebrate the Sacraments
Attend Sunday Mass and Holy Days faithfully. Go to Confession regularly. Visit the Blessed Sacrament frequently.  Set aside time for daily prayer.
2. We Grow Disciples and Bring Christ to People
Evangelize by telling people about Jesus. Participate in works of charity.  Be a good example of a disciple by following Jesus' commands.  Take advantage of the resources our parish has purchased for you with FORMED.org and Bishop Robert Barron's video studies.
3. We are welcoming and hospitable
Inspire people by being prayerful and loving. Continually invite others to join our ministries and opportunities for growth in our spiritual life. Look for new faces. Smile, say 'hello' and introduce yourself.  Keep in mind always what it felt like to be the "new kid".
In his first General Audience (April 11, 2018) after releasing a major document on holiness in ordinary life, Pope Francis said that "Baptism permits Christ to live in us, and to live united with him, in order to collaborate in the Church, each according to his or her own condition, to the transformation of the world." 
The pope insisted that Baptism marks a profound change in one's life. "There is a before and after Baptism," he said, saying it "expresses the passage from one condition to another … [it's] a sign of purification for a new beginning."
As we join our newly Baptized, those who received their First Communion and those who were Confirmed, let us be reminded that our Sacraments of Initiation are not meant to be put inside the closet of our hearts. They are meant to be lived out, to give testimony in our world that Christ indeed is Risen and is alive!
Fr. Carl