November 4, 2019 - 3:52pm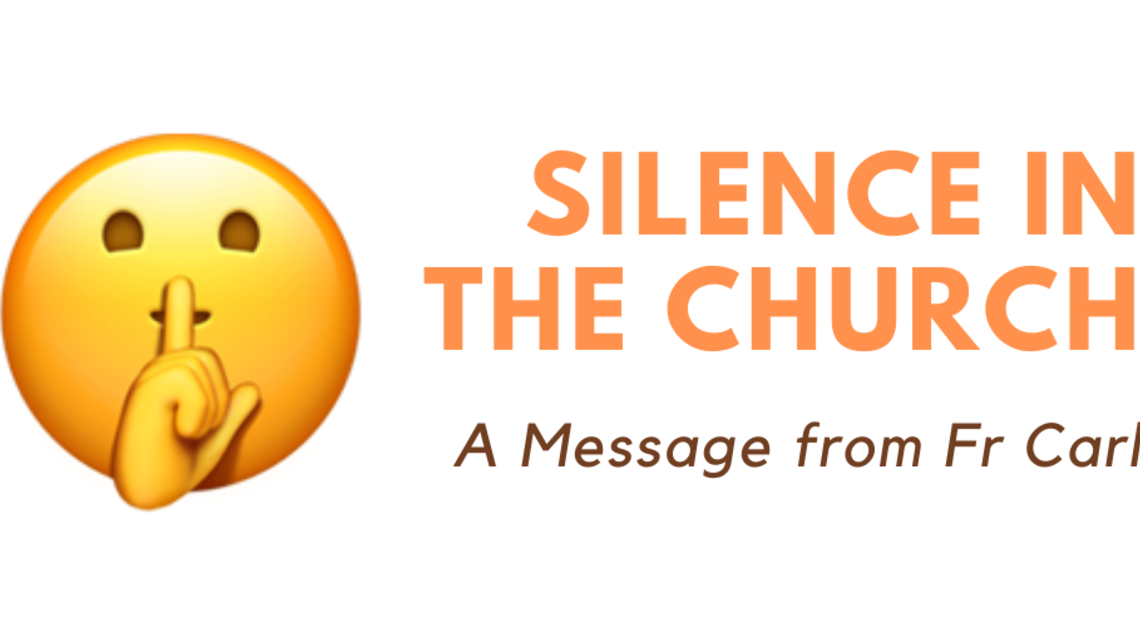 Dear St Michael Family,
I just came back from the Holy Land, and it was very evident that guards in all basilicas are serious about silence in the church, especially in the churches of the Holy Sepulchre, the Annunciation in Nazareth and the Nativity in Bethlehem. They were not shy at all about approaching people to ask them keep quiet and pray, to not take pictures during the liturgy, to take off their hats and only allow appropriate dress for church visits and liturgy.  I observed that tourists from non-Christian countries humbly and obediently follow these simple rules. I noticed the same policy of reverence when I visited churches in Rome and the Basilicas of our Lady of Fatima and Lourdes… even in synagogues and in mosques!
Yet, returning home, I observed the opposite. Here at St Michael's we have grown accustomed to talking loudly and socializing inside the church before and after Mass.
Friends, there is a time and place for everything. A time to eat, play, work, rest, have fun and pray. I grew up in a culture that taught that churches are meant for prayer (communal or individual) and not a place to socialize and have conversations. It is my desire to follow the good example of the churches throughout the Holy Land and Rome, asking for silence within our Church walls.
Is talking in Church as sin?
If what is being said is not itself sinful, it is morally neutral to talk. However, Catholic moral teaching tells us that "circumstances" change the moral character of actions. Talking in Church when not demanded by necessity is at least venially sinful for the following reasons:

1) It is the Lord's House, which Jesus taught was "a house of prayer" (Mt 21:13) and thus should be used according to its purpose. This is a violation of justice against God, for whom we should have reverence.

2) It is a violation of justice against actual neighbors who are trying to pray. Again, necessity permits talking, just as it permits practicing the music before Mass and so on. However, most conversations are trivial and could gone on elsewhere at another time. This puts them in the category of unnecessary. The truth of this is shown by the strict guard for silence maintained in the chapels of the Roman basilicas where people are praying. Even in the areas where the tourists are viewing the architecture and art, talking above a whisper is not permitted. This is an accurate reflection of the Catholic respect for the church and for others.

3) Finally, it is a violation of charity, since as Christians we should be going "out of ourselves" to look after others first. If a person crassly and knowingly disregarded others trying to pray, or worst of all did so with malice or contempt, it could even be a mortal sin against charity.

These are basic principles of Catholic moral theology and need no other authority than that.

If friends approach us before or after Mass, wanting to start a conversation, a simple gesture inviting them to follow you outside the Church to talk is appropriate.  We give a great witness to our fellow Catholics when we first lead by example.  Sometimes we want to greet a new family that has joined our parish, this is a very good thing for us to do to show our hospitality.  A friendly smile within the church is sufficient.  After Mass, greet them in the Courtyard or other outside gathering spaces.  Respect and reverence for Jesus in the Blessed Sacrament comes first.

Be still and know that I am God! (Psalm 46:10)
May God bless you and your families.
Fr Carl