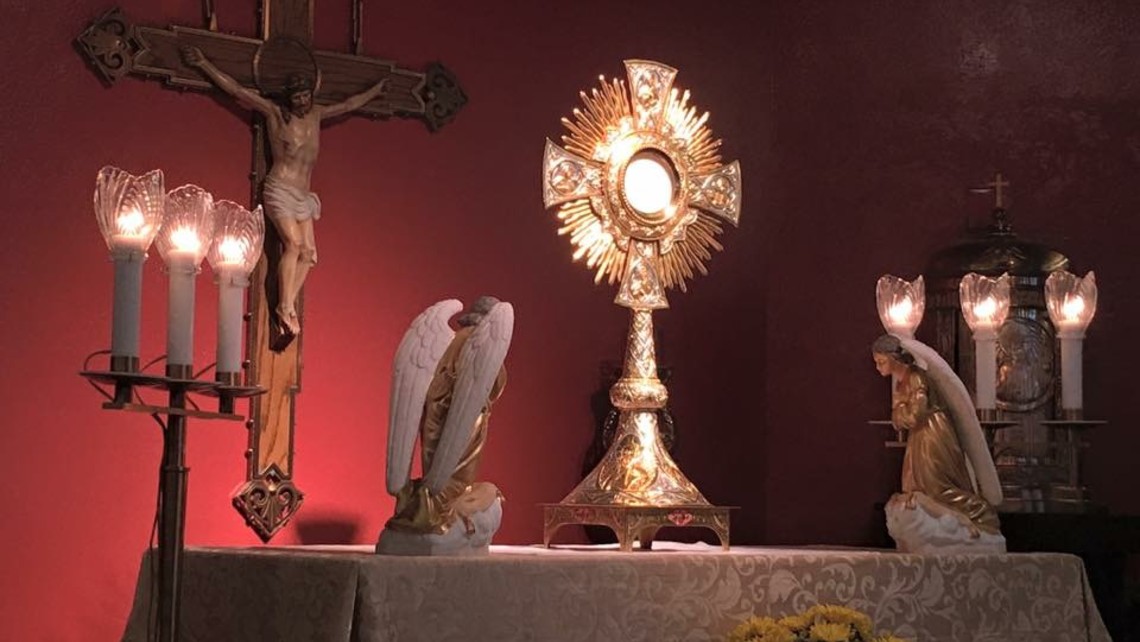 Eucharistic Adoration is adoring or honoring Jesus, who is fully present in Eucharist. In a deeper sense, it involves contemplating on the Mystery of Christ truly present before us.  During Eucharistic Adoration, we strive to settle our minds in order to become still in His Presence.  We open ourselves to His Graces which flow from the Eucharist. Then, like a magnet, the Lord draws us to Himself and gently transforms us. In Eucharistic Adoration it is God and man reaching out for each other, at the same time! 
Chapel Info
The chapel is open 24 hours per day, 7 days per week.
The outer door is locked between 10 pm and 6:00 am.  To obtain the access code, please call Dick at 925-980-4826 or Manny 925-337-0741 in advance.
From the parking lot, walk toward the church along the courtyard walkway.  Enter the second door on the right. The chapel is ahead on the left.
Can You Commit to One Hour Per Week?
All are welcome to come spend time in the Adoration chapel at any time, for at any length of time.  However, in order to ensure that the Lord is never left unattended, over 500 parishioners have agreed to commit to one hour of Adoration each week.  We have a few hours where very few people are signed up.  Can you commit to one hour per week?
Sundays at 11:00 am or 12:00 pm
Mondays at 4:00 am
Tuesdays at 5:00 pm or 9:00 pm
Thursdays at 8:00 pm or 10:00 pm
Saturdays at 2:00 pm
To sign up send a message to Adoration@StMichaelLivemore.com or complete the forms found in the chapel and place them in the envelope near the sign-in binder.