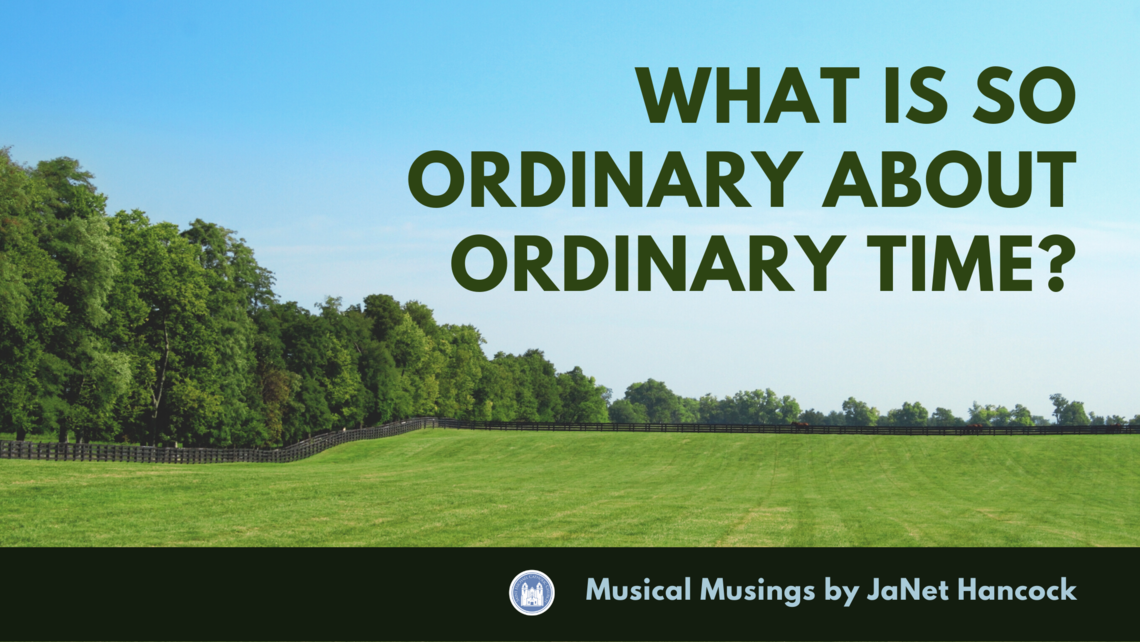 Last Sunday, we concluded the Easter Season with the celebration of Pentecost – the birth of the church.
The altar cloths and vestments are now green.  The Pascal candle is now beside the baptismal font and will return to a place of prominence for baptisms and funerals.
Our return to Ordinary Time may mean a return to simpler liturgies in comparison to the previous weeks, but it doesn't mean a settling for ordinariness. When it comes to the Sunday gathering of the assembly, nothing is ordinary.  The word "ordinary" in Ordinary Time refers not to the quality of the liturgies but to the ordering of weeks between the seasons of Advent/Christmas and Lent/Easter. During this period of Ordinary Time, we will read primarily from the Gospel of Mark, celebrating the mission of the disciples, the miracles and sayings of Jesus, and toward the end of Ordinary Time, the second coming of Jesus.
It is our fervent hope and prayer that here at St. Michael's we are able to return to more normal (even ordinary) forms of worship during this period of Ordinary Time - including full liturgical processions into the church at the beginning of Mass, bringing of the gifts from the assembly to the altar, Extraordinary Ministers of Holy Communion distributing communion and the congregational singing of familiar hymns. The familiarity of our faith and rituals has sustained us during this time of pandemic, yet we are anxious to welcome more parishioners to celebrate Mass and serve in various liturgical ministries.
This Sunday's Psalm reflects this desire to serve nicely – "Blessed the People the Lord has Chosen to be His own." The Psalm begins by describing the great works of the Lord: "Upright is the word of the Lord, and all his works are trustworthy. He loves justice and right; of the kindness of the Lord the earth is full … See, the eyes of the Lord are upon those who fear him, upon those who hope for his kindness, to deliver them from death and preserve them in spite of famine." It ends with this response by the psalmist: "Our soul waits for the Lord, who is our help and our shield. May your kindness, O Lord, be upon us who have put our hope in you." We wait in hope for the opportunity to worship and to serve.
Prayer (from the collect for the 17th Sunday in Ordinary Time)
O God, protector of those who hope in you,
without whom nothing has firm foundation, nothing is holy,
bestow in abundance your mercy upon us
and grant that, with you as our ruler and guide,
we may use the good things that pass
in such a way as to hold fast even now
to those that ever endure.
Through our Lord Jesus Christ, your Son,
who lives and reigns with you in the unity of the Holy Spirit,
one God, for ever and ever.
Musical Musings by JaNet Hancock, Director of Music and Liturgy