September 11, 2019 - 1:21pm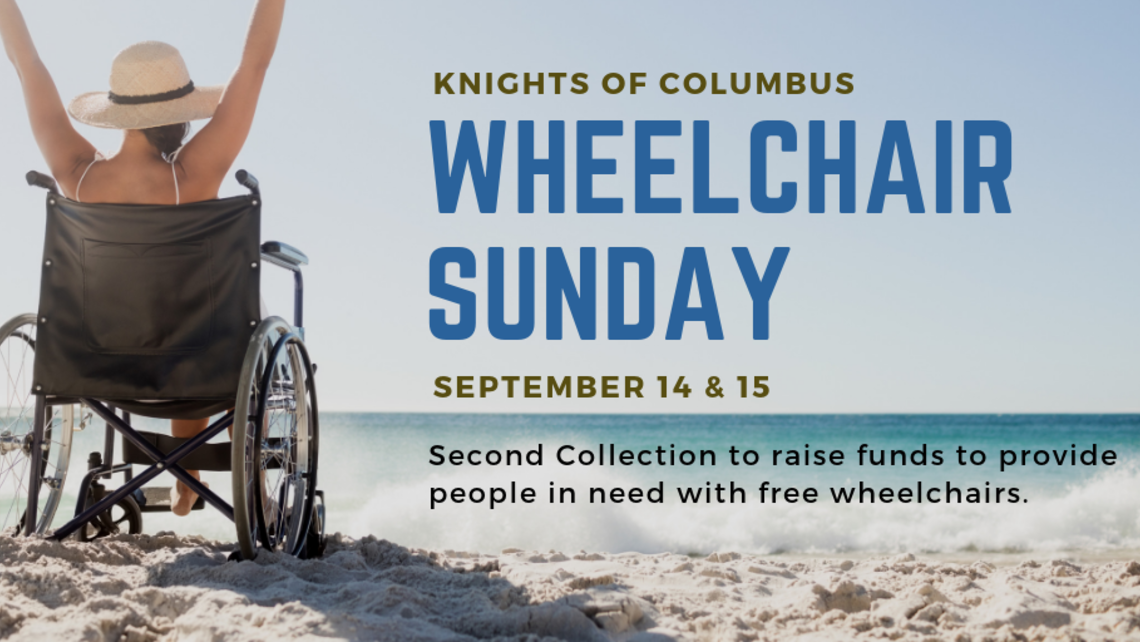 "Whoever is kind to the poor lends to the Lord, and will be repaid in full." 
- Proverbs 19:15 
Dear St Michael Family, 
This Sunday, our Livermore Knights of Columbus Council is partnering with The Global Wheelchair Mission to raise funds to deliver brand new, free wheelchairs and mobility aids to physically disabled children, teens and adults throughout the world. 
The delivery of a wheelchair to a person without mobility improves the quality of life for the entire family. Children can go to school; adults can go to work to provide for their families and the elderly can get out of a bed they may have stayed in for years at a time. We estimate that each wheelchair we deliver impacts an average of 10 lives in a positive way. 
It is estimated that more than 100 million people throughout the world need a wheelchair but cannot afford one. These people cannot be helped by canes, crutches, walkers or prosthetics. A wheelchair is their only hope for mobility. 
On average, developing countries around the world have about three percent (3%) of their population physically disabled and unable to afford a wheelchair. In the 60 or so countries with civil unrest, land-mine and unexploded ordnance problems, the percentage of physically disabled can rise as high as Angola's twenty percent (20%). Afghanistan, Iraq, Cambodia and Sierra Leone are not far behind. Colombia is the only country in the western hemisphere with land- mines actively being planted by anti-government rebels and the problem is growing. The reasons for physical disabilities include war, disease, accidents, lack of health care, aging and more. 
It is our goal to support this awesome charity work to help people who are disabled. As a parish, I thank you in advance for your generosity toward this Second Collection cause.  If God is inspiring you to help more or in other ways, please talk to one of our Knights after Mass. 
May God reward you with His bountiful blessings! 
Fr Carl 
Pastor