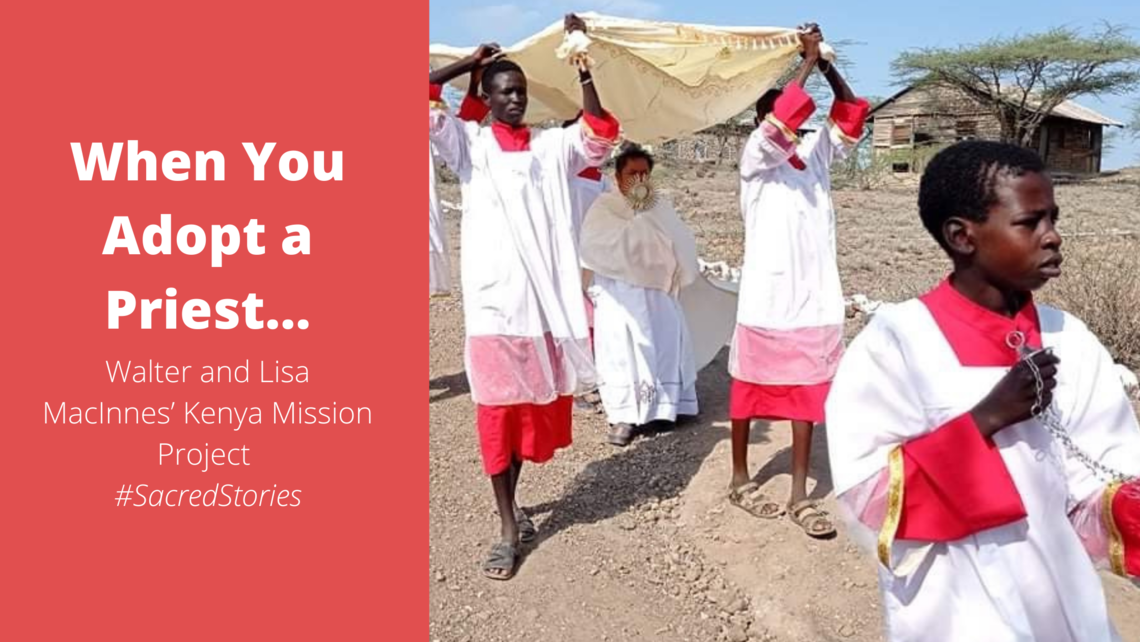 Walter and Lisa's Kenya Mission Project
When Walter and Lisa MacInnes met Fr Peter Guarin, they had no idea that they would "adopt" him, but they quickly took the young priest under their wings and into their hearts. 
When Fr Peter took a missionary assignment in Kenya, Walter and Lisa continued to support him.  Here's their #SacredStory:
Thank you so much for agreeing to be interviewed about your Kenya Mission Project. Tell us about Fr Peter.
Lisa:  A couple of years ago, Fr Peter Guarin was a visiting priest to St Michael's, from the Philippines. I believe you know us and how we talk!  We got to talking to Fr Peter and he found out how long we've been married, and how we didn't have any children of our own. He said, "Oh! I was born December and I was two months old when you guys got married! You could be my parents!"  We laughed and said, "Well, why not!" Now he is like our adult adopted child.
Walter: When he was visiting St Michael's, I immediately talked to him about becoming a member of our Livermore Knights of Columbus Council. I gave him his initial ceremony to become one of the Livermore Knights and this is how we connected.  We've been friends ever since.
Lisa: After his visit, he went back to his diocese. He really wanted to be a missionary priest, so they assigned him to Kenya in November of last year. It's part of the 500 Years of Christianity celebration in the Philippines, to be dedicated to spreading Christianity to where Jesus is not known. I believe when he said yes to Jesus, you know, his mind was set on being a missionary from the beginning.
What a cool story! So as your adopted son, he keeps in touch and emails you or lets you know what he needs?
Walter: Yes, he tells us everything, and especially he reports on the condition of the people down there.
Lisa: It's very isolated where he is at. From Lodwar, Kenya, the 9 villages that he ministers to are like a 6- or 7-hour drive, and there's no roads or anything like that.  Just out in the bush.
What is it like for the people there?
Lisa:  The children do not have much food. They get plain beans and corn, and they are lucky if they get that once a day. They often go several days without any food at all. 
Walter: They go to the school where the sisters teach, and you wouldn't believe it. It's just on the ground and then they put together a bunch of twigs all together they make the walls and then they make the roof out of whatever they can find.  And they were using old buckets and old plastic oil containers for their food and drinking water. 
Lisa: Fr Peter was able to find a person to donate plastic camping plates so that they could eat on something.  I saw the picture, I just said, "I cannot … I cannot tolerate this. It's just breaking my heart."
Walter: And there's a river that sometimes floods the whole area. It's really devastating very very devastating. The condition that these people live in is unbelievable.
And Fr Peter is building a church?
Lisa:  They have sort of a building there for a church, but it's not much more than a dirt floor. They celebrate Mass there, but they didn't have any equipment or supplies. We sent them liturgy books, a holy water sprinkler, incense, and other liturgy items.
Walter: We sent them a bell. They didn't know what a bell was. In their environment, they hadn't seen or heard one. And we sent them a 4-foot tall Holy Family statue, because that's the name of their little parish: Holy Family.
Lisa: We also have an Our Lady of Fatima statue that we are waiting to send.  They like processions and they have a devotion to Mother Mary, but they had only this tiny little 3-inch Fatima statue.  And Fr Peter processes from village to village that way, as he goes to baptize and minister and feed the people. So we are sending a larger one.
I also heard that you're making rosaries for them?
Lisa: Yes, we have a little group that we call the Rosary Warriors. We've made something like 200 rosaries to send. Fr Peter says that the locals - especially the children – like to pray the rosary. They want to teach more people the rosary.
Walter: The Rosary Warriors also help chip in to financially help Fr Peter in his mission. It's like whomever can chip in at the time. When we get a message of what he needs, we just put it out there. Some can give $25; others can give $50.
Who else has helped financially?
Walter: Well, I asked Fr Peter how much it would cost to feed one village. He said every village was allotted $200.  Since Fr Peter is a member of our Livermore Knights, we did a "Knights Helping Knights" urgent need gift. We gave enough to feed 9 villages, which is a little over 1,000 people.
What can the community at St Michael's do to help?
Lisa: The most important thing they need is money to buy food, especially for the children. Fr Peter wants to feed them, and it's his primary goal. These children, they often go days without any food. We have been wiring him money through Western Union, so that he can buy more food.
Walter: And also, the shipping costs are expensive to send him items that he needs. Just a small flat-rate box can be about $100 to ship.  We are waiting to send the Our Lady of Fatima statue, because it's big and heavy. Donations to cover shipping costs would be incredible!
Lisa: And if anyone wants to make rosaries, they are welcome to help! We really need children's rosaries.
Thank you so much for sharing your story of faith-in-action. I'm sure there aren't many at St Michael's who knew what you two were doing for Fr Peter in Kenya. I'm hopeful that you will get some additional support too.
Lisa: You are welcome.
Walter: Thank you for helping spread the word!
If you would like to financially support Fr Peter's Kenya mission, you can include a check in your offering or through FaithDirect. Please include "Kenya Mission" in the note.
If you would like to make rosaries to send to Fr Peter, please contact lisamacinnes115@yahoo.com