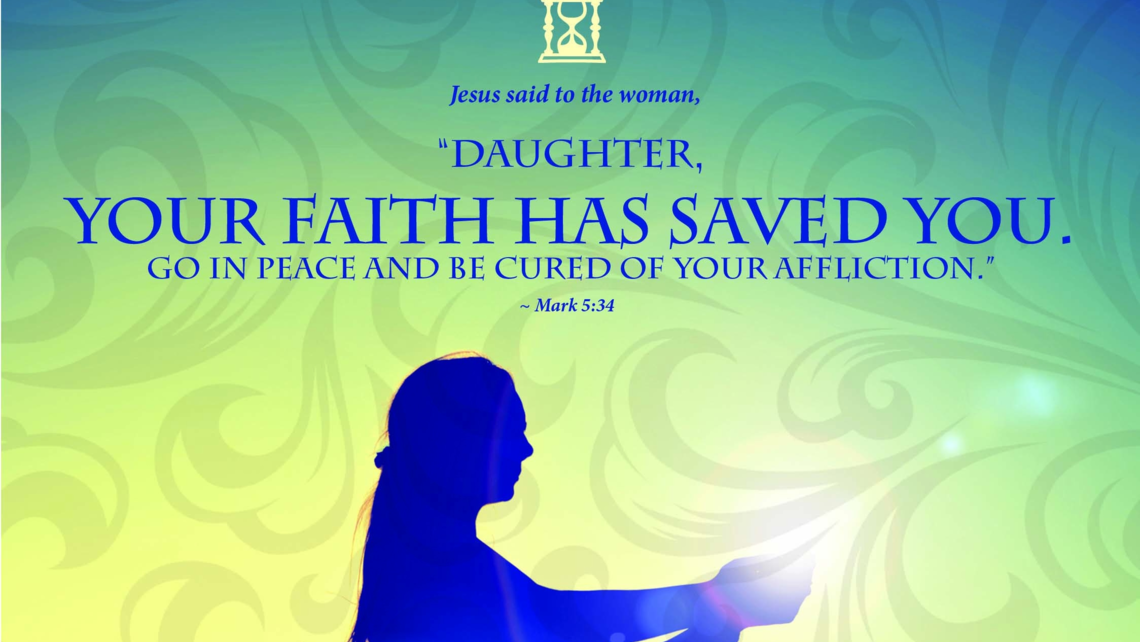 Scripture Reflections for the Thirteenth Sunday of Ordinary Time
Healing is something we all seek at some point in our lives.
Whether we have battled a life-threatening disease or suffered through a common cold, we have all sought physical healing.
In this week's Gospel, Jesus reveals his power to heal and bring forth new life. He also longs to heal you of the things that are preventing you from growing in love for him—whether physical or spiritual. Have you ever approached him with the faith of Jairus or the hemorrhaging woman? How much do you trust his power to heal your body and soul?
First Reading Reflection
This Sunday's Scriptures focus on the restorative power of God. The First Reading from Wisdom establishes the original goodness of the world as God made it and the fact that sin and death are the result of our turning away from God.
The reading is sandwiched by two statements about where death comes from. The first verse affirms that "God did not make death." The final verse explains that "by the envy of the devil, death entered the world." The central portion of the reading is composed from two sets of verses taken from the first two chapters of Wisdom, with the first set describing the goodness of the created world in general, the second focusing on the goodness of man in particular.
The pattern of this reading mimics the opening chapters of Genesis, where we find the story of the seven days of creation (Chapter 1) and then the story of the creation of man (Chapter 2). Finally, we see an allusion to Chapter 3, where Adam and Eve fall. The structure helps to reaffirm the truth that from the beginning, God intends good for man.
Wisdom literature aims to teach how to live our lives focused on eternity. As the next two readings illuminate the power of Christ, let's recall that his healing is part of an eternal plan of goodness and life.
Second Reading Reflection
At this point in his letter to the Corinthians, Saint Paul makes a charitable appeal. But rather than focusing on the plight of those in need, he presents this as a golden opportunity. He sees this "gracious act" he asks the Corinthians to do as a natural companion to their other virtues. Practical care for their brothers in need (in this case the people in Jerusalem) goes along with the practice of faith, knowledge, and devotion.
To further inspire them in sacrificial giving, Saint Paul points to Christ: "For you know the gracious act of our Lord Jesus Christ." Thus, the term "gracious act," expresses more than mere politeness. It is an act imbued with grace, that is, with God's life.
As we reflect on the power of Christ to heal, it is good to recall that we share in his power by grace. While we may not raise people from the dead or heal them with a touch, we do have the ability to bring restoration. Our works of charity, our words of encouragement, our prayers, and our forgiveness continue to heal the wounds of the world. At the heart of all true deeds of mercy is the love of God, present in our souls by grace. Thus the most powerful work we can do is to surrender to that love completely. With Mary we say "be it done to me according to your word."
Gospel Reflection
Jairus's journey of faith reveals the process of surrender and trust in God. He begins with a plea to Jesus. At this point, everyone seems to be asking Jesus, and Jesus is hemmed in by a crowd of people at the water's edge. Jairus had to trust that Jesus would listen to him and would act on his words despite all the other people who demanded Jesus's time.
As the crowd walks with Jairus and Jesus, Jairus is given an example of radical trust. The hemorrhaging woman has striven to be healed for years, to the point that she has "spent all that she had." With such a condition, she is unable to participate fully in the liturgical life of the community. All she has left is hope in Jesus. This woman doesn't even need to speak with Jesus—she believes that even touching his cloak will bring her the healing she so desperately desires. Jesus grants her both spiritual and physical healing because of her faith in him.
After witnessing the healing of the woman, Jairus is given a test: news of his daughter's death. Though Jairus's friends advise giving up, Jesus asks for trust. As with the chaos on the Sea of Galilee, Jesus ignores the storm of despair and sorrow. And he asks Jairus to do the same. Leaving the crowd, Jairus follows Jesus into a quiet encounter, allows him to take control in the heart of his home, and it is there that the great gift of healing comes.
Discussion
As we read the Second Reading for this week, we notice Saint Paul calling us to be generous with the gifts we have, just as Christ emptied himself and bestowed his gifts on us. Are you generous with those around you? Or do you hoard your money and talents in fear that you will run out or from a lack of care for those around you?
This week's Psalm verse proclaims, "I will praise you, Lord, for you have rescued me." How has God rescued you? How has he lifted you up?
Take a few minutes to watch the short Opening the Word video reflection for today's readings.
Digging Deeper: Unclean
Let's take a deeper look at the hemorrhaging woman in this week's Gospel. At the time of Jesus, when a woman was bleeding, she was considered "unclean." She was banned from all of society and would not have been allowed to be out among the crowds and townsfolk. If she touched anyone, they would be considered "unclean" by virtue of contact with her. But when she touches Jesus, he is not made "unclean" by her touch. Rather, he cleanses her of her "uncleanness." Whenever we come to Christ in faith, he receives our pain, sickness, burdens, sins, weakness, and replaces them with his grace and freedom.
Reflections reprinted here with permission from Augustine Institute.